Camping in Western Australia
Home Page > Camping > Camping in Australia > Camping in Western Australia




Kep Track Bicycle Tour (WA) -- 27 September to 28 September 2008 (see Trip Report)
Allison Camp Ground, Rottenest Island -- 13 to 15 September 2008
With the 8 o'clock ferry from Hillary's cancelled due to bad weather, the 10h30 ferry was bound to be an exciting ride. The sick bags handed out when boarding also gave everybody that ominous feeling, but in the end the ride was quite enjoyable. Three days followed of sheer bliss where bicycles rule the world, and people are far between. We gotta get back here in warmer weather to enjoy the snorkeling.

(1) Camping at Allison Camp Ground, Rottenest Island. (2) Armstrong Bay, Rottenest Island



(1) Pinky Beach, Rottenest Island. (2) Bathurst Lighthouse, Rottenest Island


Bald Hill Camp Site, Avon Valley National Park -- 9 to 10 November 2007
With Daylight Savings returned and getting out of the Perth not that difficult on a Friday night, we decided to head off to the Avon Valley National Park, which is less than 100 km north-east of the city centre. With it situated so close to the city, we were surprised to not see another person making use of any of the number of camp sites that are available. Had a perfect evening and followed it up with some nice hiking the next day.

(1) Camping at Bald Hill, Avon Valley NP.


Moondyne Caravan Park, Toodyay -- 21 to 22 April 2007
Formerly known as the Broadgrounds Caravan & Camping Ground, this park is situated a couple of kilometres east of Toodyay, on Racecourse Road. It offers very peaceful surroundings and extremely quiet nights. The ablutions are very clean, and there is even a campers kitchen which provides a fridge and microwave. It even has some local wildlife (a couple of emus and a kangaroo) in an enclosed pen. The birdlife (once again) was quite amazing.

(1) Camping at Toodyay, WA.


Woodanilling -- 7 to 8 April 2007
Having passed through Woodanilling on our way south to the Stirling Range National Park, we thought that it would be a good place to stay on our way back to Perth if it worked out convenient. The campsite is situated on the main road through town and has a number of trees to shelter you from the warm autumn sum. There is also a cafe which offers meals to passing traffic and residents. The ablution facilities are great (and very clean) and it only costs $10 a night for two! We spent a nice relaxing afternoon just "parking off" and then drove the 260-odd km back to Perth the next day.

(1) Camping at Woodanilling, WA.


Moingup Springs Camping Area, Stirling Range National Park -- 5 to 7 April 2007
Travelling down from Perth on the Thursday before the Easter Weekend, we shared the only campsite within the Stirling Range National Park, Moingup Springs, with only a couple of other campers. The evening and early morning birdlife was unreal with each bird species trying to outdo each other in noise. A truly amazing experience. The number of kangaroos which passed through the campsite during the night also numbered quite a few. The next day we did some mountain biking along the main gravel road through the park and again saw quite a few kangaroos in the early morning. Mountain biking is however restricted to this road and all fire-trails are out of bounds due to the prevention of transmitting die-back. The ride was however good with a few steep hills.

The next night (Easter Weekend proper) was a lot busier and the campsite was basically full. This prevented the wildlife from re-visiting during the night, and we thought that there was no further reason to stay. Following an early morning walk up the Bluff Knoll (1095m), the highest point in the park, we headed off to Woodanilling, a very small town just north of Katanning.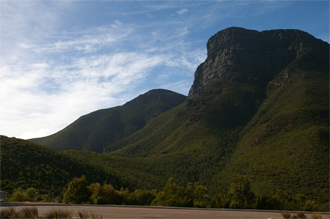 (1) Moingup Springs Camping Area, Stirling Range NP. (2) Bluff Knoll (1095m)


Mutton Bird Beach -- 27 December 2006 to 1 January 2007
Following our hike on the Bibbulmun Track between Walpole and Peaceful Bay, we made our way down to Mutton Bird Beach which offers a number of informal (free) camping areas, both on the beach and in other secluded bushy camping areas. We opted for a spot overlooking the sea which was a short 4WD from the bitumen road. As free campsites go (and also paid sites go), you just cannot beat this spot. At sunrise and sunset, you can watch the dolphins swimming past, and during the day, swimming/snorkeling is a must. We were lucky enough to have perfect weather and had breakfast/coffee on the beach every day! Also, if you really can't put up with the camping/solar shower any longer, you can pop into Albany situated about 25km away and have a free (clean) shower at the municipal facilities on the corner of York and Stirling Streets.

(1) 180 degree panorama of Mutton Bird Island.



(1) Informal camping at Mutton Bird Beach. (2) Mutton Bird Beach from lookout.


Bibbulmun Track: Walpole to Peaceful Bay -- 24 to 27 December 2006 (see Trip Report)
Albany Gardens Holiday Resort -- 23 to 24 December 2006
Having driven down from Perth, we decided to spend the night in Albany before catching the bus to Walpole and starting the section of Bibbulmun Track. We chose the Albany Gardens Holiday Resort (Big 4) as it was located close to the town centre and we would be able to walk to the Trans WA bus stop. It was a nice place to stay, and they were also kind enough to let us leave the car there for the duration of our hike. We didn't bother booking, but on our return were surprised to find it full! Luckily we weren't planning on staying there any longer.

(1) Camping at the Big 4 Albany Gardens Holiday Resort.


Narrow Neck Beach (again), North of Lancelin -- 15 to 16 December 2006
Narrow Neck Beach, North of Lancelin -- 2 to 3 December 2006
Having camped at Lancelin on a previous weekend, we decided to take the obvious next step and enter the 4WD "restricted" area just north of the town. After briefly stopping at the parking area for the off-road recreation area to fit the dune flag and lower the tyre pressures to cope with the sand, we were on our way. If it wasn't for us taking a wrong turn and ending up on a beach noted for its "extreme" sand conditions, it would have almost been a boring drive. The track conditions were very good, and any 4WD would have handled them easily. We visited Dide Bay to check out the views and then made our way up to Narrow Neck using the inland road. The beach between Dide Bay and Narrow Neck can sometimes pose very difficult driving conditions and we were not in the mood to fight our way up the beach. Finding a camping spot just in the dunes was easy, and we had uninterrupted views of the sea. The wind came up in the afternoon which made everything very sandy, but this did not detract from the great experience. Soon after sunset the wind died down, and Sunday morning was just perfect, and just after our morning swim, a few dolphins came to feed within 20m of the shore. This area has got to be one of the best camping areas in Australia, and it's only 90 minutes from Perth. We can't wait to go back!

(1) & (2) Camping on the beach at Narrow Neck, between Lancelin and Wedge Island.


Club Capricorn Resort, Yanchep -- 4 to 5 November 2006
Club Capricorn is located about 50 km north of Perth in the seaside town of Yanchep, and although the campsite doesn't overlook the sea, it is only a short walk away. The sea had a menacing look about it on this weekend, but the sheltered natural "tidal-pool" of Yanchep lagoon is about 1 km south of the resort and is a pleasant walk along the beach.

(1) Camping at the Club Capricorn Resort, Yanchep.


Lancelin -- 28 to 29 October 2006
Lancelin is situated only about 120 km north of Perth and is great for a weekend away. There are two campgrounds in the town and we opted for the one on the southern end. It has easy access to the beach and typical to the west coast, swimming occurs in a sheltered shallow bay with the reef being about a kilometre offshore.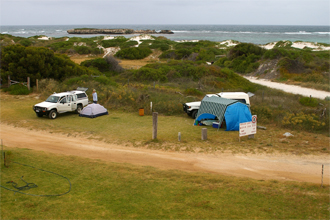 (1) Camping near the beach in Lancelin.


Bibbulmun Track: Pemberton to Northcliffe -- 30 September to 2 October 2006 (see Trip Report)
Cervantes -- 23 to 24 September 2006
Leaving Perth early on the Saturday we made our way along Wannaroo Road to Lancelin where we thought it would be an easy four wheel drive along Gray Road to Cervantes. Enquiring at Lancelin Info Centre about the track's conditions proved useful in that we were told that the 40 odd km to Cervantes would take about 5 hours and the views were not that great (whatever that means). Not wanting to have such an epic, we decided to drive the long way around and arrived at Cervantes at about lunchtime after taking in a few view sites along the way. Our main reason for wanting to visit Cervantes was to see The Pinnacles which are limestone extrusions sticking like pillars out of the ground. Having previously visited the Walls of China in the Mungo National Park in NSW, we thought it would be similar. We have to admit that the Pinnacles do seem a bit more impressive than the Walls of China, and due to their proximity to Perth, they are really a "must-see" for all.
After visiting the various view points and picnic sites around Cervantes (which included a visit to see the Stromatolites at Lake Thetis), we opted for camping at one of the free campsites (read rest-stops) along the main road between the Brand Highway and the town itself. The Tuart Reserve "camp site" was chock-a-block with people and campervans, so we made our way to the less comfortable Hakea Reserve rest stop where we were the only ones (A little later some Americans arrived and also spent the night). After a great braai, we bedded down for one of the quietest nights camping that we have experienced.
Waking up early on Sunday, we again visited the Pinnacles to get the early morning experience and then had some brekkie at the Thirsty Point view point which is situated right on the most beautiful beach with crystal clear turquoise water.

(1) "The Pinnacles" near Cervantes. (2) Camping at Hakea Reserve.


Wellington Dam -- 9 to 10 September 2006
Having "recovered" from the trip across the southern lands of Australia, and with spring in the air, we decided it was time to get away for the weekend. Having spotted Wellington Dam on a map of the south-west region of WA, we thought that this would be a perfect opportunity to get the kayaks back on the water. It's only about 200 km from Perth so it didn't take that long to get there. We had decided that we would camp in the Wellington Dam National Park, and with the Honeymoon Pools campsite being closed at the moment due to bridge maintenance, we ended up camping at Potters Gorge. It was really beautiful and the birdlife was amazing. There were so many Australian Ringneck parrots which really are beautiful and fun to watch. We spent a few hours that afternoon on the water and when we got back to the campsite, had our first swim of summer. Bugger, that was cold!
It rained throughout the night which didn't really bother us, and we awoke to a beautiful morning. So, it was back onto the water to check out the dam wall. The rain clouds started rolling in about mid-morning, so we decided to get off the water and go and check out the local kiosk and tourist drives. Then it was back home. A great weekend out, and next time we want to take the mountain bikes as it seems that there is plenty of hiking and mountain biking in the area too. Can't wait.

(1) Potters Gorge Campsite, Wellington Dam. (2) Wellington Dam.