Sweden and Finland Cycle Tour
Home Page > Bicycle Touring > Europe > Sweden-Finland





2012 Sweden - Finland Cycle Tour Summary
Total Distance Cycled: 2,416 km
Number of Cycling Days: 26
Average distance per day: 93 km
Shortest day's ride: 45 km
Longest day's ride: 122 km
Highlights: Crossing the Arctic Circle, seeing herds of wild reindeer, meeting Santa Clause, and the Midnight Sun
Lowlights: More mosquitoes and sandflies than you can imagine.
Foods we consumed with regularity: Sausages, cheese (Dutch gouda please), yoghurt (a litre for breakfast between us), peas, lok (fried and dried onion), salami, liquorice Allsorts, chocolate coated mint balls and strawberries.
Best four new items for tour:
Our tent - Hilleberg Staika - Swedish make by coincidence! Lighter than any tent we've had previously but roomier and easier to put up. No pegs required, just pitch it anywhere. Takes two minutes to put up which is great especially when you are being devoured by mozzies.
Our new sleeping bags: Marmot Plasma 30 - weigh less than half our old bags (and have the same warmth) and compact easily to a tiny size.
My Norwegian Aklima Hooded 200 g weight thermal top - Stink free wool, and kept me warm and the bugs from my head (mostly).
Our Keen sandals - With the weight savings we had made above we could take my dream item: open shoes! They were actually a necessity as we would be swimming/bathing in lakes and it's always yucky to put your feet in there in the mud and wonder what lies beneath. We also thought about injury that can happen to your feet for instance from fishing hooks/sticks, etc. They were great to have as so easy to slip on when you need to go wee-wee in the "night" and when we had hot sunny days a great alternative to hiking boots. Mine carried easily between my bike rack and rack pack. We'll never be without them again.
Special mention: Smartwool hiking socks - fabulous - the only socks I wore off the bike. They weren't washed once, and had no stink!
31 May - 2 June 2012 Perth to Stockholm
We arrived in Stockholm after a three leg flight; Perth-KL-Amsterdam-Stockholm. We left Perth an hour late at 17:25 on Wednesday night which meant that we were lucky to make our transfer at KL. Malaysian Airlines did a good job of shepherding us from the one plane to the next. Luckily the two planes were parked right next to each other, or it could have been a close call. We were so happy to make this connecting flight as we had booked "Comfort Seats" for the extra leg room for the 12 hour KL-Amsterdam flight and knew that if we missed our connector in KL we would miss out on these seats!
Upon arrival in Stockholm we were advised that none of our luggage had arrived> The bikes had not made the connection at KL and the bag with tent and equipment etc. was delayed in Amsterdam! The bikes had not made the connection at KL as there was no space for them on the plane despite having confirmed that we were flying with bicycles months in advance. Anyway, better for them to be left behind than squashed on the plane and damaged. The baggage attendant who checked-in our luggage in Perth gave us the third degree about our packed bag too (it's a large tote which fitted two rack packs, two panniers and two tyres in this case - trying to keep our bikes as close as possible to the 15 kg weight limit to minimise excess baggage costs) demanding "what's in that bag?". I almost responded "A body", but it's best not to joke at airports. She insisted that the bag go in oversize as it was a "strange shape". We'd never had this before and we think this was the reason it was left behind in Amsterdam; the space issue again. We only had to pay US$100 for the extra bike as she charged us under the piece system so we just did as she said.
As flights between Amsterdam and Stockholm are very regular we were advised in Stockholm that we should have the tent, etc. by that afternoon (we arrived at 9:30 am) but probably not the bikes. Our plan had been to cycle about 40 km to our first campsite, Rosjobadens Camping in Sollentuna, but now of course that was not possible.
We purchased two 24 hour public transport tickets and found out how to get there; a bus, a train and another bus. We were told we would get a phone call when our luggage arrived and it would be delivered to us. The campsite is very convenient to public transport with a bus stop right outside. It was really cold! We walked to a nearby supermarket to buy some food and then waited for our phone call which never came. We eventually phoned the KLM call centre and were advised that all luggage had arrived but was awaiting confirmation. We were so pleased. We decided to go back to the airport so that we could pick up the luggage ourselves if we could as we needed our tent for that night! At the airport we were told that actually none of the bags had arrived but were all due at 11:15 pm. We had the choice to wait for them or have them delivered. We were livid! A few hours ago we were told they were there and now they were not! I rang the call centre again to find out what was going on and to submit feedback. We went back to the campsite but the office was closed so had to ring the emergency number. Luckily they had a hostel room available and we had our sleeping bags in carry-on luggage, so we were sorted for a night with a roof over our heads. This was around 9pm. The next day we booked in again for another night in the hostel as we didn't know when to expect our tent! We then finally had a chance to go into the city to have a look around. It was freezing cold and very wet. The rain hadn't stopped at all in the last 24 hours! We stopped in at the airport again on the way home and were told that our luggage was there, but yet to be processed, and would be delivered to us that afternoon. It all arrived at our hostel room at about 5:00 pm. Mike put the bikes together and we were very happy to have all our things and everything in good order! We could finally sleep easily!
The next day, Saturday, saw us pitch our new Hilleberg Staika tent in the pouring rain and have a day out in the city. The campsite was water logged and we had to be very selective about where to pitch the tent. Stockholm is a beautiful place but unfortunately it was cold and wet that day (max temp of 7 degrees). The Stockholm marathon was on though and that was quite interesting to watch. We also purchased some extra warm clothing at Alewalds Outdoor Store as we were worried about the cold, particularly on the bike.
We stocked up on food supplies at a supermarket in town for essentials such as powdered milk (so much more convenient than fresh) and ready-to-eat soups for emergency or bush-camp meals!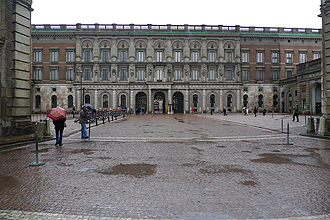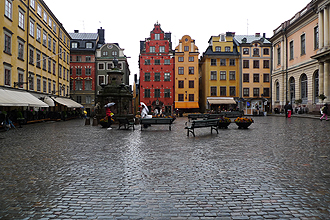 3 June 2012: Stockholm - Norrtälje (96 km)
We were quite sad to leave our beautiful woodland campsite setting at Rosjobaden Camping but also pleased to be on the road. Also, I realised that we would be seeing a lot of beautiful forests in the next few weeks.
It was a freezing cold day on the bike with a maximum temperature of 9 degrees expected. We set off in our full winter gear and I was pleased to have my new top with built in balaclava which fitted snugly under my helmet. We had rain off and on for the day. We set off at 9 am and arrived at our campsite at 4pm. As usual Mike had planned our route from the campsite perfectly. We were to follow the Cykelspåret längs ostkusten, a route for cyclists all along the east coast of Sweden to Finland. However, the route today took us on quite busy roads which were also hilly and sinuous with a very narrow shoulder. As you are always getting used to the load on the bike on day one this is quite difficult riding as you try to keep to the edge as much as possible with cars passing and especially on blind rises. Wet roads didn't help.
We stopped at a beautiful place on the water for a snack and a geocache. It was no longer raining but getting back on the bike was freezing and my hands went totally numb and would not warm up. It took an hour for the feeling to come back! Rule number one for me is "do not remove gloves for eating"! A man told us that it was the coldest start to summer in 84 years and we could believe that. With that though the road was very picturesque and the green landscape and lake views were exactly what we had expected.
We had planned to camp at a town called Norrtälje and arrived at the campsite which was not attended. There was a telephone number to call and I was told that the site was not yet open for the season but we could camp there for free. There was no water but we could swim in the lake down the road. There were two porta-loos which was good and we later found out from one of the caravaners that there was also some water in water containers for the couple of caravaners there. The campsite was otherwise beautiful - freshly mown thick grass and very quiet and open. The freezing rain set in again so we decided to leave out the swim in the lake, and instead used our wet towels to wipe ourselves down. i.e. our towels that had spent the day strapped to the outside of our panniers that were wet from the rain acted as cleaning devices! We had a good soup supper and then to bed.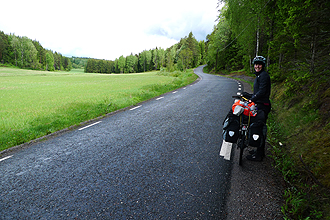 4 June 2012: Norrtälje - Hargshamn (76 km)
We were up to leave at 8:30 am and had a pleasant day's riding to our campsite at Hargshamn. We were still in our warm layers of gear but at least it didn't rain as much and once we arrived at the it has turned into a nice day. The riding was less hilly than yesterday which was welcomed. We arrived at our seaside camp at 2pm. We had bought enough food so didn't have to stop en route to shop. The route was very pretty with flower filled meadows and our first real lake views. The roads were also quieter.
The campsite, Hargshamns Bad & Camping, was right on the Cykelspåret route, but also unattended. A group of men who it seemed were there to hunt/fish were staying in a cabin on the shore. Camo gear is definitely the go here. I called the nominated telephone number to advise that we wished to camp. The showers were locked so we had a swim in the sea which took some motivation as it was quite cold! Later on the manager arrived and told us we could camp for free. This was after I told him we swam in the sea instead of having a shower. I think he was impressed.
Later that evening we took a long walk to an old historical building to do a geocache.
5 June 2012: Hargshamn - Älvkarleby (90 km)
Today's ride was very cold and rainy. The route took us more inland and we had a lot of gravel road riding. We worked our way along a river valley and the riding was beautiful with forests everywhere. The dirt roads on this trip were the best we have ever experienced. Much of the time they are as smooth as silk with not a stone to be seen, particularly in the beginning stages of the trip. Already we felt quite remote with villages few and far between and not much farming activity - Just forests, which I guess is what we came for. The last part of the ride saw us along a wide open road with a broad shoulder. Lovely riding, but just very cold. We stopped to shop at Karlholmsbruk and took up an old habit of sharing a litre of chocolate milk. Two passersby had a chat to us as we sat at the picnic bench at the road side. We knew that there would be a supermarket in Älvkarleby so didn't buy supplies for the night but would soon begin our routine of shopping for the night and morning's food at the last supermarket we would pass before our end point. We find this to be so much easier to carry the food for the last 10 or 20km than go looking for it after you arrive at the campsite. There is always an ICA or a Coop Supermarket in every village. Mike would wait with the bikes and I would go in to shop. Always interesting.
About 10km from our end point I began to hear a tick-tick sound which I first thought was my front brake and then my rear, and was continuously looking around as I rode to try and figure it out. Mike was looking too and we thought to stop but just kept going. Which just goes to show that one should ALWAYS stop and check these noises out as in my rear tyre was a 6 cm long nail. Happily it had gone straight through the tread so the tyre was not damaged. The campsite was Älvkarleby Fiske and Familje Camping. It was very reasonably priced and in full operation! It is along a meander in a river and a lovely spot. We went to shop at the supermarket about 2 km away (which contradicts what I said earlier about shopping before we get to the campsite - This was not the norm!!). The village was very pretty and the view from our tent sublime. All in all a great day, especially the hot shower!
6 June 2012: Älvkarleby - Bush Camp before Ljusne (117 km)
Sweden's National Day - Happy Sweden Day! The entire country is bedecked in blue and yellow with flags flying proudly everywhere!
This was the coldest day I recall on a bicycle. We did not have rain but we had already learnt that if you are travelling either just in front of or just behind the rain the temperature drops by what feels like 10 degrees. We stopped for a few geocaches and arrived at a large town Gavle after about 30kms. We aimed for McDonalds and their free Wi-Fi to check and send e-mails, etc. We had a couple of burgers and coffees and then got back on the bikes. I put my balaclava hood on under my helmet and didn't take it off at all for the rest of the day. Each time I got off my bike and then got on again my behind froze off. I kept thinking it might snow! The riding was very good and the roads quite flat. We stopped at a few very picturesque places for geocaching. We were aiming for Ljusne and the local campsite but instead stopped at a beautiful bush camp Mike had found on Google Earth. We had to ride a couple of kilometres on a dirt road and then push along a small walking track for a few hundred metres and then we had the most spectacular camp setting; flat spot for the tent, lovely spot to swim and perfect view. We did bring the water filter because although the lakes seem pristine you never know what could be lurking, and a stomach problem can make you very sick. So we always filtered when drawing water from the lakes and then added purification tablets to the water we would drink. There were lots of bugs but we had mozzie repellent. We also spotted our first wild fox which was a treat. It was a wonderful calm evening and the rain was behind us.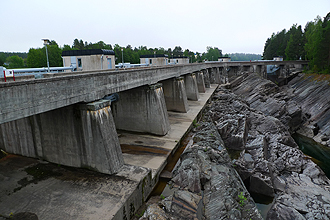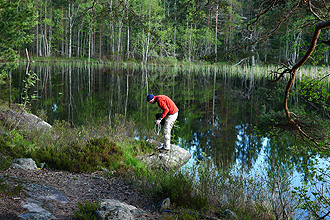 7 June 2012: Bush Camp - Hudiksvall (96 km)
The day dawned sunny and dry! We didn't even wear leg warmers!
There was quite a bit of climbing on this day as we set off from our lovely camp site and passed through the town of Soderhamn. The route ran along some quite busy roads especially the E4 which is the main motorway in this part of the world. After Soderhamn you can take a left route that follows an inland river, but we took a more coastal route. The road flattened out and the sun was out! We had some lovely riding along the coast and quite a lot of good quality dirt road. Hudiksvall seemed a lovely town and we shopped at Hemköp before heading out to the campsite, Malnbadens Camping, along a dedicated cycle way. This campsite was super sleek! Beautiful rolling green sites and superb facilities. The first time I'd seen a sauna as standard inside a bathroom. Pity about the sandflies ... We watched a team of men building some modern timber houses from the campsite. The Hi-Viz gear in Sweden seems way brighter than at home, obviously there is the need for actual glow in the dark clothing. They worked on the houses 'til midnight and recommenced at 7am. It got us thinking that much of the construction work must take place in summer and the labourers must work long hours in the summer months. "Do they do other kind of work in winter" we wondered, or do they sleep in?
8 June 2012: Hudiksvall - Skottsund (98 km)
This was a fabulous day's riding with wonderful coastal views and riding up onto a plateau where the forest seemed drier and more open (probably more what we are used to). The roads in Sweden, particularly the ones in remote country areas are absolutely superb - beautiful quick surfaces and wonderfully planned and built. When you consider that they are not highly trafficked it is amazing how much expense is invested in them. We stopped for a "hilltop golf course geocache". What a brilliant course; emerald green and perfect lawns and no one in sight! Much of the day was spent passing through smaller coastal villages.
We had quite a lot of gravel road riding on this day and a lot of it steep ascents and descents (as you often get on these types of roads). Mike had planned a bush camp but when we got there it seemed too far from the water so we kept going and then had a rest stop alongside a lovely river. We then decided to press on making this a longer day that we had first planned.
At one point we came across a strange road sign which showed a mug of tea or something. We pulled off at a picnic table and read a story about a local water well reputed to have "magic" powers! We walked along a short track to the well and each took a drink. It might have spurred us on!
We camped at Skottsund (Bergafjärdens Camping & Havsbad) and picked a site right on the beach which was lovely. We had no rain that night and the sky was blue!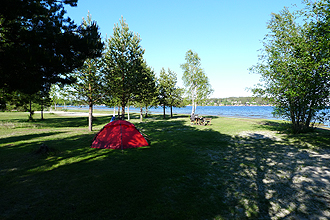 9 June 2012: Skottsund - Bush Camp (before Härnösand) (70 km)
We were tired and in the mood for a shorter day! We were to pass Sundsvall early on and it took ages to get through it. Sometimes big towns are like that, they seem to devour the day. We wanted to go to McDonalds for free Wi-Fi and obligatory burger/coffee break. Then you also want to shop because the supermarkets are so big and you can get everything!!! But it all takes time. Before you know it we had ridden only 30km and three hours had passed. Civilisation can be very time consuming...
We had been seeing snow mobile routes at the junctions where they cross the roads. They have proper road signs with stop signs and red crosses for the drivers to see the route. It must be a different world in winter.
We had planned to stay at a bush camp Mike had picked out. We had some quite hard riding on gravel road which was not super smooth but certainly easy, but a very long climb... Once at the top we started looking for a bush camp and passed on a couple. We found one with water nearby and decided to camp there. The dirt access road went on beyond the site and later on quite a few vehicles passed us and then returned late that night. We realised that at the end of the road might have been a swimming hole. In retrospect we probably should have continued on the road. We walked to the water to "wash", but the whole place was a spongy bed of moss and tadpoles so you were really walking on plants with the underlying lake threatening to rise up any minute. You couldn't get into the lake as it was so deep and there was no firm surface to pull yourself out on. Mike had a job filtering water standing on a tiny wooden board which had been left there.
Then there were the mozzies, sandflies and co. Oh my goodness. Just get yourself sort of damp and sort of clean and get all your clothes on as quickly as possible.
We waited to pitch the tent and then Mike found a slightly better spot over the other side of the road near an abandoned shack. Fewer bugs! A good night's sleep was had by all...
10 June 2012: Bush Camp - Docksta (95 km)
The day started with a wonderful downhill cruise. We hadn't been on the road long when we passed what would have been a great campsite; it had a shelter and proper swimming hole and a pit toilet (just before Härnösand). We were quite disappointed that we hadn't continued on the day before, but you don't know what you are going to find just around the next bend! Throughout the trip we often came across fantastic camp sites when we didn't need them, but we also found some just at the right time. There are many well set up sites to bush camp and you will mostly always come across one with some sort of structure/swimming hole, etc.
We had quite a lot of gravel road riding today with those short, sharp climbs and steep descents but all good surfaces.
The day's riding was very scenic through an area of Sweden known as the High Coast where you have wonderful views of the lakes. There is a fantastic bridge crossing as well and we had good weather for all of it.
There were two long climbs on bitumen quite close to Docksta and the last bit of the day was on the busy E4 motorway (but at least there was a wide shoulder). This day had the most climbing of the tour.
We pulled off the E4 into the campsite just short of the village of Docksta. That evening we met a cycle tourist who also camped overnight. He was from the Netherlands and had left home in mid-April to ride the Baltic Route, passing through Germany, Poland, Russia and Finland before coming down through Sweden. It was interesting talking to him.
11 June 2012: Rest Day Docksta (16km)
We decided on a rest day today as 8 days of riding in a row is quite a lot for us. We had a lazy start as we were able to sleep in as the sun was not so bright due to the mist which rolled off the river. The campsite had free Wi-Fi which is a bonus. We discovered that there was a washing machine and powder which were free to use. It was a modern machine and we had to figure out what cycle to use which was all in Swedish. We whipped out the net book and looked up Google Translate! It took quite a while to figure out how to use the machine. The washing took a while and we enjoyed the sun in the meantime. We hung it out on the empty washing line and knew it would not take long to dry in the warm sun and cool breeze. We rode a 16km round trip to Skuleskogen National Park. This looked like a fabulous place for hiking. We did shopping in the Docksta township also. We had noticed the previous evening and the same thing happened that night; mist rolls in off the lake and takes a while to clear in the mornings. The camp site was very nice. There was even a pool which was not yet open of course! This was also the cheapest camp site that we had stayed at so far, which with the facilities that were available was unbelievable.
12 June: Docksta - Bush Camp (after Gidea) (115 km)
A long day's riding after our rest day! We had a lot of gravel road today again. We stopped for a geocache at a forest hiking hut not long into the day. Wow, what a wonderful hut! Well built and clean and fresh inside. These Scandinavians sure know how to build wood huts - No dust at all.
Soon thereafter, we passed a pretty swimming hole where we could easily have camped as well.
We passed the large town of Örnsköldsvik. We were not sure if we would camp at the bush camp Mike had chosen or press on to the next pay camp site. We stopped at the bush camp but it was quite far from the water and not very picturesque so we thought we would continue. We passed Gidea Bruk (an old industrial settlement/village) on the river and then came across the camp site we would choose; right on the river crossing and with a shelter. It was a nice place to swim/bath and the river ran swiftly. That evening we saw an otter playing about on the river stones.
There were many mosquitoes here too, but at least it was cool enough that we could wear clothing to keep covered.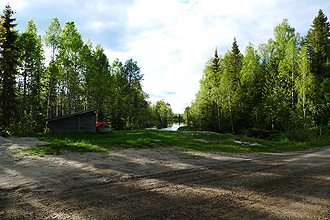 13 June: Bush Camp - Umeå (112 km)
Although we had a long day yesterday we had another today. We would ride to Umeå today from where you can catch the ferry to Vaasa, Finland (although we wouldn't be taking that shortcut). We passed through the interesting Bruk of Olofsfors. Bruks are sites of old industrial operations which have been restored. Quite common in Sweden, they are villages which show the way of life in days gone by in these developments where natural resources were exploited. They are always interesting and well worth a look.
Prior to leaving home, Mike had calculated that his Rohloff would celebrate its 50,000 km "Birthday" in Sweden, and that this would occur at kilometre 888 into the trip (how convenient). Today was the Big Day! It was with excitement that we counted down the 19 kilometres to the Milestone at which time a lot of trumpeting and hollering took place. Luckily we were in the middle of nowhere! We stopped on the side of the road and leant the bike up against some logs for the celebratory photograph, and presented "Sir Speedhub" with some flowers. It's taken 52 months to chalk up the Milestone.
Just when we had passed through Norrbyn, we stopped to find a geocache just off the road. We were surprised to find a massive wooden tower which delivered a great picturesque view above the trees. It swayed quite a bit in the wind which I found disconcerting!
Umeå has a choice of two campsites and we went to the one on the river intended more for motor homes first but it did not look very good; hardly any grass to sit on and unmanned, so we decided to press on to First Camp Umeå which is HUGE and was quite busy. The tent area had another pair of cycle tourists and a pair of motorbike tourists too. We also met another cycle tourist from Belgium who had cycled from there and was making his way to Nordkapp (which is a popular cycle route and we were often asked if we were going there). Nordkapp is the most northerly point in this part of Europe.
14 June: Umeå - Ånäset (104 km)
As our campsite at Umeå was in an open area with no shade we were awake at 5 am with the hot sun streaming into the tent. This meant that we had a super early start to the day at 7 am!
Our route out of Umeå was made easy by an excellent network of cycle paths. The route was quite flat throughout the day. We stopped at Robertfors to buy food for the night and then pressed on to Ånäset. We arrived quite early at Lufta Camping; by 2:30 pm. It is a lovely campsite with separate sites and very picturesque. We did some geocaching and sat but the river, and then early to bed!
15 June: Ånäset - Skellefteå (97 km)
The day dawned misty and a bit rainy but soon brightened and was warm with a chilly breeze. We passed through farmlands, but any thought of stopping was soon changed by the hordes of mosquitoes that zero'd in on one when you stopped for longer than 2 minutes. The roads were once again quiet and smooth, with some gravel road at the start. We took a slight short cut from our originally intended route avoiding Lövånger. We had noticed changes in some of the architecture, particularly with the churches that had gone from huge imposing structures high up on hilltops to smaller buildings with very high, dainty, bulbous turreted steeples.
We saw our first two outdoor ice hockey rinks, now only dirt of course; one in someone's back garden and one at a school. It's a different world from back home in Aus.
We had a headwind coming into Skellefteå but what was good, was there is a cycle path from 10 km out of the town which made for a much easier ride in. The campsite, Skellefteå Camping, was well signposted and very big. It is at the base of ski fields and there are ski lifts that go through the campsite which are not operational at this time of year of course. There is a large ice hockey arena nearby. It is really interesting for us to see all these winter activities.
The tent area was one open area (quite common) and ours was the only tent. We camped next to the shelter and fire place which we didn't really want to do but it was the only flattish piece of ground (these places seem to add "tent area" as a bit of an afterthought). At around 10pm a large group of teenagers arrived, lit a fire and sat there metres from our tent laughing and drinking, etc. Eventually I got out and asked them to move, which they did without much complaint. Reminder to self: don't camp close to fireplace again.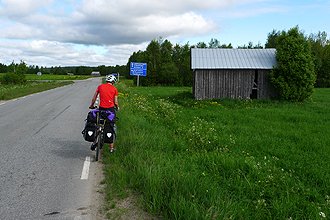 16 June: Skellefteå - Norrfjärden (122km)
We set off from the Skellefteå campsite at 8:10 am, our aim to reach Piteå, the next large town about 96 km away. The route started out quite undulating with some steep little climbs early on, but soon settled to some wonderful straight, flat, roads that went on forever; a brilliant day's riding. The highlight was the town of Byske which we arrived at after about 30km. The bridge crosses the Byske River which was a raging torrent and many people were fishing along the banks. There is a huge wooden sculpture of a fish as well. Fishing is important work in this place. After this point the road climbs quite a lot and we passed through some drier pine plantations. Beautiful riding. We had a rest stop at Alund (road crosses same river but much calmer). There was a picnic spot here with a shelter overlooking the river just before the 60 km mark. Thereafter there was some climbing before a descent to Hemmingsmark. We also stopped about 10 km short of Hortlax and were tempted to camp at a lovely swimming hole on the river with its own picnic table and fireplace as well as a toilet. As this was around 82 km we decided to press on to Piteå instead. We were amazed at the campsite we arrived at, all chock-a-block and packed with people, dogs and kids. The first one we arrived at even had a jazz festival on the go. Not what we have in mind after 100km ride. And the price to camp at that one was the highest yet - 175 Kroner per night. We went to a second campsite which we just by chance ended up passing. Didn't even consider it due to all the people around, and the space available. We then made an effort to go to a campsite on a local island and on arrival were told that there were no sites available (even for our small tent!), even though you could see plenty of space. We thought just as well, as there was a dog which howled not stop from the time we arrived to the time we left. Definitely couldn't have put up with that! So we pushed on again and eventually ended up at a site near Norrfjärden (Ladrike Camping). This turned out to be perfect for us. Great friendly staff, and very quiet with basic facilities. We were on the bikes from 8:05 am 'til 5:05 pm. Quite a long day!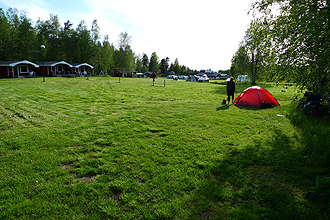 17 June: Norrfjärden - Luleå (61 km plus 11 km additional to buy food)
We woke up to rain in the middle of the night. As this was due to be a very short day at 60km (due mainly to the fact that we had done the extra km's yesterday) we were happy to have an unusually lazy start. However even with this in mind, a 10am start is exceptional for us! It takes ages to get dressed and pack up inside the tent when it's pouring with rain (as it was). We eventually got out of bed at 8am and went to the kitchen to make breakfast, meeting up with a very friendly Polish man there. The rain was quite hard at this time and didn't look like clearing.
We got into all our winter woollies and went off on the E4 for the first km or two. There was some very good gravel road riding. The route was flat, easy and short! It was beautiful to see all the forest shades of green in the rain. It stopped raining pretty quickly but was grey and overcast and drizzly all day. This was the first day we didn't pass any shops (except for one early on). We arrived at Luleå First Camp at about 1:30pm and had a range of tent sites to choose from. Completely different from Piteå; hardly anyone there and only two other tents. We pitched our tent outside the ablution block as you get very tired hiking across meadows to the loo at 3am! We then got back on the bikes to find a supermarket. There is a HUGE industrial park nearby (Storheden) where you can shop for anything it seems. The supermarkets are the MAX kind as well. It took ages to shop as there was such a selection. It was very cold by this time as well, and this type of additional on bike stuff really lengthens the day so that it was 3pm when we got back to the tent and 4.30pm before we had had anything to eat. By this time we had bad headaches so ate our food and took some headache pills and got into the tent! We got up later and went for a walk and to find some geocaches. The rain started up again around 10 pm.
18 June 2012: Rest Day Luleå
We woke up and decided to have a rest day as it was a really nice spot.
We took the bus to town, had a look around and ate ice creams - our first. Delicious creamy vanilla soft serve. Yum! Lovely day - relaxing - especially the bus ride! The town was quite pretty - just cold and windy. We shopped again at Alewalds - mozzie repellent and more fuel for the stove. It's a very nice store.
19 June: Luleå - Bush Camp after Tore (105km)
We had originally planned to get to Tore today which is about 84km north up the E10, and then travel across to Övertorneå and cross the border into Finland. The quickest way was actually through Haparanda but we wanted to do some more kilometres north so as to cross the Arctic Circle. We had such a good rest that we decided to get an early start and get as far as Kalix and then use the 398 to get further north and join the 99 to Övertorneå. At Övertorneå the crossing to Finland is over a bridge crossing the Torne River. This route to Kalix would be flat and the 115 km easily accomplished. We set off at 7 am following the Cykelspåret as usual. The route out of town from our campsite was very pretty actually, hugging the coast and before we knew it the first 10km's had slipped by. It was a cool morning and we dressed warmly in legwarmers and jackets (me with full gloves as usual).
The ride was uneventful if cold, with a slight headwind and raining for the last two hours. We had our first rest at the 50km mark in a small town en route and bought the obligatory chocolate milk at ICA. We crossed the E4 on a specially arranged cycle crossing - a bit informal - just straight across and through a gap in the centre barrier. We had a bit of dirt road riding and one section was very badly pitted and thereafter very large gravel pieces, but not for long. On the whole, the gravel roads were absolutely fine and we had no troubles whatsoever and our new Schwalbe Marathon Plus Tour tyres were worth every gram of check-in weight.
We shopped at Tore and the pressed on for the last 30 km to Kalix. About 12 km short we came across the perfect bush camp at a picnic site where we pulled off for a geocache. Right on the lake with a jetty for swimming off, and toilets, and a shelter with fireplace and all on dry ground under pine trees. Beautiful. We decided to stop here instead and pitched the tent, had a swim in the rain (freezing), and then jumped into all our clothes to stay warm and to prevent the bugs from biting. The really good thing about our new Hilleberg Staika tent is that the outer sits flush to the ground so as long as you chuck all your stuff inside and then make sure the zips are pulled all the way down, you can actually leave the inner open and make use of the vestibules bug free. This feature really adds to the available space. We had a delicious meal and a lovely night's sleep. A wonderful spot.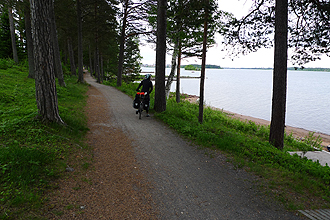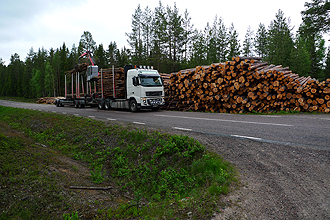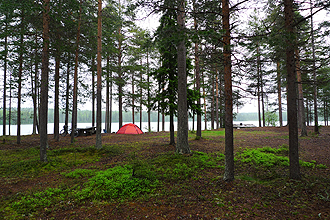 20 June: Bush Camp - Övertorneåu (93 km)
It was nearly Midsomer's Day which is basically the celebration of the summer solstice when the sun reaches its most northerly point, and doesn't set above the Arctic Circle. We were just south of the Arctic Circle but still the sun didn't set anyway. I got up at 1.20am this morning for wee-wee and it was still broad daylight. I felt a bit sad about it being our last cycling day in Sweden as we were heading for the border, but we would still camp on the Swedish side that night.
It was freezing cold day today; balaclava hood on, long gloves, overshoes, you name it, I wore it. We would leave our wonderful Cykelspåret today after 15 great days journeying. We deviated at Road 398 and instead travelled North, straight into a headwind which was freezing cold and lasted all day. There was a lot of subtle climbing today. In fact, we seemed to be climbing all day and with the headwind, it became quite a slog.
We passed through Kalix and the campsite looked good - Not as nice as our bush camp though!
The 398 road is very good though and quiet except for the odd logging truck(s) that seem to use it a lot delivering loads and travelling back for more. It was a very tiring day. We turned onto Road 99 at Hedenaset and followed the river border northwards. We could not believe it when we hit our first gravel road section of the day, and even more so, could not believe that what looked like a major road could be this poor condition. Full of potholes! It was obviously in the process of being upgraded but in the meantime was highly trafficked by heavy vehicles i.e. The logging trucks and other speedster vehicles.
Luckily it only lasted 5 km (it felt 10 times that) and we had bitumen for the rest of the way. The section from Hedenaset to Övertorneåu is only 19kms but with this dirt road section and a couple of easy climbs, the headwind and the cold, it was tiring and we were pleased to arrive at the campsite. It was super cool to see the sign board - FINLAND 2 km.
We stopped as our last Coop to shop and then pulled into the MOST expensive campsite on the trip so far (190 Kroner for the night) and looked forward to the bridge crossing tomorrow. We had a fantastic hot shower and ate in the kitchen which appeared a little "unloved". However, we did spy a washing machine in the laundry adjoining the kitchen. We quickly grabbed some stinky things and stuck them in. The machine seemed quite fancy but the place where it looked like the powder should go was full of water. We just stuck some in and put it on. The wind was really blowing by now and was very cold, but we hung the washing up using our "unravelling" wash line. It was great to do our second wash of the tour! Otherwise we just went day to day washing out undies and having them dry on the bikes while riding. There was a swimming pool next door to the campsite and it had a bit of a water slide/super tube. We sat there watching in amazement as a group of children in swimming costumes went down the slide again and again. We assume that the water was heated but they were in and out all the time. True Swedish grit!
21 June: Övertorneåu - "Bush Camp" after info sign approx. 40km short of Rovaniemi (115km)
We had an 8.30 am start and crossed the border after 2 km's via the bridge over River Torne. We had quite a bit of rain overnight and it rained up until about 5:30 am. Luckily we had only had some drizzle on the bike. We first headed off to do a geocache on a bush track that really tested us as the mosquitoes had to be seen to be believed. There were clouds of them and they absolutely covered us all over. Luckily the cold meant winter woollies and with my balaclava hood, only my eyes and nose were out, but they still tried to bite us wherever they could. I had the lumps on my head that night to prove it; bitten right through my hood. Anyway, after that it was back on track and on a fairly busy road (route 21) heading north to cross the Arctic Circle. There were quite a few logging trucks but mainly coming towards us. After crossing the border the next excitement would be crossing the Arctic Circle which we reached after about 33 km. You are told about 10 km before and at the place is a big sign and good souvenir store. We stopped to make a purchase and look around (there are public loos here too). As the Arctic Circle fluctuates from tear to year, Mike checked where ir was exactly for 2012 so we could get the necessary photos!! The Circle is at 66 33'44"N for 2012 and that was actually a little past the shop so we stopped again.
The snow mobile tracks criss-crossing the roads in Finland are more "official looking". They have blue and white striped poles with little blue snow mobile signs on top. These tracks are noted on our cycle map as well! I'm beginning to realise that this is a very real form of transport for people during winter.
After that our new cycle route - follow the brown sign with diagram of bicycle on the front - branched off to the right. The road was dirt but good condition until about the 42 km mark when it became very sandy and then a single forest track. Due to a lot of rain in the area the sand had washed out a lot particularly on hilly sections. There was quite a bit of climbing. The forest track or jeep track section was very potholed but so beautiful. The forest seemed in touching distance on both sides. Overall the forest areas seemed to have very lush undergrowth and were very thickly grown. On one steep downhill section we came across a herd of female reindeer and young ones. We stopped at first and they stared at us and then carried on feeding by the roadside. Then we had to get going and they got spooked and ran for ages along the road ahead of us; gangly legs and large feet pounding along before dashing into the forest.
We really enjoyed the riding up to this point. Although it was quite rough in places, the area was so remote and very beautiful. After the track section we joined another road which was much wider but also a dirt road and it varied between sections of huge chunky stone chip/aggregate and sandy sections which were often thick and banked and difficult to negotiate. Not much fun! We then joined the surfaced road again and were aiming for a "holiday village" shown on the map but we weren't sure what this was exactly and by passed it to check out an on-road picnic site. On the way we came across two large male reindeer in the road with their beautiful furry antlers. We stopped and they approached us curiously. We weren't sure about this so made a noise to scare them off, but we noticed that they came back onto the road soon after we had passed. Seeing these animals in the wild was quite a thrill and something we had not seen in Sweden. Could this part of Finland perhaps be more remote? We hadn't seen so much as a shop and even villages seemed to consist only of a cluster of houses.
The picnic stop had terrific facilities with a WC, drinking water, little harbour to swim in and fantastic shelter and fireplace. Thinking about it though we decided it made more sense to do the extra 20km to an actual campsite. We are never that keen to use a picnic site right on the road as one is never sure who could arrive at any time.
Again after a few km's we noticed some cars slow up ahead and this time a large herd of male, female and baby reindeer were crossing the road; the bull male very close to me.
After this we saw a small sign on the road down a side street to a "K Extra". We knew this was a supermarket! We took a chance going down to a small village and came across the shop after about 500 m. It was small but had all we needed. It was the first shop we had seen in Finland after riding over 100 km.
We stopped at another picnic site with a WC and a decent swim area but again decided to go on the campsite which was listed on the info board. We came across it in about 2 km and it was obviously abandoned and had been for some time. We pushed our bikes through a gap in the fence to see if we could possibly stay there. There were many cabins and all the infrastructure (super tube included), but all in disrepair. It was a bit creepy and we kept looking to see if someone wasn't looking at us through a window.
We camped there anyway. The sandflies were terrible but we managed to run like mad things to the lake for a swim and then rush back to the tent before we were made a meal of.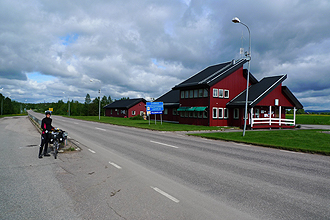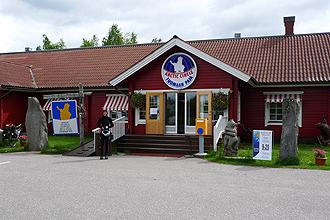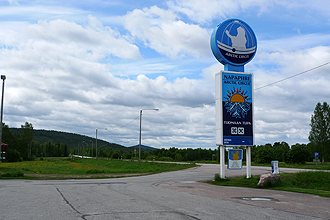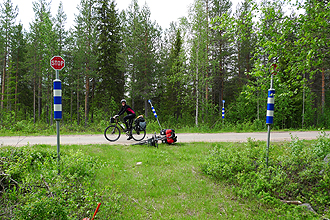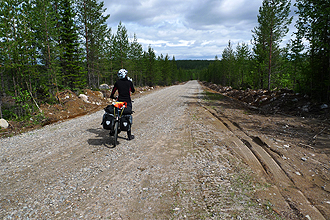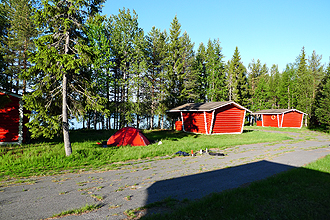 22 June: Derelict Campsite - Rovaniemi (45 km)
We were awake early at 5:20 am and started packing up at 6 am. There were no sandflies which was bliss. I had an early morning swim; well dip is more like it and we were on our way. We did take our water filter with us and Mike filtered water at all the lake camps on the trip. We almost left our filter behind actually as we were in two minds as to whether it would be okay just to use purification tablets. We would think that the people who live in these remote areas just draw water straight from the lake, but we would be more cautious. Thanks to some advice from one of Mike's work colleagues we took the filter and had used it every time we had a bush camp. We also used the tablets for all drinking water. You just don't want to have a bad day or worse because of water issues.
We passed another campsite a little further on which was properly signposted with road signs but clearly not open at all.
We had only 45 km to go until Rovaniemi where we were to camp at Ounaskoski Camping and much of the route was along cycle ways.
We arrived at 10:30 am as we had stopped for a few geocaches and were told that as it was Midsomer's Day the shops in town were all closing at 12 pm. We managed to get there in time for food, etc. after pitching the tent and showering (bliss); it was only a short walk. There seemed like a lot to do in the town but everything closed early for the holiday weekend and supermarkets would not be open the next day either. We decided to have a rest day here to see more of the sights and as it worked out this was forced on us anyway as we could only catch the train with the bikes on Sunday at 4 pm. We knew that we would have to catch the train some distance as we did not have enough time to make it all the way by bike to Helsinki. There were no trains on Friday or Saturday due to the Midsomer Weekend with buses replacing them. The train trip on Sunday was 4 hours long to leave at 4 pm arriving at Ylivieska at 8:30 pm so that meant we could make the most of our campsite checkout of 3 pm! We had a beautiful campsite right on the river.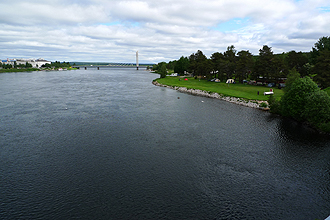 24 June 2012: Rest Day in Rovaniemi and depart by train for Ylivieska
We went to the Midnight Bonfire at the Town Beach in honour of Midsummer's Eve on Friday night. It was amazing to see the sun still burning brightly above the horizon and it being broad daylight at midnight! No darkness at all. On Saturday we slept in til 10 am!!!! And then set off to town although everything was closed. We went to the info centre and were told that Santa Clause Village was open all day. So we went back to the campsite and hopped on the bikes to go there. It was a lovely 9 km ride there along cycle ways. It was really a special experience. We met Santa and he promised to visit us in Perth at Christmas. A Japanese camera crew was there making a documentary and asked if they could film us with Santa. Fame at last! All the curio shops in your wildest dreams could wish for. Highly recommend a visit - Free entry.
On Sunday we slept in, went again to town to shop for food (shops open at 12 pm on Sundays) and then went back to the campsite to eat, shower and pack for the train. We got to the station at 3 pm and the train was due to leave at 16:11 pm. The trip went quickly and we arrived at Ylivieska station at 8:30 pm. We then had a short ride (10 km) to a camping area marked on our map. We passed a lady working in her garden on a farming area on the way. We arrived at the cutest little place; a bench and Hansel and Gretel type hut with fireplace for cooking. Many mozzies! Over the river was another similar hut and what looked like a toilet, with quite a lot of people there fishing. The lady then arrived on her bicycle and tried to explain something to us but couldn't speak English. She gave us a brochure for a holiday cottage that we assume was hers as she wanted to rent to us. It was just next to the place where we were. She did not seem happy about us camping there although she was very friendly. We showed her our map though and she seemed okay with that. We eventually got into bed at midnight. The fishermen were still fishing and the farmer still working his fields in broad daylight. The mozzies got the better of us tonight!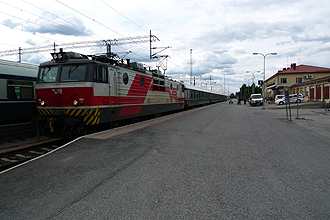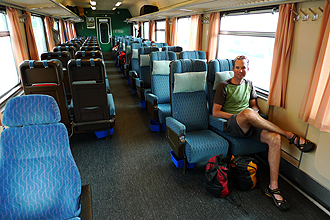 25 June 2012: Campsite near Ylivieska - Bush camp after Muurasjarvi (99 km)
Flat day's riding today!
The train trip has brought us from heavily forested and remote Lapland to flat farmlands with many villages and towns.
We checked out some picnic spots along the way and did some geocaches. There were fire place spots and picnic spots marked on our map and we wanted to have a look at the facilities they offered. The less romantic side of bush camping is the toilet, AKA digging a hole in the ground. The problem here is that the mosquitoes eat you alive and let's be frank; we all know what part of your body is exposed during this procedure. I developed stage fright. It's easier to relax in the bush on a toilet and a long drop is fine. Mike didn't have a problem with this and dashed into the forest with trowel in hand. The problem that he had is that he wears bib-shorts so has to basically undress! This gives the bugs plenty of target area! We stopped in Haapajärvi for a bite to eat and for me to use the facilities. This is not easy when you come to a town in a foreign land. The petrol station had a buffet restaurant attached so I walked round the diners dishing up their meal and dashed for the loo!
We ended up at a bush camp 500 m from the village of Muurasjarvi where we stopped for more food. Many mozzies and flies at the bush camp but it was in a good spot with the shop nearby and the lake for swimming. It was at a parking area off the road and there were quite a few fishing row boats there which people obviously left to use during the summer.
At about 7:30 pm a car drew up and two men got out and got into one and rowed off to fish. They returned about 2 hours later unfortunately with nothing to show for their labours.
Mike filtered water again. Luckily we had been able to fill up our water bottles at the shop just before so we really only needed enough for a hot drink and an extra water bottle or two for the next day. Mike found that the filter needed very regular cleaning to keep it going, which just goes to show how much stuff it was removing.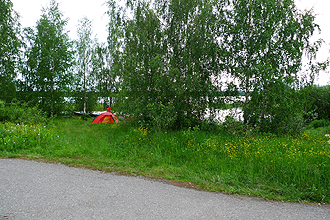 26 June 2012: Bush Camp after Muurasjarvi - Viitasaari (99 km)
We woke with many itchy spots and to the sound of rain. We had heard the rain throughout the night in fact and it always sounds so ominous. It takes ages to get ready in the rain as well and with the larger problem of the mosquitoes we tried to do it all in the tent. Of course at some point you've got to get out of the tent to pack it.
We had breakfast in bed (a long time fantasy of mine) as it seemed practical. Unfortunately no coffee as we didn't want to take on the bugs and the rain.
It was a very different day to yesterday riding wise. We seemed to do a lot of climbing and then descending. It was quite tiring. We had a toilet and snack stop at Pihtipudas which was at about 20-odd km. It was one of those days when you just thought "Can I get to 90 km?". But as long as you keep moving you can. Finland is certainly very remote and even though there are houses and farms etc. there are no signs of shops or anything to grab your interest e.g. Monuments, Places of Interest, etc. Just a lot of forests. Beautiful. We had thought yesterday that we might push on and camp at Pihtipudas but luckily we didn't as we couldn't spot the camp site today so perhaps there wasn't one.
We had some stretches of dirt road riding and although surfaces were good there were many short, sharp, nasty climbs.
We had a 10 km detour to Viitasaari for a camp site with warm shower for the night as two bush camps in a row is enough for me. The site had a great kitchen area where we spent the afternoon looking at maps for the next 6 days of riding and of course eating. I had had a terrible headache on this day probably due to dehydration. So I had many cups of coffee and hot chocolate. I went to bed feeling much better. But still itchy.
27 June 2012: Viitasaari - Bush Camp just after Uurainen (96 km)
The weather turned cold again and we had quite a bit of rain on the bike or we followed the rain which is always very cold. The ride was quite hilly. We had 20 km dirt road stretch in the early stages which had quite steep climbs. We clocked over to 2000 km which was quite momentous!
We stopped for a snack break at the Pyhä-Häkki National Park which at 12 km2 is Finland's smallest National Park. It was a highlight with very nice info area and beautiful trees. You can hire the forest huts for accommodation and they looked super snug!
We had a few options for the length of the day. We could reach a bush camp after 78 km, or a swimming hole after 114 km or an official campsite after 140 km. The mosquitoes had been such a problem that we had more or less decided that if we could, we would go the long distance as the last 40 km seemed downhill and we were keen to try to get to Helsinki a day early. We stopped to shop in Saarijärvi and after that, the day turned colder. We stopped also at Uurainen for a geocache and about 5 km further on we passed a winner bush camp! With a little wooden jetty and a ladder into the water for swimming (bathing). It also had a toilet! Fabulous! We decided pretty quickly that 96 km was good enough and camped there for the night. Usually after about 5 minutes you are covered with mossies, sand flies or whatever the particular spot serves up but amazingly nothing materialised. No bugs at all. We thought it might have been because it was very cold and windy that they take cover. What a difference - We could just relax.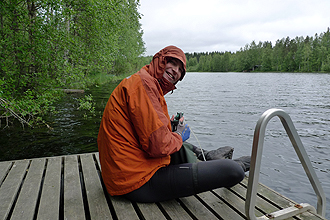 28 June 2012: Bush Camp just after Uurainen - Rasua Camping Site - just before Jämsänkoski (69 km)
We were not sure what our distance would be today as we were not sure where we would camp. It is fun not always to have an absolute plan. We set off around 9 am from our wonderful bush camp. The route was quite undulating with some steep climbs and wonderful downhills. There was a 10 km dirt road section which was very fast and smooth and also mainly downhill. We stopped in Petäjävesi at about the 30 km mark for chocolate mousse and also bought some chocolates but nothing else as we thought we would shop again in Jämsä. We always carry at least one emergency meal - usually soup in case we don't see a shop. It would come in handy today. We had a slight tailwind which was good but as we had found in Sweden the north wind is freezing. We couldn't believe it but we were back into woollen tops, beanies/balaclava, booties and full gloves on the bike today. It didn't rain, but was very cold. We were quite pleased that we had not pushed on last night as it would have been a long ride. We passed the camp site we had planned to reach at around the 45 km mark.
We stopped at a picnic stop around 64 km and there was an interesting info board which showed various picnic/fishing sites and where camping was permitted, which had toilets etc. It was a lovely spot in itself with a jetty for swimming off, but it also showed that there was a pay campsite about 4 km further on which Mike had had in the GPS. What a lovely place! Rasua Camping. The site jutted out on a finger of land into a huge lake and there was a tiny area for tents of which ours was the only one. We pitched with a beautiful view of the water. No bugs here either, but quite cold and very windy. The closest shops were 5 km away so we decided to make use of the food we had and just relax. It was a lovely place with spotless facilities and very nice people.
29 June 2012: Rasua Campsite - Koverno Camp Site in Evo National Park (102 km)
We woke with a start to discover it was 8 am. We had had such a good sleep. It is also noticeably darker at night; lightish, but definitely not broad daylight. The wind had gone and the lake surface was like glass. This had been the best paid campsite of the trip! We were on the bikes by 9:10 am and had a fabulous bike path all the way past Jämsä. Just at Jämsänkoski we passed another ski jump. I've not mentioned these but we saw our first one at Rovaniemi and then quite regularly after that. You only realise when you stand at the foot of one just how steep and high they are. Those guys are crazy!
Jämsä was a lively town with a large market on the go. We shopped here at the large K-City Mart. Just after Jämsä we turned onto a cycle route 24 and then we had a 25km gravel road section. This was absolutely the worst road of the trip and one of the worst we've ever cycled on. The first 7km was on a loose gravel surface and the gravel banked in places as the road was undulating with some very steep climbs. You really had to concentrate to stay upright. It was bad but still acceptable. We then hit a 4 km bitumen surface and some more dirt road but more what we were used to here - smooth as silk. The scenery was beautiful with the riding all along the lake shore. The weather was also lovely with the sun out, blue sky and big puffy white clouds. No wind.
After that brief respite the road got really bad! We had nearly 10 km of thick sandy, gravelly road. It was ridiculous. The gravel/sand mix had been laid just thrown onto the road surface and we can only assume that it was to be compacted at some time. It was ridiculously hard riding, and a real battle to remain upright. You had to hold whatever line a car tyre had left and veering off it landed you in thick, soft sand that was unrideable. I of course fell off twice. Towards the end we were also passed by huge trucks coming along for some reason so you really had to ride on the right side of the road, instead of whichever side was easier, or where you could pick the best line.
We hit Kuhmoinen at about 55 km and had lunch there on a lovely grassy bank next to an "Uimaranta", or "swimming hole". Thereafter we had some more dirt road but this was much better riding. The section between here and Padasjoki was beautiful with narrow twisting roads and lovely dense forest.
We stopped in Padasjoki to buy chocolate mousse (it had become a staple) and then had about 10 km to the Evo National Park. We weren't sure where in the park we wanted to camp so we stopped at the info board and decided on Koverno. It had drinking water, a toilet and swimming hole. We were a bit put off by a huge sign advising No Entry as this was a military area and you could only proceed with a permit. It just didn't make sense as we were on a cycle route, so we proceeded anyway and rounded the next bend to come across the actual military on some sort of activity. We just kept going and didn't make eye contact. Nobody asked any questions!!
We passed a few possible overnight campsites before getting to our destination. It was fabulous as it had a water well from which you could draw pristine water with a bucket! Also - great excitement - the well housed a geocache which we found by accident as we did not have any geocaches saved for the route! A great surprise.
The campsite had plenty of space and a large fireplace. It had a rubbish bin (although I've not mentioned this it is definitely a preferred feature in a free campsite) and a long drop toilet. It also had a wood pile (a supply of wood is always provided at the fireplaces) with a clever reverse axe - see photo's of Mike chopping wood! It is just amazing how these things are all provided at these free sites and remain there. The fireplaces have grids and everything is clean and in good working order.
We had a lovely (?) wallow in the lake and avoided the worst the mossies could do. At least there was an intact boardwalk that you could launch yourself off into the water. We had soon settled down for a good night's rest. It had seemed a very long day. We had left at 9 am and once we had had our swim and dressed, pitched the tent and were ready for dinner, it was 6.30pm. A long day indeed.
We were dozing in the tent at about 21:30 when we heard some people walk by. At about 22:00 I opened my eyes to see a man dressed in military gear walking around the camp looking at the tent. "Here we go," I thought, "The military have tracked us down." It turned out he was only a hiker looking for the well! He was hiking with his mother and they were to camp there that night also. I was only too happy to show him where it was. On closer inspection he was only wearing camo gear and a beret. He was nice and spoke excellent English.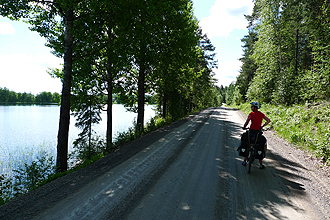 30 June 2012: Evo National Park - Riihimäki (100 km)
We woke at 7am feeling the effects of our exertions yesterday. It was a bit disappointing to discover that we would have a headwind all day today as well. We had a slowish start on 13 km of gravel road leaving the National Park. The entrance to Evo is very nice and there is an info centre (locked when we left) which promises maps and so on. It's a very popular area for hiking. That's of course if you can stand the mozzies!
It was quite sad leaving the forest area as we knew that that would be our last forest experience of the trip. However we were looking forward to A) no more gravel road and B) Hot shower at a pay camp site.
The first 60km had many short steep climbs and the last 40 km was flatter. We battled a head wind all day which just wears you out. We stopped for chocolate milk at Lammie after 30 km and then for lunch at Turenki. Supermarkets in Finland are HUGE. We stopped again at Riihimäki for our final shop. We had found a few geocaches on the way, Mike finding quite a few on his own. The route criss-crossed some busier roads and it may have been quicker to take a more direct route, however it is always calmer to follow the route as you don't have to concentrate as much on quieter roads. Riihimäki has a MacDonald's but we were too tired to care about the internet, even if it been a week since checking e-mails.
We had a lovely PIPING hot shower at the camp site. We pitched our tent close to the toilet (convenience is all) and were again able to sit outside the tent without being bitten. There was a grilli nearby, which is a little hut with a pitched roof and inside is a fireplace. These were very common in Finland (in Sweden the fireplaces are usually open air) and you can imagine them being very snug in winter. A group of people lit a fire inside to perhaps cook, I don't know, and the next thing smoke was billowing out the door and all the people left. An unsuccessful grilli! We were tired and asleep early.
We would have no more long riding days now; only one of 50km and one of 40km.
1 July 2012: Riihimäki - Järvenpää (50 km)
A short day today and the route was along cycle ways all the way which was terrific. Although we had some rain over night the day was clear and warm. We were headed for the camp site in Järvenpää from where we wanted to catch the train into Helsinki for the afternoon as the day would be short. So, super easy ride although we were tired from the previous two days and our legs felt it.
We arrived at Järvenpää to find that there had been a Blues Music Festival on the previous night and the campsite was still packed with revellers trying to wake up. The receptionist however assured us that they would be gone by 4pm although they were finding it a challenge to get the place cleaned up. We were ready for anything. We asked about transport to the city but the train station was nearly 4km away and there was no bus on a Sunday to get one to the station. It was a sunny and cloudless day and we went into the camp site to choose a spot. Most of the festival goers were middle aged and the campsite appeared clean and orderly. We went to shower but there was no hot water. Must all have been used up, and we were too tired to worry about it.
We picked a site that would have afternoon shade and it seemed all too much trouble to go anywhere. We lay about all afternoon. It was bliss. We decided to buy a cold drink but as the closest grocery store was nearly 2km away (what had become of us?) we went to the reception/pub and bought two 500ml cokes for EU 8!!! Daylight robbery, but so refreshing. The best Coke I have ever drunk.
There was a Frisbee (Disc) golf course in the open recreation area next to the campsite and it was really interesting to watch the game. Some very serious players. Mike was wondering why this hadn't caught on in Perth. The only other place that we have seen a course is in Queenstown, New Zealand, and I think in Luleå, Sweden. We had a great afternoon and were pleased we hadn't rushed into the city as it would have been too tiring. The showers were very hot that night and that was great. We were in bed early and we even washed down the bikes in preparation for their custom's inspection in Australia. Then of course it rained overnight.
2 July 2012: Järvenpää - Helsinki Airport - 26 km
Mike had previously had a route which was 42km long but devised a shorter one for today - Well Done! We woke at 4 am to rain which continued and got worse so we would have a wet tent, wet bikes and wet panniers to contend with. I even wondered at 4am if we shouldn't just pack up and get going, but it seemed silly. We were to ride to the airport and try to purchase some bike boxes there, although we were doubtful about whether they would have any. We would then store the bikes and most of the luggage, and catch a bus to the city to our hotel.
I had cleaned the bikes the night before but with the rain they would become dirty again. It is also not good to pack the tent wet and leave it like that for days. More than anything else with everything being wet it weighs more!
We set off without breakfast and not even brushing out teeth!!! We were on the road before 7am and again bike paths all the way. We arrived at the airport at 8.30am. Then the process began. (We find that when we get to any airport, you seem to go into a parallel universe where your time just disappears. I went inside to information (who didn't know of any bike boxes) and then to the luggage storage place to find out about cost of storage (EU 5 per piece and EU 10 per bike per day). I was told that it would be okay to leave the bikes without boxes in case we couldn't get them at the airport and had to source them from a bike shop in town. Interestingly in these countries where EVERYONE rides a bike, you NEVER see a bike shop.
I waited at the KLM service desk for AGES but the lady was helping other people who had missed flights, needed to book flights, etc. Mike and I decided to put up the tent outside the airport building to try and dry it out while we organised our things. As we were going to put much of the equipment in storage, we didn't want to leave anything important out, but also didn't want to carry too much around town, and then to the hotel. We got changed in relays and then I made a last ditch effort to try to get some joy out of KLM.
The lady was very professional and advised that there weren't boxes but she would ring the supplier and try to get some which she did. She sad that the supplier "thought there were two" and they could get them to the airport by 2pm. She said that she would ring if there was going to be a problem.
I had a good feeling about her advice and seemed like we could trust her. It was already about 11am. We packed away the tent, dusted the dirty bikes down again and checked the bikes and our single large bag which contained our panniers, into the luggage storage. We each kept a pannier with our clothes, remaining food, etc. We also kept the tent out to reduce the cost of the storage as we wanted to keep it to EU 25 per day as we might have needed to pay for three days (It seemed that the storage was charged at a flat rate per day or part thereof). This was a bit of an effort as we each had a pannier and a small back pack and then took turns carrying the tent. Luckily the bus had luggage storage racks.
We bought a 24 hour bus/metro/tram ticket for EU 12 each at the info centre in the airport and managed to catch the 11.30am bus to the city. It was a beautiful sunny day. The trip to the city is about 40min by bus and it drops you at a central square. The city of Helsinki is very well set out, well planned, and doesn't feel at all crowded. Although they do say that this is the quietest time of the year for the city as the locals leave the city to have their holidays in the country.
We decided to go straight to our hotel and relax a bit and then go back to the airport around 4pm to sort out the boxes. We now had to figure out the transport system to get to our hotel, the Best Western Katajanokka. We walked from bus shelter to tram stop until we found a map of the public transport system. It seemed that we had to catch tram 3A (I think it was an A) which actually ended up taking us on a scenic tour around the city and not to our hotel. This was frustrating as we were still no closer to the hotel. The views of the harbour were very impressive though and we would spend more time looking around it. So we ended up getting off where we started and had to begin again. We saw another map which advised the 4T tram (which wasn't running) or the 4 (which was). So we walked over to that tram stop. The trams run very efficiently and the stops have digital notice boards advising of the timetable. We never had to wait longer than 5 minutes. We finally got to our hotel at 2pm and were able to check in. It is always so! The start and end of these tours are very time consuming. The Hotel was fabulous! Such a novelty! It was south-east of the city near the ferry terminal and away from the hustle and bustle. It is a converted prison and as such the walls are super thick. It is so cleverly converted and luxurious. They have retained original features such as the windows in the rooms which are high up and the metal handrails and fire escape type steps between levels with the rooms around the outside of the stairwell and narrow walkways. The room also had a lower, obviously new window through which you could see the lawns outside and the original wooden seats sitting side by side that the prisoners would have used. The place is surrounded by a huge and very thick walls. It was a thrill to stay somewhere historic which was also completely user friendly and had every luxury.
We relaxed - HAD A SHOWER - you might have noticed that showers are highly rated luxuries to us on holiday. We don't actually go on about them as much at home. We drank coffee, lay on our lovely bed and rested a bit. We then got up around 3.30pm and got the tram and then the bus back to the airport. We went back to the KLM desk and lo and behold we were able to pay for the boxes (EU 25 each!!) and were then given instructions about where to collect them, at departures check-in gate 241 etc. So off we went, amazed and appreciative that we had boxes, and reported as instructed to the Air Norway desk where the customer service officer was completely confused and sent us to the KLM desk where that customer service adviser was also confused as he thought we were checking bikes in not buying boxes for the bikes. Then he went off and came back with HUGE boxes. Relief. Apparently the airlines guard their boxes jealously and do not want any passengers from another airline getting hold of them. What a performance.
We could then go to luggage storage, request our bikes again and pack them (we bought packing tape that morning en route) and then leave them again. We then caught the bus back to the city centre and then took a tram to a shopping centre which we had been advised is the largest in Scandinavia. It was bit disappointing; not really worth the effort but Mike did buy a nice t-shirt. It seems that once you've been to Singapore (the land of the Shopping Centre), nothing will ever live up to your expectations again!
We took the metro back to the city and then spent time just looking around. It was a lovely time of night as the light was beautiful and set off the large, imposing buildings perfectly. We bought a delicious meal of potato bake, broccoli and cauliflower with cheese sauce at K-Market and enjoyed eating it at a local square. We went back to the hotel for a restful night's sleep.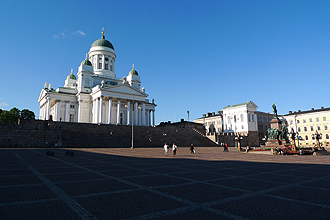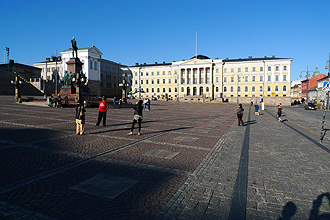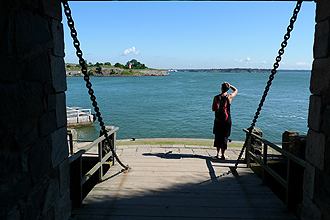 We had breakfast included in our room charge and went down at 7.30am which was the earliest serving. The breakfast was good, a buffet with plenty of choice, but the best part was the setting. It was underground and all walls and floors were polished stone and brick. The tables and chairs seemed like they could be the original ones. The wood was highly varnished and polished but also very pitted and some had markings carved into it making it seem "authentic". We even ate out of stainless steel bowls and plates. It was really cool.
We had planned to have an early start on Tuesday morning as our 24 hour public transport tickets expired at 11:30 am. We were able to use them for the ferry trip to the Sea Fortress of Suomenlinna which is an island located 30 min by ferry from the harbour. The fortress is a world heritage site and well worth a visit. It was a real bonus that our 24 hour ticket covered the cost of the trip. We caught the tram and then it was a short walk to the harbour which is impressive in its own right with huge cruise ships and ferries dwarfing the seemingly tiny harbour. There is a wonderful harbour-side craft and food market on the go every day and the stalls sell such interesting and beautiful things.
We caught the ferry at 8.30am and this gave us plenty of time to see everything on the island, starting with the parts off the beaten track. The ferry was packed with tour groups and they all rushed off with their tour guides. We went to a quieter area where there were some geocaches and beautiful views of the shore. We even used the most picturesque toilet of the trip. It had heavy, rusted doors and walls and beautiful steel toilet all sparkly. It even had liquid soap and paper towels although it was really just a beachside WC. It had a glass roof that you could see the sky through. As you can see - toilets get a rating with us as well!
There are interesting sites on the island, especially the Kings Gate. The Swedish King was the one who had chosen the island as a fortress to protect Sweden from Russian interests. The weather was perfect and sunny and we had a great time. We caught the ferry back at 11:05 am thus making the most of our 24 hour ticket.
We spent the rest of the day looking around the city. It was a great day and we would be sad to leave Helsinki.
We only wanted to check out at 12pm on Wednesday so we went to breakfast late at around 9 am. We then took a walk around the coast near the hotel taking in the harbour and small islands which made for very scenic views.
We checked out and walked to the Central Square to catch the bus to the airport using our last EU10 for the ticket.
We were at the airport by 1 pm and were able to get our luggage out of storage and then spend time packing properly. We checked in and were advised that we would need to pay separately for the bikes at oversized. We checking in one bag weighing 18.5kg although we had 40kg at our disposal and then were charged EU 400 for the bikes - 200 each!! We couldn't believe it! We tried to make our case by saying that we were only charged US$100 from Perth to Stockholm for one bike as an extra item. We also tried to argue that our check-in was under 20kg IN TOTAL. The attendant was unmovable. We could understand as she was just applying the procedures that she had written down. We were shocked but had no choice and went through security checks etc. Mike then got out the Netbook and we got up the KLM website which confirmed our view and that we should only have been charged EU 100. Mike then went back to the KLM desk with this backup support and the attendant agreed with him and refunded us EU 300. Phew! Just shows how valuable it is to have access to the internet at your fingertips!
Our flights back went well and we again appreciated our comfort seats for the 12 hour leg from Amsterdam to KL. We had 3.5 hours in KL and then unfortunately after boarding the plane on time, there was then a 2.5 hour delay as engineers had to fix a technical fault. This was made worse by a very rude man who sat across the aisle from me and was obviously unhappy about the delay. Anyhow, at least I had plenty of time for movie watching. It's so interesting to see people getting so stressed when travelling by air. My attitude is that from the time you enter the airport you have to give up any illusion of control you may think you have, so just give it up. It's easier. As the character in the movie "The Best Exotic Marigold Hotel" said, "It will be alright in the end, and if it's not alright then it's not the end." You will get home, it might take longer than you thought and it might not be as comfortable as you would like, but you'll get home. It's amazing how some adults can behave like babies.
We arrived at Perth at 2.45 am on Friday 6 July and cleared customs quickly. We grabbed a maxi taxi within minutes and were home by 4am. We were then so wide awake, we waited for the hot water to warm up and then had a shower, and then to bed. Couldn't believe it when we woke up at 1pm!
This was the first tour when the first time I stopped to draw breathe was on the plane to Amsterdam and suddenly looked at Mike and thought, "What? Home time already? I'm not done with this yet!"
A slideshow of the photos of the trip can be found here