Scandinavia Cycle Tour (Sweden & Norway)- 2014
[ Sweden, Norway and Denmark ]
Home Page > Bicycle Touring > Europe > Scandinavia 2014





Total Distance Cycled: 3,076 km
Number of Cycling Days: 33 (excl. first day)
Number of Different Campsites: 35
Maximum Ascent in a day: 1,850 m
Bathing in pond with huge ice-block
Numerous exceptional bush camping spots
Swimming spots along Norway's rocky south coast and Sweden's west coast
The steep and often undulating roads in Norway
Sharing narrow roads with "untrained" campervan drivers.
Foods we consumed with regularity:
Nectarines, grapes, bananas, O'boy chocolate drink, Coke, Bixit biscuits, Knorr Tomato Soup, Buns with cream-cheese, tomato and S&P.
Best new items for the tour:
Goal Zero Sherpa 50 Solar Panel / Battery package
A second Garmin eTrex 30 GPS for Judith
Ortlieb pockets attached to panniers
13 - 14 June 2014: Perth to Copenhagen and Malmo (10 km)
Our Emirates flight was scheduled for 10.30pm and of course we worked on the day - both of us arriving home about 4.30pm. Big relief to have achieved the lock up and go lifestyle we have wanted for a while. Just turn off the water, lock the front door and go! No issues with reticulation, garbage collection, bringing outdoor furniture indoors, disconnecting electronic garage doors, etc. We ended up taking a taxi to the airport which arrived promptly at 6pm. We were at the airport about 6.40pm and the Emirates gates opened at 6:45pm so no waiting. We were actually weighing about 2 kg over our baggage allowance but weren't charged which was good service on their part. We picked up our foreign currency (two types of Kroner) and passed through customs without a hitch; we were first in line.
Our flight was on time and we both got a bit of rest on the plane. We arrived in Dubai an hour ahead of schedule and made use of the free shower facilities (so nice to freshen up). Our flight to Copenhagen departed at 8.30am, and was also a pleasant flight. We put the bikes together and packed; there was no rush as the train to Malmo and Lund was to leave at 4.42 pm so we ended up waiting around a bit. No other trains were running due to an ongoing strike affecting all trains through the tunnel. We bought the tickets but were in for a rude shock when as Mike loaded his bike onto the train the conductor blew her whistle and came running down the platform - "No bicycles on the S-train". What to do? All the DSB trains that took bikes weren't running due to the strike! They were running replacement buses and amazingly we could put the bikes INSIDE the bus even while they were fully loaded and all (which the other passengers weren't too happy about. When we got through the tunnel and over the bridge to Malmo though we were told that we had to get out there, and then catch the train to Lund. When the train arrived there were so many people waiting to get on that there was no space left for many passengers and obviously us with our bikes. We got on the next train and then found that it did not go to Lund, and ended up in Malmo. We decided to cut our losses and cycle the 10km to a campsite south of Malmo (First Camp Sibbarp). We had wanted to stay in Lund as it has a really old cathedral and is an interesting place but it was already 6pm and so much time had been wasted. We arrived at Sibbarp at about 7pm and had yoghurt for supper (had not had time to shop as yet). The ride along the coast road was a lovely one.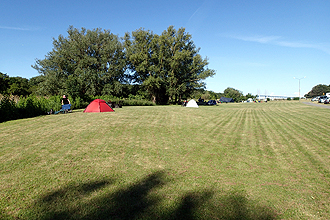 15 June 2014: Rest Day Malmo
The campsite was good with views of the Oresund Bridge, and also a convenient bus which ran from its back gate to the city. We bought a couple of 24-Hour tickets and spent the day in and around Malmo. We had been keen to go there and it had some pleasant parts but all in all, not much to see. The weather was beautiful though and we had a good day.
16 June 2014: Malmo to Nybrostrand Camping, Ystad (103 km)
Another beautiful day and a great riding day. We woke around 5.30pm having been in bed at 8pm the previous night but as the campsite office only opened for checkout at 8am we spent some time in the kitchen area, having breakfast etc. We hit the road at 8am and the day was very enjoyable; absolutely flat with many sea views and gorgeous sunshine. What a change from the previous time we had visited Sweden where they had the coldest start to summer in 80 years or something. It was quite breezy and although we had a cross wind mostly it was more of a help then a hindrance; unfortunately not the forecast westerly which would have provided a tail wind all day (or most of it), but still very pleasant. We passed many small towns and villages; almost always the navy blue signs of the Cykelsparet directing our route. Amazing that there were dedicated cycle ways running parallel to main roads even through the areas were so sparsely populated and we didn't see many other people. As usual the quality of Swedish roads/cycleways was superb.
The day's scenery was mainly agricultural; passing through fields of wheat, etc. and coastal dunes/ grassy areas. There were lovely views of the sea.
We stopped for a tea/lunch break at an old mill and didn't really stop again. We passed through Ystad which was about 5km before our campsite, which was right on the beach. The reception was unfortunately closed but a very helpful camper from Germany offered to let us use one of their access cards for the toilet, etc. We ended up not having to do this however, as there was a very clean and well maintained council ablution block available to use free of charge with hot showers costing 5 Kroner each. All in all a great day's riding.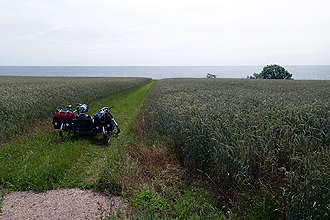 17 June 2014: Nybro Camping-Regenbogen Camping Ahus (103 km)
The highlight of the day was a visit to Ales Stena which are huge boulders arranged in the shape of a ship which are relics of the Bronze Age. This was about 10km from the campsite and is situated a short climb above a beautiful little harbour. The steep grassy hills were covered with red poppies and the whole place was lovely. The stones themselves are very interesting and the reason for them being there is unclear but it seems to be linked with setting up a calendar. It was perfect timing as we got there as the tourist bus load was leaving, which meant we had the entire place to ourselves; just the way we like it.
The weather was lovely and sunny again but unfortunately we had a head wind which made things more difficult on the bike. The route was also more undulating but never steep. We started the day in the agricultural setting but as the day wore on we rode through forests and had some coastal scenery. One place called Kiviken was particularly pretty.
The route was well chosen, however, the Cykelsparet did take us along quite a busy road with a very narrow sholuder. We decided to go an alternative route which included some gravel road riding (with even some single track sections and some bad surfaces). But this made for an interesting mix of riding.
The last 20 km or so towards Ahus were on lovely roads and the campsite was great; located in a pine forest and no access card required for amenities (free showers)!
Both of us ended the day feeling that it had been a tough one. After the easy ride the day before this one left us both body sore. Never mind, tomorrow would bring another experience!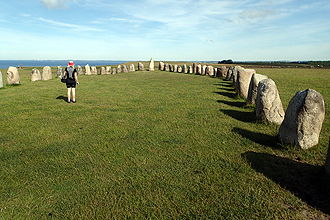 Wednesday 18 June 2014: Regenbogen Camping, Ahus to Jarnaviks Camping, Jarnaviks (98 km)
We were in bed "to read" at about 8.30pm the previous night but I think I was asleep in about 5 minutes. Didn't even brush our teeth! Woke up at 6:30 am so we obviously needed to rest to sleep off the effects of the previous day's ride.
An exciting day today as we were to try out a new piece of gear! After much deliberation about the choice of power source of recharging GPS batteries and the computer last year we had gone with a Busch & Muller USB-Werk to plug into the AA battery charger in order to access the power in our dynamos. At the time we had weighed up the benefit of charging batteries on the go or buying a solar panel charger. We were pleased at the time not to have chosen the latter as we had had two weeks of rain to start our trip so the solar panel would not have helped. After the idea of charging the Eneloop AA batteries using the USB-Werk on the go had failed mainly due to the Eneloop charger not being robust enough, Mike had started plugging the GPS directly into the USB-Werk to harness the dynamo energy which worked perfectly. This year I was also riding with a GPS for the first time and had my own USB-Werk. It is fantastic not to have to worry about batteries for the GPS (we keep them in for when we are on foot) as even if you stop riding for a while they can still draw power from the USB-werk. An exciting day today as we were to try out a new piece of gear! After much deliberation about the choice of power source of recharging GPS batteries and the computer last year we had gone with a Busch & Muller USB-Werk to plug into the AA battery charger in order to access the power in our dynamos. At the time we had weighed up the benefit of charging batteries on the go or buying a solar panel charger. We were pleased at the time not to have chosen the latter as we had had two weeks of rain to start our trip so the solar panel would not have helped. After the idea of charging the Eneloop AA batteries using the USB-Werk on the go had failed mainly due to the Eneloop charger not being robust enough, Mike had started plugging the GPS directly into the USB-Werk to harness the dynamo energy which worked perfectly. This year I was also riding with a GPS for the first time and had my own USB-Werk. It is fantastic not to have to worry about batteries for the GPS (we keep them in for when we are on foot) as even if you stop riding for a while they can still draw power from the USB-werk.
The new piece of gear this year was a Goal Zero Sherpa solar panel with battery. It comes with a battery that you charge by converting the sun's energy. Then you can use the battery to charge the laptop, Kindles, AA batteries, etc. Today we positioned it on the back of my bike on top of the "boot bag" which is a flat surface with the battery slipped under the bag (sandwiched between the bag and my sandles). After 7 hours in the sun the battery was 60% full (the first hour at least the road was very shady so we cannot be sure how well it worked then). So we have power without having to do anything!
We were on the road by 8am after breakfast and it was immediately an easier day. Mostly flat, the first 30 km flew by. Beautiful roads and quite often the wind was to our advantage. Again though there was a section on a "red road" which was quite busy with a narrow shoulder; luckily on here for a short distance. The Cykelsparet "langs oostkusten" took us along picturesque farm roads and through beautiful, moss carpeted forests. At around the 70 km mark we had a rest at a small sea inlet; a lovely spot! The following 25 km were along a narrow, undulating and shade dappled road. The constant up's and down's were tiring on the knees but it was very pretty riding. We had a superb tailwind for the last few kilometres.
With about 12 km to go to our intended bush camp we saw a sign for "Jarnaviks Camping 5 km" and thought we would check it out. We were keen to bush camp also for the seclusion and to use our new Steripen water purifier, but the prospect of a warm shower to wash off our salt encrusted skin was also tempting. The campsite was in the small settlement on the coast; a tiny sheltered bay with swimming beach. The water was crystal clear and you could walk out on jetties over the water. We took a walk around the bay to where massive boulder outcrops met the water and sat for a while in the sun looking out over the bay. The view was of the typical Swedish coast; small islands dotted the bay as far as the eye could see and fir and oak forests met the shore. It was lovely. The campsite itself was beautifully kept and cared for and the price to camp much lower than we had expected.
We were not as tired as yesterday and our bodies felt recovered.
Thursday 19 June 2014: Jarnaviks Camping, Jarnaviks to Dalkars Camping, Bergkvara (115 km)
We had an earlier start than usual at 7:30 am and had a fabulous tailwind for almost all of the day, particularly in the afternoon which made for easy riding. The road was quite undulating and we passed through nature reserves and forests. Much of the route was very beautiful on excellent roads. The day started overcast which we were quite pleased about as we had been in brilliant sunshine since our arrival and you know what they say about too much of a good thing!
We were hoping to come across a town/shop but the kilometres ticked by and nothing was forthcoming. Almost at the 50 km mark we were able to do a lunch shop and so also bought the evening meal as well. By this stage we were both very hungry having been on the road for 2.5 hours. One is normally ready to eat after about 1.5-2 hours. Happily I bought the first cherries of the tour which were delicious.
We had to put on warm gear as we ate as it turned very cold and later rained a bit but the clouds cleared in the early afternoon. We passed through an interesting area historically as this region had been in Danish hands in the 1500's but conflict between the Danes and Swedes led it to change hands. We saw the original border markers.
The last 30 km of the day were along the coast once again and very picturesque.
Our campsite for the night was on the water at a small harbour. It was clearly a very popular place (bearing in mind we were now on the east coast and not far south of Stockholm) and packed with caravans. The cost was very high and we were directed to the tent area which turned out to be a swamp. Fortunately there was another tent area. Amazing to be in amongst the locals and just observe people; plenty of screaming blond kids about and also DOGS everywhere. They seem to accompany their owners all over.
Friday 20 June 2014 (Midsummer's Eve): Dalkars Camping, Bergkvara to Timmernabben Camping (98 km)
The day dawned bright and sunny and we had an early-ish start (7:30 am) but it was not long before the temperature dropped and the sky clouded over. We ended up cycling in warm clothing for most of the day. We also had a slight headwind for much of the day so progress felt quite slow in places. The route was uneventful, mostly flat but now we saw more of the large churches that we remembered so clearly from our previous trip to Sweden.
The roads were quiet and many were narrow and winding. We saw people making their way to Midsummer Eve celebrations in a few places and everywhere along the way, people stopping to pick bunches of wildflowers to decorate their homes. Also at the graveyards we would see people laying fresh flowers on graves. It's a very significant day in Sweden.
Our planned route was longer (108 km) but we came across this campsite we had been unaware of and decided to cut the day short. After the campsite we stayed at the previous night we were unsure of what to expect as this one was also at the coast but the cost was much more reasonable and also the place felt really nice. The people were helpful and friendly. When we arrived they had just started dancing round the specially decorated pole to celebrate Midsummer. Overall we thought it was quite cold but all the locals were dressed in summer clothing with flower wreaths in their hair. Must have just been us!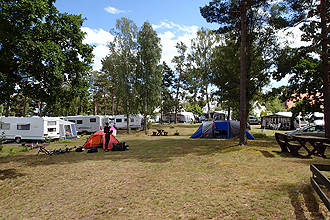 Saturday 21 June 2014 (Midsummer's Day): Timmernabben Camping to Bjorkbacken Camping, Vimmerby (110 km)
Well, we woke to a cold morning and the day remained so with rain starting about halfway through and becoming quite heavy. We rode for much of the day in full wet weather gear, including our new goretex full finger gloves which were difficult to get on and Mike's stitching came loose on first use which was disappointing.
Shortly after leaving our campsite we came across a historical site which was the ruins of an old monastery church from 1300; a beautiful and interesting spot.
The coast was beautiful this morning and we stopped to shop and eat at about 10 am on the water's edge; lovely view of islands in the bay.The coast was beautiful this morning and we stopped to shop and eat at about 10 am on the water's edge; lovely view of islands in the bay.
The route today would take us away from the East coast and the Cykel sparet, climbing ever so slightly and through quiet natural forests. The road was narrow and quiet and sometimes dirt but always beautiful. Views of birch groves and thick moss and lichen padded rocks. Also the smell of Sweden finally, with felled logs and thick forest. Remembering why we use products scented as "pine fresh" in the home.
We passed through a large town caller Oskarshamn which was the last coastal town that we would see until Norway, and except for taking cover from the rain in a bus stop, the rain continued without break. Our planned campsite was a bush camp however, it was too far from the water so we continued to Vimmerby (of Pippy Longstocking ) and checked into to the lovely campsite. Tent sites were numbered which was a first and it is quiet and reasonably priced with free showers and soft serve ice-cream. Also, as it was a kilometre or two from town, it was well situated for a rest day which we would have on Sunday.
Monday 23 June: Bjorkbacken Camping, Vimmerby to Storefors (97 km)
We were now definitely in the forested Sweden that we loved. Narrow, quiet roads and dense forest, massive boulders and lichen covering everything.
We stopped early on in the morning at an amazing church in Djurdala; the church and tower and other buildings were made of wooden tiles (roof and walls and all). We were too early to enter the church as it opened at 9:00 am but glances through the windows revealed the most beautiful engravings on wood on the inners walls and furnishings; biblical stories. It looked amazing.
We encountered only one shop throughout the day and sat at a nearby church to eat around 10:00 am. The temperatures had been cool all day, mostly due to a slight headwind which really reduced the temperature. In the early afternoon we stopped at yet another church to eat some grapes and could see these massive dark clouds and rain in the distance. By the time we realised the storm was heading our way we were in no-man's land, but pulled off the road into a field and as speedily as we could donned rain jackets, pants, booties and rain gloves, all the while the storm broke over us cumulating in hail stones. By the time we were back on the bikes it was starting to let up but had become very cold. After a while we took off the rain pants and jackets until the next storm hit. We had some dirt road riding and were heading for a bush camp. We came across the Kinda Kanal about 10 km short of our intended campsite and the area is popular with hikers. There are a number of long trails in Sweden and there were some maps of the area showing bathing spots on lakes and hiker's shelters. The spot at the Kanal had spotless and new ablutions with shower, toilet and kitchen and the man who operated the Kanal said we could camp over the road. Nice offer, but we decided to aim for one of the bathing spots on the map about 2 km away instead. It was a brilliant camp spot with proper bathing beach complete with jetty, board walk and rolling green lawns and benches. Also, toilets and changing rooms. We would enjoy the sleep!
Tuesday 24 June 2014: Storefors to bushcamp north of Matolo (117 km)
Wow, seemed like a long day. No rain today which was fabulous and by mid-afternoon we had taken off our warm gear and were back to shorts and t-shirt. There was a bit of climbing today but not the nasty steep ups and downs of yesterday. We stopped early in Linkoping for some supplies. We were surprised by the town; it was large and had a lovely position along a river which also formed part of the cycle route taking us through the town. The cycle route continued for some distance which was great and we were off the main road for much of the day. We had planned to have our brunch spot as usual after about 40 km and this took us to the town of Berg and its large church. There was not a place easily spotted around there for a snack break (we prefer a bench please!). We pressed on for another kilometre and came across the surprise of the day: a 20km cycle path along the Gota Canal from Berg to Bordery (?????). The river was dotted with craft including the large tourist boats as people take cruisers up and down the canal to experience the locks, etc. Very interesting to watch with bridges that open skywards to allow the boats into the next section. It reminded us of some of the Rhine Route but on a smaller scale. We enjoyed our meal and also the route.
After this, there were a couple of climbs at Matolo but nothing drastic. We stopped for chocolate milk there, and then pressed on. We were tiring though as we headed down to the lake areas again and around the 90 km mark would rather a campsite had presented itself! However we knew our day tomorrow was longer than today and wanted to make it to our chosen bush camp. We were still coping with the ever-present head-wind which is draining.
When we arrived at our bush camp, we were pleased to see it was at a swimming hole with the usual benches, boardwalks/floating jetties and even a long drop toilet. We were tired but pleased and even enjoyed our dip in the lake!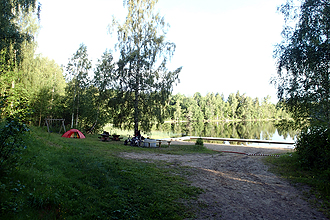 Wednesday 25 June 2014: Bushcamp north of Matolo to Hult (133 km)
The day was planned to be 125 km but looking at the route the night before Mike saw that a long section of it was spent on a cycle route but not the Sverigeleden which we had been following since the east coast. He had a feeling that as the Sverigeleden usually ran along more popular routes this would be a better option. The road we had picked to follow would probably have been mainly gravel and as we know with gravel roads, steeply graded. Taking the Sverigeleden would add on about 3km, but riding on bitumen is always quicker so your average speed is higher. In the end, the total extra kilometres for the day amounted to 8 km.
So it was a long day. When we set off I decided that instead of thinking of the distance to travel we should break up the day into 36km chunks resting well after each. The route was more open than the previous two days and less winding through forest; more agriculture again. Also the weather was very good with less headwind and less wind altogether actually.
We stopped to rest after some shopping, alongside a picturesque canal and ate there at around the 30 km mark after an early 7.30am start. We finished off with soft serve ice cream (yum).
After this break the route continued along gently undulating, smooth roads that sliced through forest so that you seemed on the top of the hill all the time. Although there were still ups and downs overall the day seemed easier.
Our next rest around 66 km was at a beautiful lakeside picnic spot that we would have been tempted to camp at had it been nearer the end of the day. As it was, this was only the halfway mark!
We then rested at the 100 km mark at a small town where we had drinking yoghurt. We now had 30 km to go. The day continually provided glimpses of lakes and rivers and we were headed to Lake Vanersee which is one of two very large lakes in this part of Sweden.
Our bushcamp was actually at a tearoom and had a lovely swimming hole. There was a large camping area and toilet and they charged a nominal fee. Again we braved the cold water (16 degrees today) for our "bath" and enjoyed our meal before getting into bed and out of the elements! We had been following the Runte Vatter cycle route as well as the Sverigeleden Route and our ride today had taken 7 hours 16 min but we were "out there" for 10 hours in total. One longs to be "indoors"; for us this is our tent! So we enjoyed an early night and looked forward to a shorter day the next day. We had ridden about 350 km in three days.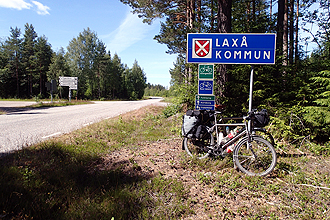 Thursday 26 June 2014: Hult to Karlstad (81 km)
Amazing to think that an 80 km day can be viewed as a rest day, but I guess that's what comes of riding day after day of higher distances. The planned day was actually 77 km and there are always those few extra kilometres that creep in.
We were happy to realise two things; firstly that we would have a slight tailwind for most of the day and also that the day was mainly downhill.
We had been getting out of bed at around 6am but "lay in" 'til about 6:45 am. We had really enjoyed the campsite; it was so beautiful surrounded by lake views. As usual the lake was peppered by small forested islands. The day passed uneventfully along the Sverigeleden Route and we stopped to shop shortly after setting off at Kristineshamn which was a large town about 15 km from our campsite.
From about the 30 km mark we were on the look out for our usually bench arrangement to enjoy our brunch, however passing through very small farming areas nothing was forthcoming. We soon turned west making the most of the tailwind and Mike located a church coming up at around 50km; quite a long time to wait for our snack but it's best to have a nice spot to enjoy it! We sat on the lawn in front of the church and enjoyed the meal. Of course, once we were back on the bikes we came across a perfect log table and benches about 400 m down the road: Cycle tourists law!
We stopped again with about 20 km to go to shop for supper and then stopped again in Karlstad for an ice cream and hamburger at Burger King! Our First Camp campsite was a couple of kilometres out of town and close-ish to a large supermarket which was ideal as we could shop there again tomorrow morning. First Camp Karlstad was BIG as campsites in the First Camp chain are, but reasonable priced and with all facilities. It was situated right on the lake shore and we took a lovely stroll along the rocks and through the forest in the late afternoon. There was some rain about in the evening but it was a lovely day. What a difference it made to arrive at the campsite around 2 pm as opposed to 5:30 pm. It is always good to have a variety of lengths of days. For a bush camp you don't actually want to get there too early as it generally does not boast the same comforts as a regular campsite.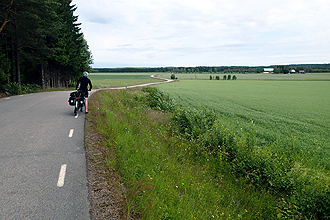 Friday 27 June 2014: Karlstad to Arvika (91 km)
Struggled to get up; slept too well probably but were still on the bike at 8:15 am. It had rained a bit overnight and dawned overcast. Although the forecast was for fine weather it did not appear that that would be the case.
The route today moved away from any sign-posted cycleways and that added to the remoteness. There was not a thing to see along the way other than beautiful Swedish forest which was the reason we were here so that was not a hardship. We stopped 3 km from our campsite to shop at Coop and that was a good thing as we did not see a shop for the next 75 km. The route was largely on gravel road, with ups and downs as these sorts of roads always have, and it rained for about 80% of the day, sometimes heavily. So we were in full wet weather gear and only managed to stop and eat after 50 km as there was a break in the rain, and we found a spot on some rocks next to a lake to sit. It was a bit late in the day but stopping in the pouring rain just leaves you cold. We really appreciated our flasks which we filled with coffee in the morning and was kept piping hot 'til we needed it. OF COURSE 500 m down the road from where we sat, we came across a fishing hole complete with mowed lawn and wooden bench. This was the only bench to be seen in all 90 km riding! It is remote out here.
Our route ran along a busy "red-road" for about 5 to 6 km which we had dreaded a bit as it's always daunting taking on the logging trucks, etc. The road was busy but we could soon turn off onto our quieter route again. It just reminded us how spoilt we had become on the cycle ways of Europe; we had taken on traffic like this as a matter of course in Australia where there is no choice in route.
We stopped for a chocolate milk drink with about 30 km to go and had another downpour of rain with about 8 km to go which meant arriving soaked at the campsite. The campsite was Ingestrand and was absolutely lovely. Forested with a beach frontage and really nice facilities: hot showers and a lovely indoor cooking/eating area that we really appreciated. Lovely lake views. We had some more rain but it cleared to a beautiful evening. We checked the weather forecast and saw that the next few days would be rainy. We were headed into Norway tomorrow!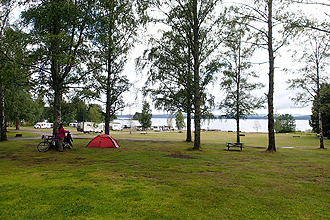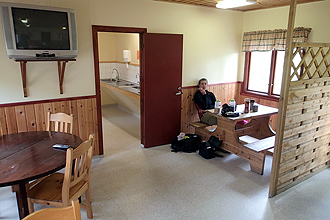 Saturday 28 June 2014: Rest day Arvika
We woke to rain at 6:00 am and decided that a rest day was in order. Having cycled 550 km in 5 days and we could not contemplate a rehash of yesterday by just going through the motions on the bike in the rain. It was a nice day to have a rest day. We caught the bus from outside the campsite to town and shopped, then just caught another bus back as it was pouring with rain. It rained all day and we spent much of it in the campers lounge/dining area which was nice. We even watched a World Cup soccer match in the evening.
Sunday 29 June 2014: Arvika to Myrlia Ski Hut, Norway (101 km)
We woke at 6 am - No rain: WHOO HOO. We both felt so much better than the previous day and although all our gear was still soaking wet from Friday, we felt ready to ride. We would cross the border into Norway after about 50 km and journeying into a new country is always exciting.
We had no rain all day but it remained overcast and very cold. We piled on the gear and found the ride enjoyable for the most part. We had a busy section of road after entering Norway for about 15 km or so; the road itself was beautiful but there was a lot of tourist traffic: camper vans and cars towing caravans and it was unpleasant. Norway seemed as remote as Sweden as we didn't see any shops so were pleased we had stocked up before leaving Sweden.
We had picked a bush camp in an area used for cross country skiing in winter. There were many lakes in the area; they were beautiful and we could have camped in many places. We ended up camping at a ski hut/coffee shop caller Myrlia. It was close to a lake to wash and we traipsed over the very springy moss encrusted boggy countryside but couldn't reach the lake so sluiced ourselves down in a little stream which was DEEP and COLD. The hut had an adjacent long drop toilet which was a loo with a fantastic forest view as long as you left the door open. Plenty of sandflies, but no mozzies thankfully. A fabulous camping location to end off a great day. Quite a difficult day when you take the total ascent into account of over 1000 m. Tomorrow: Olso!!
Monday 30 June 2014: Myrlia Ski Hut to Ekelberg Campsite, Oslo (87 km)
Our bush campsite was absolutely beautiful; perfectly still, no cars used the road and lingon berries and cloud berries grew in the forest which you can eat but of course it would be dreadful if you ate the wrong type of berry!
However, the sandflies were unbelievable. There were possibly millions in huge clouds. They didn't bother us until we put the tent up to go to bed and then they zero'd in on the comfort of the fly sheet and settled underneath in their thousands. I needed to go to the loo and ventured out and was covered from head to toe. Dashing back into the tent trying to shed as many as possible along the way I let hundreds in. Luckily once inside their main aim seemed to be getting out, but we ended up spending valuable sleeping time killing them. I would still take them over mozzies as they can't bite you through clothing and you can easily kill them.
Anyway, we woke to the peace of the forest and the sound of thousands of sandflies drumming into the tent outer. We dressed in the tent and then escaped to eat a rushed breakfast and make coffee (Was that 10 sandflies or 20, Sir?). I was reminded of a cartoon in the Cycling New Zealand (Lonely Planet) book. An out of breath cyclist comes along looking hot and bothered and his friends say "We weren't expecting you for another week - what happened?!" and he replies "Trying to out ride the sandflies!"
We set off at about 7:30 am and the morning was cool and the road beautiful; still along the lakes. We hit a FANTASTIC downhill stretch that seemed to stretch on forever. It was great. We were on Cycle Route 7 that was signposted at intervals, however the cycle ways are definitely not as promoted (a fair description I think) in Norway as in other countries. As an example, we were really surprised and impressed in the Czech Republic last year to see little explanation signs along cycle routes. This feels very remote. I would say that cycling Norway is probably not a good idea for your first tour as it does feel like you are "out there a bit".
We stopped for a lunch break around 11:00 am and shopped at Rema supermarket at around the 40 km mark and to our surprise, the remainder of the day (47 km) was on a dedicated cycleway which was brilliant. It makes the world of difference not to have to share the road with cars.
The route was undulating but manageable and passed through farmland all the way. Amazing when you think how close to Oslo we were. Drawing into the city the last 20 km seemed to take forever as you have to concentrate so hard on the route. We altered the route slightly and stayed along the freeway all the way. Oslo is surrounded by hills and they certainly made themselves known as we climbed up and over them.
We arrived at our campsite at about 2:15 pm. We then purchased a 24 hour public transport ticket and set off for the city at around 4:30 pm. Unfortunately it rained quite a bit but we checked out the Ackerhus Slot and the shopping and scouted out a place to have dinner. We had been warned about the prices on Norway, and Wow, it really is expensive. We ate at Subway which was good and took the metro one station away. When we emerged the sun was out! So we then had a terrific evening. We went to the Royal Palace, ate delicious soft serve and caught a ferry out to the islands and back. It was beautiful.
Tuesday 1 July 2014: Rest Day Oslo.
We got our washing into the machine at 7 am (just in time to avoid the crowds) and as we were concerned about rain we devised an amazing drying system. We totally opened the tent inner which provides a lot of catch points to hang socks, undies, etc. and then used the guy ropes and some bungies to rig up a line inside the tent. All in all we were able to dry all our gear this way without having to worry about the odd rain shower, and tents get toasty warm inside.
We set off for the city and visited Vigelandpark which is amazing; it is a sculpture park with the life works of Gustav Vige. They are incredible huge granite sculptures of people, from babies to the elderly. The centre point is a huge column made up of people all tumbling down joined together. It was really a fabulous experience going there. From there we went to the Fram Museum which was very interesting; all about polar exploration in particular the voyages of Roald Amundsen. The ship Ghoa that Amundsen used to find the north west passage and also the Fram that was used in the race to the south pole are both within the museum and you can go on board the Fram and below decks, etc. There is a lot more that you can do in Oslo; it is a great place!
Wednesday 2 July 2014: Oslo to Brufoss Camping (107 km)
Well the hills arrived, and so did summer (for 99.9% of the day anyway)!
We got an early start at about 7:15 am as the day dawned sunny and bright; blue skies and fluffy white clouds. Oslo had certainly provided a beautiful send off. We felt as if the first stage of the trip was behind us and we were getting on with the journey. We set off from the campsite through the park behind and then down to the waterfront. Speeding downhill I heard a clank and my rear mudguard had popped out of its brackets. This took a while to correct and we were then in the thick of cycle commuter traffic to the city. It was a beautiful ride along the docks and via the Slot and ferry terminals that we had visited previously. The first 20 km shot by as we followed the cycle way to Sandvika; getting out of Oslo was easy and this is not always the case with big cities.
We cycled alongside farmland all day and were surprised as we had expected more forest. The hills started early with short, sharp 9, 10 and 11 % climbs which were a bit of a shock! There were 4 larger climbs but they were all manageable although cumulatively they were tiring. The bigger climbs were through forested areas and were very scenic. The route offered cycle ways most of the time which was excellent particularly on the climbs as it is easier to have a bit of room and not worry about traffic passing.
We stopped for brunch at a very tempting swimming hole with dramatic cliff backdrop and lovely grassy banks. As this was only at the 40 km mark a temptation it remained although it would have made a brilliant campsite.
We rested again with two climbs to go in the shade of some birch trees and then again before the last climb. Of course the good thing with these climbs is the dazzling downhill descents which we had a few of. The last 7 km was along the river leading to the campsite and of course there was even more climbing on this road. We had had hot weather all day and had even used sunscreen! We had drunk a lot of water and apple juice and eaten grapes and nectarines as we were so thirsty. Along this final stretch though, we could see heavy rain clouds quite close by and then thunder and lightning. Within the last 900 METRES the heavens opened and so, after riding 107 km in the baking sun we arrived at the campsite drenched.
The campsite was good. There was a tea room over the road where we paid and the showers and toilets were there. They were absolutely spotless and you could shower for free for as long as you liked which was a treat!! The campsite was small and overlooked the raging river and the place was a fishing hotspot: So interesting to see people going about their fly fishing business. A great spot.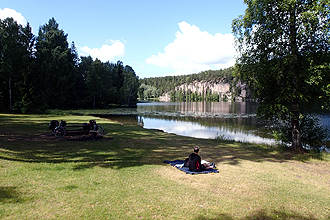 Thursday 3 July 2014: Brufoss Camping to Kanal Camping, Lunde (102 km)
The day was planned as being 111 km long but morphed into 115 km along the way. It was our 15th Wedding Anniversary and we got each other the best gift ever: With 26km to go Mike saw how he could shave 15 km off the route! 1 km for each year of wedded bliss.
What can I say about the day? We woke at 5:00 am to the sound of rain and by 6:30 am managed to drag ourselves from our snug tent against better judgement. Unfortunately when you have a set time in which to complete the planned route there is not much wriggle room. It is always best to stick to your plan however as you can always do more than you think you can.
By the time we were packed and ready to leave at 7:50 am the rain had stopped and we immediately started the first climb. The second was long at about 4km and so the scene was set for the day. We seemed to climb and climb and climb. We were rewarded for our efforts however. It is interesting to see the changes as you travel from one valley over the hills into the next. By the time we stopped for tea/brunch we had ridden 30 km and the sun was out. The weather was perfect on this day as it never got hot but never rained.
The scenery for the day was mainly farmland and beautiful lake/land scenes. We had some reasonable dramatic descents in-between climbs and took a second break at the 60 km mark overlooking a stunning lake dotted with islands which people had houses on. At this point we had 55 km to go and it was getting on to 2:00 pm when we got back on the bikes. The day had been tiring so far, there is nothing to be done about the hills; you just have to tackle them at your own rhythm which takes time.
So just when we thought we had been challenged enough for the day, Cycle Route 2 took us on a 40 km gravel road section. This was through a very scenic area with almost constant lake views, climbing, climbing all the way. Short steep gravel road type of climbs. Then the surface deteriorated to loose stone. So not only were the climbs, but the descents were slower too than on bitumen. We popped out the other end of this and turned up another climb on a dirt road with 26 km to go when Mike noticed that if we went the other way we would be in Lund and at the campsite in 10km. Winner!! Sometimes these official cycle routes do strange things.
We highly recommend the campsite Kanal Camping. It is an interesting location at the lock on the river and very picturesque. It was probably the first time that we remember tents being properly catered for; on all occasions tent sites are pushed onto a patch of land that cannot be used for campervans or caravans and often have strange slopes, etc. In this campsite the tent sites were on the pond and ours was on a raised piece of land beautifully grassed. Perfect! Also the cheapest campsite we had had.
Our total ascent for the day was 1,700 m. Ascents are deceptive and the days when you have a large climb are often those that you are most apprehensive about, but although you may have one climb the total day's climbing may still be a lot less than this one. We usually say that ascents of more than 1000 m are difficult days so this one was clearly harder than most (particularly with the poor road surface). Having said that, we ended up going for a walk to the local supermarket to buy icecream. Mmmm.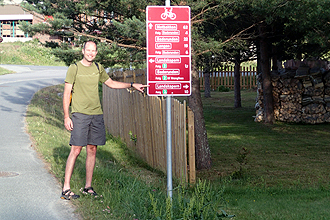 Friday 4 July 2014: Kanal Camping, Lund to Dalen (107 km)
The day dawned sunny and bright and we set off around 8:00 am as usual. Little did we know the wonders that would unfold. The first 10 km were along the river and passed two other locks and this route was amazing; so beautiful with the reflections of the mountains in the crystal clear water. We followed Cycle Route 2 today.
The route then continued along a very narrow lake front road where the views also continued. This road was undulating but the climbs were short. This was the picture-postcard Norway we had expected.
We passed through three tunnels today, all short, and were pleased we had our dynamo lights which are definitely required.
We started looking for a brunch spot after 35 km as we had arrived in a small town but a bench did not seem promising. As we crossed over the high bridge we saw that there were two small lookouts on the top each with a bench. The most amazing spot for a snack!
Just before the main climb of the day we passed a point of interest that was actually a selection of actual wooden homes and farm buildings dating from year 1350 onwards. You could go into some and they had the old furniture and implements.
The main climb had many switchbacks and was quite long but doable. We dropped down to a town afterwards where some weather started coming in and put on rain booties and jackets. Shortly after this our route went left to ride on the other side of the lake but we chose to stay right on the "red road" which was a good choice. The road was similar to the one we were on in the morning; narrow with spectacular lake views but flatter and for the first time in three days we were able to get some speed up. Where we rejoined our planned route we had another decision to make when the cycle route turned down right and looking at the profile on GPS it looked like we would drop down and then have an enormous climb. We were unsure what to do: stay on the main road or turn down this route and risk a climb. Looking at the map on the info sign though we decided that the GPS was wrong: such a climb could not exist as the route went down to the lake and along to Dalen. We were so pleased that we had trusted our instincts as the road was amazing and it would have been a shame to have missed it. It twisted downward like a snake with short sharp bends and you could take in the views as you went. The scenery could only be described as "moody": dark misty cliffs descending into slate grey clear waters. It was an amazing ride.
After this we had 14 km along the river before we got to our campsite on a small island. It was a great day's riding.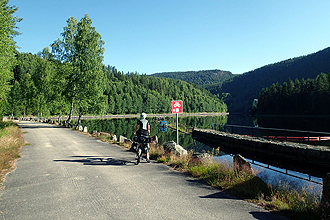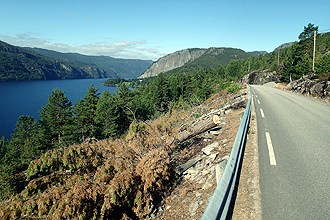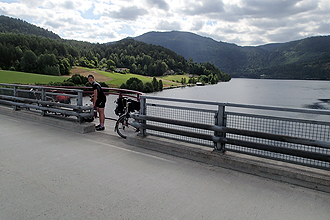 Saturday 5 July 2014: Dalen to Rysstad (80 km)
We woke to slight rain surrounded by the vertical cliffs of the mountains all around. We were a bit daunted by the day as the start was a big climb up to 836m. We turned onto the climb immediately with 2.2 km on the clock and it was straight uphill for 1.5 km and tough going and then continued with an even steeper grade for about another 3.5 km (up to 13%). Thereafter the switchbacks began with a sigh of relief from us. Unfortunately the day was very misty and so visibility on the climb was poor. This meant that we needed to use or dynamo lights which create a little extra friction (plays on the mind more than anything else) and also you could not see very far in front of you.
After the switchbacks the climb continued until about 11 km where we stopped for something to eat at a sculpture garden and traditional house collection. We had been going for about one and a half hours at this point. The climbing continued but was levelling out now. We climbed for about 30 km. The road climbed above the tree line and there were dramatic changes in vegetation and landscape. The mist had cleared by now and we passed lakes and a ski lodge. We kept climbing, with some dips in between. The road narrowed but traffic was light all day. It rained intermittently. Now we could see snow patches from high on the mountains to quite low down in the crevices.
We passed waterfalls which were explosions of water gushing over huge boulders. The downhill sections were steep in between little climbs and we flew passed one of these, noticed it and turned back to stop and look. There was a German couple there in a camper van that we chatted to; they were going to Dalen and had come from where we were to overnight. We were passing only through open countryside; no settlements or villages existed up here.
At the 50 km mark a warning sign of a 7 % downhill for 6 km. It was amazing to shoot downhill and watch the landscape change as you went; forests returned and bright green ferns and so on. The temperature rose.
We reached Valle where we shopped as we had very little food stores left. The remainder of the ride was along the river valley. The scenery was indescribable. The water deep and reflective, and perfectly clear and the vertical cliffs and massive boulders tumbling into it.
This was the first day in Norway completely on bitumen and without a sting in the tail. However, just before we arrived at our Rysstad campsite we saw our route to Lyboten tomorrow. The start of the climbing road was being resurfaced so was unsealed and the warning sign read "10% climb for 4km". Eek!! Nearly ruined the day!
The campsite was quite touristy but very nicely situated on the river and we could pick a site or camp on the field. We opted for the field as it was raining when we arrived and there was a wooden covered "stage" that we could put the tent up on. (advantage of our Hilleberg Staika tent which does not require pegs). We arrived early at 3 pm so had ample opportunity to relax and watch the changing moods of the river and the rain.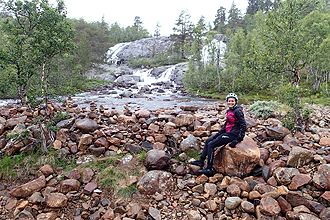 Sunday 6 July 2014: Rysstad to Bush Camp 8 km before Lysboten (71 km)
It rained all night long and there was a stack of canoes next to our shelter that the rain dripped onto all night "drip drip drip drip...." you get the picture. The drip drip and anxiety about our monster climb the next day did not set me up for a good night's sleep!
We woke to slight rain and a clear river view, all the mist from the previous night had disappeared. The mysteries of fiordland.
We were on the bikes as usual around 7:50 am and arrived at the foot of the climb with 2 km under the belt. It just shows you that you should not "borrow sorrow from tomorrow" because the climb was fine. It was 10% but with a constant grade and seemed much easier than the one out of Dalen. After the first push the climbing continued for 30 km at least, and looking back we seemed to climb all day.
What surprised us most about this road is that it isn't something that you hear about. No one says "You have to go to Norway and drive/ride the Suleskarvegen" and yet it must surely be one of the most spectacular places on earth. The road is narrow, really only a single lane with a slight shoulder so one does need to be constantly aware of the cars/campervans.
The scenery was quite barren, very rocky and constant patches of ice, some very deep, like walls of ice. Also water everywhere, massive waterfalls and rivers and streams. The sound of rushing water was a constant. We climbed to 1050 m at the top of the pass which took about three hours and was about 26 km. We stopped here for brunch/snacks. The total meters ascended for the day was approx 1850. After this point we still climbed but in shorter stints. We had a big downhill at the 40 km mark which took us to 46 km or so. We then had to turn off the road we were on onto the road to Lyseboten which contained some exceptional steep gradients, steeper than this morning's climb. It all became quite difficult and necessitated regular breaks for me. But it was always beautiful. We cycled through a section which was totally barren, nothing grew and all you could see for miles were boulder and rock cairns. You couldn't believe that a road and a bicycle to bring you to this spot. We were fortunate with the weather as although it was overcast there was no rain.
We had aimed to camp at a bush campsite about 8 km short of Lyseboten on the top of the mountain as we wanted to catch the ferry from there along the fiord. We would still be able to wake up early enough to catch the 7:30 am ferry as it was all downhill from there. We picked a campsite very near to our initial bush camp site. We just realised that this was such a spectacular place and to go to Lyseboten just to fight it out with the campervans that had been passing us all day had no appeal. We picked a lovely spot right on a pristine pool for swimming in which boasted its own sheet of ice. The swim was brisk! What a privilege to spend the night here. The spot was right at the warning sign on the road for 10% descent for 8 km "vehicles engage lowest gear" to Lysebotn. We were tired of the cars in such close proximity all day and as we had a long downhill part of which was in a long 1.1 km tunnel we thought it better tackled first thing in the morning.
We looked forward to a peaceful night surrounded by the vertical cliff face and ice sheets clinging to it. However, this was not to be. A storm whipped up and the winds were very strong as was the rain. We slept on and off all night the noise of the wind on the tent waking us at times. We had all the faith in our tent but the noise was terrible! Also it rained very hard all night.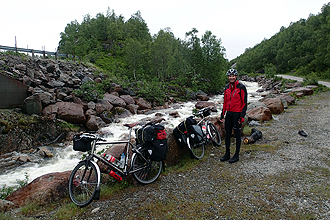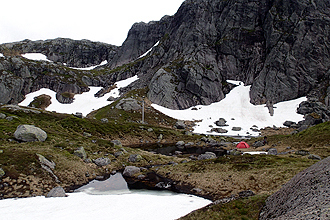 Monday 7 July 2014: Bush camp just before Lysebotn to Stavanger (13 km)
We woke around 4:00 am as usual as this is sunrise. We had planned to get up around 5:00 am to get packed and get the bikes and gear back to the road (we had camped a bit of a hike away). The ferry was due at Lysebotn at 7:20 am. We ended up leaving sooner than this (to try and beat the worst of the weather), and set off down the hill in the rain and wind. Both stopped soon as we dropped swiftly down the hill. Many switchbacks took us down all that we had climbed yesterday. We stopped at the view site but the day was quite overcast, you could however appreciate the height. Then the tunnel which is also swiftly downhill and loops back on itself for over 1 km. The road was wet but as we emerged from the tunnel it was dry and much warmer. All in all an amazing 8 km and very pleased to be doing it in this direction!
Lysebotn has only road entry which is the Suleskarvegen that we rode in on, alternately there is the ferry. The place is really only a campsite and a hydroelectric plant; no shop or anything. It is tiny and total non-commercial. It impressed us a great deal about Norway that there is this authentic and non-commercial aspect to it.
The ferry was a little late and the trip took around 2 hours. There was a lot of rain along the way and we were pleased to be going all the way to Stavanger and not to Lauvik as we had first planned. The ferry does not go all the way to Stavanger every day and initially we had planned to reach Lysebotn on a Sunday.
Arriving at Stavanger it was still raining. We decided to go straight to the campsite (only 2 km from town) and then come back to town.
It was an interesting experience to check in to the campsite at 11:00 am and see that the campervans, etc. were only just getting ready to check out! It is standard practice for people to stay as long at each place before moving on. We now have a new saying "How do you know when it's 12 o'clock? You see your first campervan of the day."
We ate, slept and then went to town for the afternoon before coming back to the campsite. The weather had cleared and it was a lovely sunny afternoon.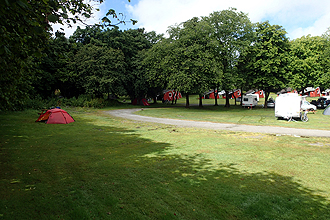 Tuesday 8 July 2014: Stavanger to Bush Camp along Jaeren Railway before Egersund (95 km)
Wow: What an awesome night's sleep. Both of us slept like logs. This might have been relief that the major hills were over!
We set off around 8:00 am as usual and had a fabulous cycle way out of Stavanger. The route today was flat with a few small climbs but it was like a different country. It felt and looked like coastal Denmark and we were now following the North Sea Cycle Route. Beautiful coastal farming scenery. Groups of cows and sheep; sand dunes even. You could not believe this was the same country that provided that barren mountainous area we had just passed through.
It was warm and sunny and we even had a tailwind. We stopped to eat for the first time after 50 km which just shows how easy the day felt. On busier roads we had a cycleway. It was a great ride.
We were due to camp just before Egersund and passed many campsites along the way. About 20 km from the end however we branched off onto a little road that crossed a bridge and the info board showed that it travelled through an area of natural beauty. It was a beautiful area with a very different character from the rest of the sublime coastal scenery we had encountered on the day. Once again, barren rock and huge boulders such as we had seen in fiordland. The hills were so steep as to be unrideable and our easy day's riding suddenly became a nightmare of pushing heavily laden bikes uphill. How could we have ridden all those hills last week and be defeated by this strange little road?
After about 5 km it mercifully came to an end and we then joined the rail trail which was also gravel but pretty and we chose to camp at a great spot with toilets and a nearby pond to swim in. This meant that our day was a little shorter than planned and we benefitted from this great camp.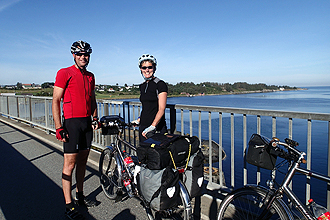 Wednesday 9 July 2014: Bush Camp along Jaeren Railway before Egersund to Svindland Camping (after Flekkefjord)(88km)
We had a great night's sleep at the rail trail campsite and were up early to hit the road. It had rained overnight and it was very warm and humid which was different. The rail trail was a picturesque 5 km and although it had some steep hills on gravel it was lovely in the early morning. After yesterday's benign coastal scenery it came as a surprise to hit the hills again today. We stopped for brunch after about 35 km at a church in Hauge and just behind the church was a nature trail which we hoped would offer a bench. Well, there was an undercover grilli area with electric lights and a power point so Mike could charge his shaver and also bump up the Goal Zero battery (it had started to rain by now of course and solar charging was not working too well!). We set off again when the rain cleared.
After this, Norway threw us some hills again and the remainder of the day consisted of steep, medium length climbs and rocky landscape such as in the high hills a few days ago. Around every corner was a tempting lake and the route was a popular scenic drive. We passed over high points aided by switchbacks once again and descended to lakeside areas only to have to climb again. We passed through two small tunnels and admired the views. We arrived at Flekkefjord and had huge delicious soft serve ice creams before tackling another climb out of the fiord.
The North Sea Cycle Route then took us careening down gravel paths and up the other sides at levels of steepness impossible to cycle. The low point (metaphorical not literal) was a section of gravel road which climbed at over 14 percent and was unrideable so we ended up pushing the bikes for over 30 min.
We spent about 1 km on the E39 Road before turning off passed a lake far beneath us and it was not long before we were at our campsite. The day had been a scorcher and we were so hot. We immediately leapt into the cool lake for a swim. Bliss!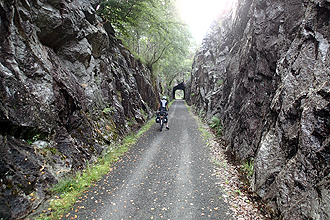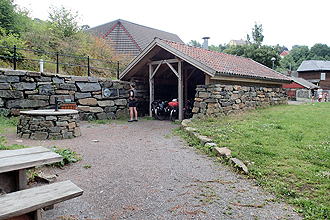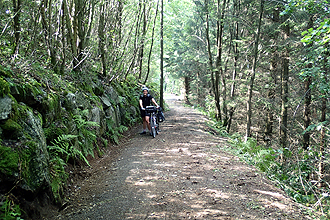 Thursday 10 July 2014: Svindland Camping (after Flekkefjord) to Bush Camp after beach north of Spangareid (94km)
We woke to another sunny day and it ended up being hot and humid but not as hot as yesterday. Our planned route would take us 95 km to Lyngdal but it was very wriggly so we decided to alter the route and this resulted in shaving off 25 km! This meant that we could go passed Lyngdal and start tomorrow's route.
Today's route did take us past many lakes and dipped down to the sea and away from it. The views were great. We started with some solid climbs and then travelled up one side of a river and down the other, climbing up and up. It was good though because once we were up, we were up, and we maintained the height gained. After this we decided to alter the route and remained on more of a main road which was not busy anyway, and then had some more climbing, arriving at Farsund for soft serves, grapes and the usual shop. It is a very pleasant coastal harbour town which was in the swing of summer festivities.
It was a further 20 km to our planned stop. On the way our route deviated from the main road and a very kind man actually pulled us over and told us a local secret: we could stay on the flat main road and bypass the tunnels by using the old road. This was brilliant advice as had we stayed on the North Sea Cycle Route we would have had to climb up two steep hills and that is ridiculous when you have a perfectly beautiful and conditioned road that you can use.
At Lyngdal we filled up with water as we were planning a bush camp. We then took on the steepest hill of the trip (little did we know) with gradients of 11% and 12% and even at a stage, 13% and 14%. I had a fit as I actually had to get off my bike and push about 200 m. The shame of it! We were both despondent and seriously annoyed then at this stupid route that was so steep it was barely rideable. Yet again the North Sea Cycle Route had crazy ideas of what a cycle tour is. A loaded bike is a different animal.
We were not able to find a decent bush camp and pulled into Spangareid only to find that the nearest campsite was 10 km off our route. The area was on the sea so we kept going for 2 km to a beach, and almost right there in a forest off a track, was a lovely camp spot in the trees. We went back to the beach where we swam and dressed and sat in the shade eating and later set off to make camp at about 7:00 pm.
Friday 11 July 2014: Bush Camp after beach north of Spangareid to Roligheden Camping, Kristiansand (86 km)
This was planned as a 107 km day (as was the next day) but as we had done additional distance (and that hill....) the day before we effectively reduced the distance for this day. The beauty of the bush camp is the swift departure and we were on the road at 7:00 am. It had been a very peaceful night.
The hills were definitely not as high now although there were still steep climbs. The constant sea glimpses were great and made for a good day of sightseeing. We knew there would be a steep climb after about 17 km and expected it to be on a gravel road. When it came to decision making we had two gravel roads to choose from: to the right the North Sea Cycle Route sign and our route were in agreement. To the left, a standard gravel road. Which to take? We opted for the former but as we turned the corner we were faced with a massively steep rise and so changed our minds. The other road was fine and delivered us safely to Mandal for breakfast.
Later on we passed a cherry farm where we purchased some cherries from the self-serve fridge, eating them on the roadside. Delicious.
We opted for a dirt road again a little later rather than following the cycle route which was on road. This was also a good choice as although there was climbing on the gravel road it was constant and manageable. It also cut some kilometres off the route. Later on we again decided against the planned route which took us around the coast and were rewarded with further kilometres saved.
The final 15 km into Kristiansand was on a dedicated cycle way which ran along the freeway. There was a climb into the city suburbs but again not too steep. We had a big drop down to our campsite which was again along a cycle way.
The campsite was reached by cycling through the marina car park and at first glance appeared hot and dry and very expensive (in fact the most expensive of the trip when you factor the shower cost in). We were lucky though to find the perfect spot to set up camp; a little raised area far too small for any other tent or caravan. It was in a shady spot so that was good. The good thing about the campsite was that it was situated right and a marvellous swimming hole and beach which was great and we had a couple of swims.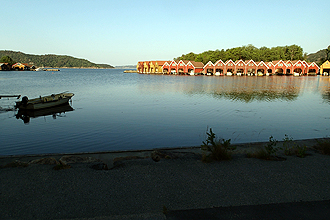 Saturday 12 July 2014: Kristianstad to Nidelv Brugge Camp, Nidelv (70 km)
We had three cycling days until our ferry to Sweden on Wednesday but obviously four actual days. The temptation is always for a rest day, but a few things made us hesitant about that option: The three days riding were 107km, 93km and 92km. Going by our past and current experience this could prove too tough and the three days might have to be divided over four to make things more reasonable. One also has to have the perfect campsite for a rest day; not too busy, not too expensive and usually for us not in a town. Kristianstad Camping was none of these. And then sometimes a rest day is not the best solution as you never know how your legs will react.
So we were on the bikes at 7:00 am again and although the day was warm it was definitely not as hot as the previous three days. We had decided to not do the whole 107 km but aim for a campsite at about 85 km. We stopped at the 20 km mark at a small harbour for breakfast having easily made our way out of the city on excellent cycle routes. We decided to follow the city cycle way to Lillesand instead of the North Sea Route which effectively cut 10km off the ride immediately. After the rest stop some of the route was on gravel but all manageable grades. We reached Lillesand after about 38 km and did some shopping. A very pretty seaside town. After this we took a turn off towards Grimstad onto a shocking 5 km section of unrideable gravel road again. I fell off my bike on a sandy steep uphill stretch which caused me to lose my nerve. The section was a bit ridiculous and we ended up walking our bikes up quite a few hills; one which was so steep we could hardly get our bikes up it.
Once we were back on the road we made good progress and were at the campsite by 1:15 pm. Having a short day of only 70km really felt good though and we had an enjoyable time relaxing by the river at the campsite (and swimming), watching many people in boats go up and down.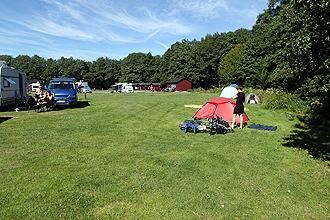 Sunday 13 July 2014: Nidelv Brugge Camp, Nidelv to Bush Camp after Risor (87 km)
Slightly overcast day which was a good thing after all the sun. The day started with quiet undulations but in the second half became quite hilly. We had views of various seaside villages but realised for the first time that the supermarkets are not open in Norway on Sundays so food would be a bit light-on today.
There was the option of catching a ferry from Risor to Oyesand but having investigated this online in planning, we could not find any information about the ferry service so chose a different route. A bit later in the day we pulled into a campsite to shop for some food to supplement what we had in the larder (not much) and picked up a tourist brochure for Risor. When we looked at this later the ferry route was in there, but doesn't operate on Sundays so it was lucky that we didn't head in that direction. The alternative route which did obviously added on some kilometres (and hills). Anyway, we also stopped at a petrol station for fresh bread and of course 10 km before our campsite came across a supermarket open on Sundays!
We had planned to stay at a bush camp that from maps, Mike had guessed would be good and which also seemed popular with kayakers, but ended up getting one just short of it in what seemed to be a kayaking camp with interesting activities set up like climbing walls, etc. It was not signposted but had toilets and really nice boardwalks for making getting into the water easy. We decided to set up camp; this was one of the most beautiful camps of the trip with views of the lake and islands and plenty of benches.
Monday 14 July 2014: Bush Camp after Risor to Helgeroa (79 km)
We woke to a beautiful morning after rain all night and also visits by a tiny mouse who was interested in our bag of garbage and made tiny poo's over my bags. After a few kilometres we saw the signs for the Risor-Oyesand ferry and all looked very official. Would have cut off many kilometres the day before by catching this ferry, still we were not convinced that it would have run on a Sunday.
After 23 km we arrived in Stammestad for our first ferry of the day and found that it would leave in about 40 minutes so we had our coffee and yoghurt while we waited. We also saw the ferry timetable for the Risor ferry and sure enough, it did not run on a Sunday (lucky decision yesterday). The trip to Kagero was only 15 minutes by ferry. After this we were on our way to Langesund where we would catch the ferry to Helegoroa. This was the first day that felt really manageable after all the hard days we had had in Norway. I think the road grades were just a lot easier and also my legs had by now recovered with the shorter days we had done. However, as usual, just when I started to think this, the North Sea Cycle Route took us on a "gravel road special" throwing up two major hills, both unrideable, one's gradient went to 22 % at one point. Such was the improvement in our mood that we laughed it off.
We got to Langesund at 2:00 pm and checked the ferry times. The next ferry was at 4:00 pm and we had only just missed one by 30 min. Anyway, we ate strawberry soft serve and sat in the sun. Waiting is easy when you are on holiday. The ferry was really worthwhile as it took an hour, stopping at various islands in between, so was very scenic. We camped about 500 m from the ferry terminal in Helgeroa at Blokkebukta Camping and enjoyed a wonderful sea swim before supper.
Tuesday 15 July 2014: Helgeroa to Bush camp after Stromstad (46km)
We had a bit of a lie-in as all we had to do today was cycle about 41 km to the ferry terminal at Sandefjord and then after disembarking from the ferry in Stromstad make our way 500m to a campsite. So we checked out at 9:00 am and had a fun last day's ride in Norway to arrive around 11:30 am in Sandefjord. We had booked this ferry prior to leaving Perth but it was booked for Wednesday and so we had to change it at the booking office to leave at 14:30 today.
The ferry trip was 2 and 1/2 hours and the ferry was very busy as they often are. The Norwegians and Swedes on board were making ample use of the duty free shopping particularly for alcohol. Some people even had carts that they filled. Everyone had cartons of Heineken beer. Coming from Australia where the GST is 10% we had never really understood the attraction of duty free, but who knows what the tax on alcohol is in these countries? Regular GST on groceries is 15% and sit-down meals or take-out is 25%. We had noted that you never see people drinking in public nor do you see kids eating sweets, etc. Too expensive!
It was raining when we disembarked and we made our way to an ICA supermarket to shop for some food. We then went to the Stromstad campsite we had picked and could not believe the cost written up on the board, so I waited to ask the receptionist. 340KR a night truly beat all. We had never paid this much and weren't about to start now! We hopped back on the bikes and found a great little bush camp around the corner. No access to drinking water, but it was private and nice, so pitched the tent for the night.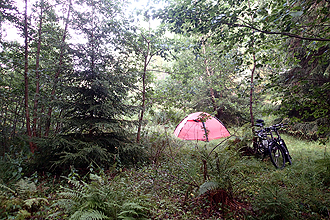 Wednesday 16 July 2014: Bush Camp after Stromstad to Bush Camp Bovallstrand (81km)
Our plan was to camp in a formal campsite tonight but we ended up pulling into a fabulous swimming hole at Bovallstrand and commandeered a bench in a gorgeous setting for the entire afternoon, swimming in the sea and gazing at the view.
The ride was uneventful; back on the beautiful Swedish roads with their cycle friendly gradients and even the Cykelsparet once again. Hello old friend! Love Sweden.
We were a little unsure about camping in such a busy place but then a family arrived and pitched their tent and we felt okay. We had located a private little campsite and went across there to settle in. One of the best days of cycle touring ever.
Thursday 17 July 2014: Bush Camp Bovallstrand to Bush Camp Rest Stop at Tjorn (85km)
We had a peaceful night's sleep with the waves lapping meters from our tent. As is our habit in the warmer weather, we were on the road at 7:00 am and had a breakfast stop after 20 km. The morning passed easily, beautiful Swedish roads of course. We had 115 km planned to a campsite but planned to look for a bush camp around the 90 km mark. Any extra distance we did today would bring us to Gothenburg for our rest day earlier. We caught three (free) ferries which gave us breaks in the day and also cut some distance off here and there. We stopped for lunch and then took a route which was uphill for a kilometre or two and then a gentle downhill for 9 km, and ended up cutting 10 km off the route. By now we felt we had seen enough to sacrifice the odd sea view that the Cyklesparet will take you by. It was an indication of the easier gradients here, that we saw a few groups of cycle tourists yesterday and today.
We ended up along a busier road (although part of the cycle route) for a while and then came to a rest stop overlooking the sea. There were benches and toilets and we walked down along large flat rocks and found a winner camp spot overlooking the edge of the rocks onto the water. There was a walking route down to the sea which allowed us to have a sea water wash. We had a great afternoon relaxing.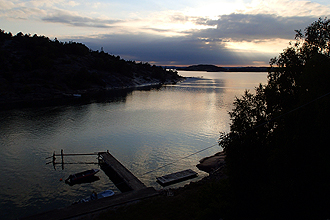 Friday 18 July 2014: Bush Camp Rest Stop at Tjorn to Lisebergs Camping, Gothenburg (73km)
Today was really all about getting to the "big city" and our pending rest day which was a bit overdue. The last day we had had with no riding whatsoever or packing up was in Oslo, 1 July. We had always known that this would be the case on this trip and had opted for reducing distance when we needed to across a few days rather than have a rest day. The schedule was always going to be tight to get where we wanted to be (undoubtedly reaching Stavanger via the Suleskarvegen and Lysebotn was always the goal).
The route today was good and there was cycle ways for large chunks of the day, with the route into Gothenburg on good cycle ways. We did not deviate much from the planned route but did shave 3 km off by staying on a more main road at a point, rather than deviating.
We had a super early finish, arriving at our campsite before 12:00 pm which was excellent. It was your typical city site; busy and with all the bells and whistles. We booked a laundry slot for the afternoon and washed cycle gear, towels etc. It was a lovely hot afternoon and everything dried in the sun. We just relaxed at the tent in the afternoon and planned to go into town in the morning.
Saturday 19 July 2014: Rest Day Gothenburg
We had seen that the campsite offered a buffet breakfast at half price before 9:00 am with a valid camping card, so decided to do this. This was really worthwhile as they offered a great spread and the coffee was excellent (all three cups each!).
We bought a 24 hour public transport card at reception and got the tram into the city. We took the ferry trip around the harbour and watched the Stena Line ferry arriving from Denmark. The weather was perfect and we had a great day walking around and shopping.
We got back to the campsite at about 3:00 pm and popped onto another tram at 6:00 pm to get to a supermarket to buy some food for supper. Gothenburg is a great place to visit. It is a spacious city with ample to see and you don't feel crowded in at all.
Sunday 20 July 2014: Gothenburg to Rodlix Camping, Tvaaker (115km)
We decided that the 40 SEK brekky was too good to pass up so were waiting for the doors to open at 7:00 am. What a great start to the day, a fabulous breakfast and coffees times three each (again). We were still on the bikes by 8:15 am and after a longish climb of sorts were out of the city. This was the sort of day that you cycle tour for! All but about 6 km in total along dedicated cycle paths. Almost always flat and sometimes almost a tailwind!
We followed the Sverigeleden for the last time where it overlapped the Cykelsparet and the North Sea Cycle Route (minus crazy hills in Sweden) and also were on a route today called Gisteleden. The route passed through small towns, past nature reserves, beautiful coastal scenery and fields of wheat.
We had planned on the day to be 108 km but found that our planned campsite was in a very busy seaside setting with campervans and caravans jammed in. The sea looked very inviting and the beaches were certainly packed but it was searingly hot and we only wanted to get out of the sun. Along the way we would pass many campsites so kept going and came across Rodlix which reminded us exactly of the Dutch Mini-Camping concept. Small, farm setting, plenty of space and green grass and spotless ablutions. Yip, this is where we would camp. We showered and ate under the trees and waited to cool down! Early to bed. At least tomorrow would be a shorter day.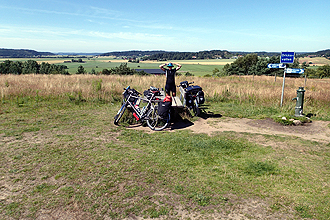 Monday 21 July 2014: Rodlix Camping, Tvaaker to Marais Camping, Mellbystrand (98km)
It was to be another hot day and we were on the road at 7:00 am. The route was much the same as yesterday's, mainly flat, gorgeous coastal scenery and farmland. Again we were most often on dedicated cycle ways which was wonderful. We stopped for breakfast in the small and pretty town of Falkenberg and then later for a drink, and finally at Halmstad where we had soft serve (yay) and shopped for lunch/dinner. We had planned on a 95 km day but ended up staying on the main road to Halmstad as it had a wonderful cycle way in and ended up saving 10 km this way. We had always planned to "eat" 10 km into the next day (our last in Sweden) and by saving this amount we could do it without any pain!
The day continued beautifully staying hot and what is really nice in these seaside places is that you see a lot of people out on their bikes so it's not just us in the crazy hills of Norway making a spectacle of ourselves. Our preference is not for seaside camping as it is pricey and packed, but we could tell that a bush camp was not going to offer itself up. The area has many Nature Reserves which are off limits for camping. We followed a beautiful forest track through a reserve and came out to Marais Camping. It is on the seaside and we had a lovely swim, well there seemed to be a lot of green mushy stuff in the water, maybe from a river inlet close by? Anyway it was still good. The sea around here is very shallow for a long way out which makes one think you could probably walk to Denmark!
The campsite was big but we had a designated site, everyone was friendly and it had a good atmosphere. We had felt quite chuffed that we had already cycled 10 km of the next day so imagine our excitement when we checked our maps and found it would be an 80 km ride only to Denmark?!
Tuesday 22 July 2014: Marais Camping, Mellbystrand to Helsingør Camping, Helsingør (97km) - including riding around the town. Also clocked over to 3,000 km today!
We had another 7:00 am start, trying to beat the heat. We had a surprising climb at about the 15 km mark for about 5 km that took us to a high point with fabulous views all around and a golf course to cycle through. Thereafter, a super-steep descent, by Swedish standards. We had missed the opportunity to buy food for breakfast, so were very relieved to come across a ICA supermarket just before Angelholm at about 45 km. Quite a long wait for breakfast! The ride was superb from this point, coastal and on a cycle path all the way. We had along sections with an actual tailwind for the "first time" on the trip. After a stunning descent through dappled birch forest we suddenly came out onto the sea and the lovely esplanade of Helsingør. It was cheap and easy to purchase ferry tickets and there was one leaving in 30min. Amazing to witness the amount of traffic that piles on to each ferry all day long. The crossing was short and we stayed with the bikes (no choice about that) so no views but we had clearly seen Helsingor across the water before boarding.
Our campsite was only 3 km from the ferry terminal and although the sign there said "Full", of course cycle tourists can be squeezed in. As was proved as the afternoon wore on and more cycle tourists and motor cycle tourists arrived.
The campsite was right on the beach and we had two lovely swims. We also checked out the Kronberg Slot. A lovely afternoon.
Wednesday 23 July 2014: Helsingør to Copenhagen (58km)
We had booked into a hotel in Copenhagen central for Thursday night only but ended up with only 58 km to Copenhagen with a day in hand, so decided to add an extra night and ride through to Copenhagen today. We were on the road at 7:30 am; wow what a spectacular morning to be on a bicycle! No wind, perfect blue skies and stunning sea views. Once again a cycle way all the way and a brilliant route. Boy, can Denmark deliver something special for cycle tourists!
I had wanted to visit the Karen Blixen Museum in Rungsted, but we passed it way too early and it seemed better to get to Copenhagen early than to wait for it to open. It was amazing just after passing this town that we had clear views of the Oresund Bridge, which we had crossed to Sweden nearly 6 weeks ago. Seemed like much longer than that!
We arrived in the city and cycled through to the airport, once again on the brilliant city cycle network. Similar to the Netherlands in that cares, cyclists and pedestrians are kept separate. We arrived around 11:00 am at the airport and as is our habit, I went in search of bike boxes and baggage storage while Mike set to work dissembling the bikes. Imagine my shock when I was told by the lady at the information counter that Kastrup no longer has a baggage storage room, only lockers for suitcase storage! I dashed back to Mike who was already well on the way to taking apart the bikes. What to do! I rang the Scandic Hotel, where we were booked in, and the front desk person said we could just lock the bikes up outside at the bike racks where the hotel hire bikes are kept. This was not acceptable to us so she put me on to the concierge who said we could certainly keep the bikes in the baggage storage room. So we packed all our other luggage into one of the lockers at the airport and wheeled our bikes and what we needed for the time in Copenhagen, to the station in the airport and got the train to Copenhagen central. From there it was a short walk to the hotel. What bliss to shower and lie down for a lovely sleep! We went out to get some things to eat and returned to the hotel room for a rest, then went out again at around 8:00 pm for a walk around the town. Still very hot.
Thursday 24 July 2014: Rest day Copenhagen
We had a great day in Copenhagen. We had a late start after breakfasting at about 9:00 am and then went looking around some shops and just taking it easy.
As will all good things, holidays come to an end. Fly home to Perth tomorrow.