New Zealand (South Island) Cycle Tour No. 1 (2005)
Home Page > Bicycle Touring > New Zealand > New Zealand 2005





As I am a complete slacker it is a month since we returned from the trip and I am relying on a rough journal (scribbled around the print of Maeve Binchy's "Nights of Rain and Stars" written mostly in the two minutes before the sleep monster grabbed me each night) and my memory!!! Here goes...
Day 1: Saturday 10 December 2005 - Sydney to Queenstown by Air
Our flight out of Sydney was a 09:45. As with our Tassie tour, we had booked "Going Boeing Gone" (GBG) to pick us up and transport us to the airport. It is easier this way as you can get old bike boxes from your local bike store and pack the bikes at home (quite a performance - removing front wheels, detaching handlebars and rear derailer etc and making sure all the bits are firmly tied together with cable ties) and then just schlep them into the van to be dropped at international departures. Of course, going to New Zealand it is paramount that everything is absolutely SPOTLESS on arrival - this entails washing the tent, tent pegs, bikes, tyres, hiking boots. They are very concerned about "biological contaminants" - and when you get there you can understand why. It is absolutely spectacular and worth having seemingly unreasonable expectations of incoming travellers to protect!
Anyway, we had scrubbed everything the previous weekend. You can imagine the general condition of our tent...
As we would have a 07:45 check in for an international flight, GBG was arriving at 6am just in case any unforseen circumstances arose... For us in Sydney the alternative form of transport to the airport is to catch the train. This is a five minute walk to Hornsby station, then a train to Central (about 55min), where we switch to a train to the Airport (about 15min) - the train station is in the airport - one stop at the domestic terminal and another at the international terminal. They are new stations - built for the Olympics. Anyway, GBG is very dependable and arrived on time - it is a $75 cost - which isn't too bad as the train trip is $15 a person anyway and this way is far more convenient and easier.
We got to Sydney International at 7 am and could actually check in right away with Air New Zealand, which is great as you can get rid of all your stuff and be free to relax and wait for you flight. Check in was a shock as we were 30 kg's overweight. Mmmm... the check in lady helped us rearrange our stuff a bit to take an extra piece of hand luggage on board, making us only 21 kg's over. They charge $10 a kilo for overweight. When you've packed as frugally as we had - two pairs of undies for four weeks, two t-shirts, two pairs of socks etc, this was a little heartbreaking. It was disappointing for us that a country which labels itself "the adventure capital of the world" has an airline which doesn't even give a 5kg allowance for bikes - all we had had to comply with the standard 20kg luggage allowance which most people fill with fashionable clothing and reading material...anyway. Nothing could be done as everything we had taken was absolutely essential. Trust me, when you know that everything you have has to be attached to a bike and schlepped up mountain passes, you pack accordingly.
Anyhow, we checked in and then went through departures using our NEW Australian passports. Australia offers GST returns on items bought to particular values in the three months leading up to departure - even if you are an Australian who will be returning, so we made use of that service. Then through to the departure lounge to wait... and wait... and wait... Our flight was delayed by another plane docked in it's berth and we eventually took off an hour late - 10:45, for which many apologies were made. Sydney International Airport is over utilised - there are always plans afoot to build a second one. Anyway - that check in lady who took our money at least organised good seat fro us - right in front, over the ballast, so plenty leg room. A middle aged lady got on to sit next to me and seemed to make a big fuss about having something packed away. Turned out it was her mother of the bride outfit which she wanted hung up, but there was no hanging space so it had to be VERY carefully folded and packed in the luggage space above. Apparently she was going to her daughter's wedding in Queenstown. I was to hear all about this, as a young blonde "poppie" sat across the aisle from her and they proceeded to strike up a conversation. Having apparently never met before they very quickly got down to the nitty gritty. Young girl pummelled older woman with questions on the wedding: where in Queenstown, describe your outfit, describe brides outfit, where will you stay? Where is she having her hair done? Who is doing her makeup? Where is the reception? What is the groom wearing? What is the father if the bride wearing? What are the bridesmaids wearing? What flowers will she carry? What shoes is she wearing? I mean - there comes a moment where polite interest gives way to uncomfortable interrogation, doesn't there? Older woman didn't seem to mind. Then younger woman proceeded to tell her all about her wedding, right down to the MONUMENTAL decision making process what flowers to choose, how to pick for the church, the tables, the bouquet - apparently this is all rather complicated. Then a detailed description of her dress - then things got really personal, middle-aged woman mentioned another daughter who was pregnant, so then questions like When is she due? What does her husband do? What kind of baby buggy is she buying? Blah Blah Blah. Luckily it was only a two and a half hour flight. I was almost on the brink of saying "Don't you want to hear about my wedding?" when we landed. The landing was unbelievable - immense snow covered mountains, deep valleys, sheer rocky crags surrounding this teeny mountain village. Beautiful brilliant blue glacial lakes. Eternal clouds. Absolutely beautiful.
Queenstown only started accepting international flights last winter from Sydney, for the snow season, so the airport is still very small. Customs was very excited to see us. Checked our boots, bikes etc. Made quite a song and dance, but very friendly. Strangely, we were interviewed but two separate people enquiring as to our travel plans - gentle interrogations really. "Where are you going? When are you leaving? Oh - that's a long time on the South Island isn't it?" searching glances etc.
Eventually we get out of the airport and could put our bikes together in the car park, watched by two interested British tourists who examined our every move. Things got interesting when Mike discovered he had a puncture ALREADY ...typical! It was a cool evening in Queenstown - about 5pm New Zealand time when we could pack our bikes and set off. It is only a 8km ride from the airport to the town centre - all along the edge of Lake Wakatipu. We didn't look at the view much as we were in a rush to get to the campsite and get set up - it had been a long day really and it's always a little strange when you set off - as the ride was short we hadn't packed properly and needed to get settled. Queenstown is very quaint, we located our campsite - Creekside - nestled at the base of stunning mountains close to the town centre. We were allocated a site which was disappointing as it appeared that we would have to pitch our tent in the entrance of someone's campervan. It was impossible small. We went to complain and were allocated a different site - also very small, but along the creek and shielded by trees - if you had a vehicle you could not have used it as you could fit a tent, two bikes and that was it. It suited us fine. We pitched the tent and set up, then walked down to the town to get some food. The campsite was packed with campervans - as were many campsites where we stayed. We encountered tourists from all over the world - including New Zealand, but camping was always a pleasure. We never encountered any loutish behaviour in the month that we were there. Every campsite had exemplary facilities - spotless bathrooms, well- equipped kitchens and always nice lounges where you could watch television - and always cable with many channels - not that we did that, but in many places a nice lounge was appreciated. When the rain pours and pours and you can't face being cramped in the tent it is essential to have a pleasant place to relax. The campsites were more expensive than in Australia but without exception absolutely fantastic.
We had supper at Subway that night and then we began our HABIT - delicious frozen berry yoghurt fruitflos that I would have sold my soul for on a daily basis. We walked around the town - the shops stay open til 9pm - if it wasn't for the fact that everything has to be packed on your bike and carried along with you, I would have shopped til I dropped!! The clothing is so beautiful! All New Zealand stores selling such different things - STUNNING!!! Mike said I should just post the stuff home, but I was very disciplined. I saw more pairs of shoes and items of clothing that I would have wanted in Queenstown than I have seen in Sydney! And Queenstown is the size of Gordon's Bay!!! The thought crossed my mind that a three hour flight and a 10min bus trip - hell, I could go to Queenstown for the day if I wanted!!!
We had to do some food shopping as we were heading for Glenorchy the next day and weren't sure of the shops there. Often the smaller places have shops, but the prices could be steep. We found a supermarket - but actually right around the corner from the campsite was a much bigger and better one which we would only discover on our return to Queenstown! Anyhow - with sunset at about 10pm we still had light til about 10:30, we only got to sleep late. Drizzled a bit that night. The next morning would be a later start than we are used to!!
Day 2: Sunday 11 December 2005 - Queenstown to Glenorchy (55km)
As I mentioned, a later start today than is our habit - on the road at 08:30! The cycle to Glenorchy is very straightforward as it runs along the edge of Lake Wakatipu the whole way. Glenorchy is the end of the road- it is the gateway to Mount Aspiring National Park which is a hiking paradise with many routes in the wilderness. Anyway, the ride to Glenorchy is not described in Lonely Planet's Cycling New Zealand book, probably because it is a dead-end and most people are not interested in riding out and back. Not us!! The road is constantly undulating, up down, up down, but so beautiful!! The views of the snow capped mountains over the lake so breathtaking! There are many Lord of the Rings filming sites along the way - thankfully not sign posted as they would be in America, but just marked on the map. And the whole thing look exactly like the movie. Blue water, big sky. Spectacular.
Stopped at the top of one of the "up's" for a snack - a giant Moro bar for me (my staple diet!! They are Bar-one's and a few Brunch bars for Mike. Admiring the view. Gorgeous. This was the halfway mark - the two hour mark.
We arrived in Glenorchy at about 12 o'clock - So that's three and a half hours for the 55km. That's not bad actually - nearly 16km an hour on some tough hills and including a 20min break I guess. Glenorchy is a tiny place - it has a very good information centre for the National Park and there is a café and shop. We asked at the shop/ café about getting a hamburger but the facilities there are for the adventure seekers who do the Dart River Safaris from Glenorchy and are not open to the public. We bought supplies from the shop - cheese, eggs, chocolates (it's best not to mention how much chocolate was consumed over the course of our travels). After we had set up our camp, showered, eaten, collapsed for a bit and felt like a bit of a walk down to the lake, we were to discover a street with 4 or 5 various eateries - a pizza place, a coffee and cake shop, a steakhouse. Can you imagine?? Felt somewhat annoyed that the girl at the shop didn't tell us! Anyway, the campsite was disappointing at first glance, but actually very nice and very quiet.
We walked to the Lake shore that afternoon to have a look. Beautiful pebbly banks and crystal clear water, reflecting the mountains on the opposite shore. We did some geocaching around the Lake and got an early night. I had actually got quite sunburnt on the bike - the sun is much stronger in New Zealand, particularly on the South Island, than in Australia. I found that we had not even bought sun cream as everyone just laughs when they hear you are going to New Zealand and tells you how much rain there is. I ended up buying some on our return to Queenstown.

(1) & (2) On the way to Glenorchy



(1) The "beach" Glenorchy


Day 3: Monday 12 December - Glenorchy to Queenstown (55km)
We got an earlier start today - 8am - which is still a little late, but hey, it IS a holiday! The first 10km FLEW by, even though there were a couple of hills - notably a HUGE one out of Glenorchy!! Then, the real hills hit! These were probably the steepest we had on the entire trip and I was a bit disheartened when I had to get off and push on the particularly steep one!! But when your speedo registers below 5km/hour, it's less effort! We got to the previous day's rest spot at about 26km, then another steep hill hit! Push again! Mike thought that I had gone missing in action by the time I eventually met up with him at the top!
This is me at the top of the STEEP hill (note the sign for traffic travelling in the other direction). I had obviously just hopped back on the bike! Mike of course doesn't have to push on steep hills! He just stops to take photo's! Anyway, in the end we did the entire ride in 2hr55, 20 min faster than the ride out there the previous day. Although it was much tougher. Still enjoyed it though - when getting off to push makes you laugh you know you're doing okay. Just before you get back to Queenstown there is a lovely DOC campsite on the lakeshore. These DOC campsites are always in beautiful locations and we thought we'd make use of them a lot. They are either free or very cheap but have no facilities (no showers). We ended up not using them at all, mainly because when you're cycle touring you would sell your soul for a shower at the end of the day (as well as the berry fruit flo thingy's), and also because they are usually a fair way from anywhere - which is great, but it just makes it easier for food, etc. to be nearer civilisation. Remember that 5 km in a car is nothing, but when you have to get on a bike every time, take a rucksack, take the cycle lock, take your helmet, etc. it does add up.
Got back to Queenstown at 11am and went back to the same campsite,. Booked in for two nights. We got a good site and when we were in the process of putting up the tent I discovered a pile of vomit. It looked like huge pieces of fish. I used the cleaning ladies gloves and bucket with hot soapy water, scooped the stuff up first and turfed it in the bin. All the while trying not to hurl myself. Great. But hey - someone had to do it.
We then discovered the supermarket NEXT door to the campsite. Huge place! Stocked up - cold meat, salads from deli etc. Samoosas! Mike very excited! Whittaker's chocolate slabs! This is absolutely divine chocolate - a NZ brand. We spent some more time in the shops, and generally wondered around the town. The SS Earnshaw paddle steamer operates on lake Wakatipu, but we didn't end up making use of it.
Queenstown has a great gondola ride to the top of the hill behind the town (not as great as the cable car up Table Mountain, but hey, this is Queenstown). You can also walk up, but we decided to catch the gondola as it is something different.
Paragliding takes place from above the gondola station and we spent some time watching the adrenaline junkies having a good time. It's expensive - $185 for a ten minute trip - they land on the school sports field next to the campsite. How the kids pay attention in class is a mystery!

(1) & (2) Back to Queenstown


Day 6: 15 December - Queenstown to Cromwell (75km)
Made a good start this morning - 7am - the earlier the better. Less traffic, less time in the sun and less likelihood of wind if it should come up. Wind is the cycle tourists enemy - rain can be uncomfortable, but wind can be impossible. First 5 km to Arthur's Point a bit tough - undulating, hilly, unresponsive legs (too much walking yesterday I think) - bad combination. Both of us feeling tired. But after that point, it was downhill all the way to Arrowtown. Glorious downhill - could push high gear - great average speed. Passed second lavender farm of the trip - will we EVER stop at one? Speaking of which, you get a beautiful type of lavender in NZ - very dark purple, when I saw beds of it in the campsite at Queenstown, I though it was artificial at first. We crossed the Shotover River - aquamarine in colour. That brilliant blue of glacier lakes again. Arrowtown is a very quaint place, another site for much of the filming for Lord of the Rings - Fort of Bruinen. Did a geocache at Tobin's Track. Beautiful, tree-lined streets. The Main Street has been completely restored as what it would have been like 100 years ago. Amazing. We then continued to Cromwell. At 30km we passed the turnoff to the Alpine Way. I felt very relieved that we weren't cycling up there - looked steep! Also takes you to Wanaka, but you miss out Cromwell that way. Anyway - didn't look too bad and gets you to Wanaka in 78km from Queenstown as opposed to the 120+ km we would do via Cromwell. Much gentler our way!
Scenery continued mountainous, but changed in every other respect. From alpine Queenstown where we walked in dark, cool forests, footsteps muffled by thick beds of fallen leaves and pine needles, to a barren, scrubby landscape - similar to the Klein Karoo in fact. Hot and getting hotter! A head-wind kicked up which was to be our companion for the day, but didn't worry us too much as we were constantly downhill, save a few climbs. We passed the Hackett Bridge Bungy, where you touch into the river, but decided to rather stop at Ben Nevis, as it's the highest one - and very famous. The road from Hackett on became narrow and twisty - hardly any shoulder - and very busy. Tour buses, BIG 16-wheeler trucks and lots of tourist traffic. The region, known as the Gibbston Region is famous for it's wineries and vineyards lined the roads with accompanying rose bushes. So you have the verdant rows of vines, huge beds of blood red rose bushes and barren brown mountainside. Very striking. The road had a few spots where you'd have to wait for oncoming traffic as there were road works in place. You just always hope that you don't have to wait at the start of a uphill!!
At one point on the road alongside overpowering cliffs on the right there were no stopping signs due to rock falls - but we had to pull off - the churning river below was a so amazing! Listerine blue raging around huge boulders strewn in it's path.
We actually missed the Ben Nevis Bungy - there was never a sign for it and though we had it clearly marked on the map - we never found it on the road. I know that part of the cost includes payment for transport there, so maybe they don't want to encourage traffic pulling off the road - could be that there is not much space for parking there or maybe the road is unsealed. Anyway - bit disappointing that. You see the adventure buses disgorge thrill seekers at the end of their days "adventure package" in Queenstown - mainly young, student-types, male. Most would have bungyed (x3), tandem paraglided, done a jet boat trip (very fast boats able to move in very shallow water on rivers and execute thrilling top speed manoeuvres - often up against rock walls) and look a little shaky on their legs - enough adrenaline flowing through the veins to last a lifetime!
We did more caching at Roaring Meg Bridge - spectacular scenery - many travellers stop to have a look. High, barren cliffs and cobalt blue raging torrent of water. This is one aspect of New Zealand I was unprepared for - so much water! It's amazing! And you see the power of it as well - here the river was cutting a hollow out from under the cliff face. It was very hot here and I was constantly applying sun cream. We continued, still constantly expecting the HUGE uphill that never came. It's weird when you are cycling a road for which there is not elevation - you feel quite lost. As the way to Cromwell isn't detailed in the Lonely Planet Cycling NZ book, there is no description.
Approaching Cromwell, we pulled off to do a "graveyard cache". Cromwell is a large fruit-growing region (particularly stone fruits) and we were somewhat alarmed by the noise control measures - loud shotgun noises ringing out through the orchards to frighten away the birds. Also, when we were doing the graveyard cache we could see hundreds of spent cartridges from guns lying everywhere on the ground.
The area used to be a big gold mining one in the 1860,s and when the gold dried up, the fruit took over. Australia and New Zealand are full of gold rush stories - kind of like the Tsitsikamma region in RSA. Huge influx of people (often the same names moved from place to place) - some stories of great fortune and then inevitable disappointment. Just before you arrive in town you can explore old ruins of gold mining - it looks like a working mine still in fact - with rough paths cut through the barren hillside.
Just as you enter Cromwell there is a huge fruit sculpture - pear, apple and peach. We stopped at the info board looking for the campsite. HOT. It's a tiny spread out town typical of a farming area. Lovely suburbs though, but not much going on. We were looking for a Top 10 campsite - we had stayed at one in Queenstown and had been impressed by the standard. It's a group which many campsites belong to and to do so they have to meet certain criteria - the standards are high. Also, they are giving a start rating - with 5 being the highest - so you know what you are getting. We had decided to try to camp at these whenever we could. So we headed off to the Cromwell Holiday Camp. It was a little way out of the town centre - not really walking distance, which we felt was the only drawback. Also, the site didn't look too great - pine trees meant quite barren soil and many on site caravans looked a little unkempt. It was a huge campsite though. We took a bike around and then decided to check out the other campsite - way on the other side of town - Cromwell Chalets. It was as far from town and sort of in the industrial area, also it had a bar/restaurant on site - a bit dodgy!! We decided against it and went all the way back to the first one!!
As it turned out, we had plenty of space!! No other campers within any distance of us! Many green grassy areas! Also internet/e-mail facilities which we made use of - e-mailed family from here. We booked in for two nights. By now it was 14:00 - 7 hours on the go and a distance of 80km all up. We had done a lot of geocaching too though - and a bit of walking. We were hungry and tired and hot. My cycle computer gave the temp at 39 deg. A shower - fantastic amenities - huge ablutions and everything looked new and clean. Pitch the tent and then back on the bikes into town. We found a fantastic HUGE AIR-CONDITIONED supermarket - the chain is called New World - very like Pick 'n Pay in RSA. The supermarkets in NZ are really much nicer than in Oz - always cleaner and roomier and many sell South African products too. Many things are more similar to SA eg. Nescafe coffee is called Classic - not Blend 43 as in Oz and also the chocolate and Coke tastes more like the SA ones (much better than in Oz) - you wouldn't believe that there would be differences in flavour in these things - but there you are! Put it this way - there were many times when we said - "We could really live here!". Could be the terrain that's so similar - certainly there is no humidity like in Sydney. Air is clean - everything is clean. But we were there in summer - in winter things get a little uncomfortable I think!!
Anyway we sat under a tree and demolished a whole lot of food. When we were too full to move we went in search of fruit flo's which we couldn't find. I asked everywhere for soft serve - but they didn't have. We were later to discover it's called "creamfreeze".
Back to campsite, did some washing, lazed about, and read books. Whiled away afternoon. Quite windy - a hot, dry wind. Got into tent early, to get out of the wind and the heat. Must have fallen asleep at about 9:30. Got up at about 8am.
Next day, we walked from the campsite, over the long bridge which allows access to the town, and hiked up to a view point overlooking the town. This gave good views of the town and Old Cromwell Town which we would visit later. We biked into town to get lunch - ridiculously early but constantly hungry. All the take out joints were closed for the holidays - so back to New World!! Ate at a park on the way back to the tent. All the little towns we went through without exception are beautifully cared for and offer shady spots where you can sit and relax. The supermarket delis offer great lunches - they sell cooked hamburger/chicken burger patties etc so it is quite easy to make up your own burgers.
The morning had been PERFECT but wind began to pick up in the afternoon. Went in search of ice-cream again! All the campsites give you really comprehensive maps of the towns with important landmarks like "Dairy" on them. Ended up cycling to giant fruit to do a geocache. We cycled the back way to giant fruit i.e. Not through the town and rode passed a sign "FRESH FRUIT ICE CREAM" at a farm stall. It was just over the back fence of the campsite!! WE could walk there! Made mental note to come back later...
Did geocache and went on to Old Cromwell Town. The entire original town was relocated prior to the flooding of Lake Dunstan in the 1820's and rebuilt on the lake shore. The buildings have been lovingly restored and some are now art/tea shops. Lovely English country gardens and funny stories about various inhabitants and events on story boards at particular dwellings etc. Every town without fail in New Zealand has spent money and time representing their history of which everyone seems proud in imaginative and interesting ways. It's lovely.
On our arrival back at the campsite I was so hot, I took myself off across the road to the Lake to have a swim. I t was freezing mountain water - lovely, bracing! Then later we went back to that farm stall where we had the BEST FRUIT FLO EVER and also delicious fudge.

(1) & (2) On the way to Cromwell


Day 7: 16 December 2005 - Cromwell to Wanaka (70km)
Great start this morning - on the road before 7am! Have now got "pack up and go" down to a fine art - about one hour 15 to pack up all our worldly goods - eat and hit the road. As today was a more or less straight route, a headwind would be of major concern- and getting an early start always means you will beat the wind! We had a choice of two routes - the SH8 or SH6 - we chose the SH6 as it was the one given in the cycling book and proved excellent! It skirted Lake Dunstan for the first 25 km - Lake on the left, hills to the right. Beautiful cycling, gentle ups and downs. We could see the other road across the Lake and it seemed much busier and had much more truck traffic. We passed a lot of farmlands - mainly deer farming - Mmmm...Christmas venison!! Fantastic irrigation systems - full canals flooding emerald fields of grass. So lush and fertile! We stopped at the 33km mark to have a snack - Two Moro bars. It's an addiction. Thank goodness they are not available in Oz. That would prove a serious problem. Thing with cycle touring is, the minute you hit the 10km mark you begin to feel your stomach grumble. And it does not stop until you put something in it. Then you go to the shop and buy an enormous amount of food and it is gone just like that.
Always try to push a high gear to keep up my speed to keep up with Mike. It's my only strategy. That works brilliantly on a day like this - no major climbs so I can force the high resistance out of my legs. As soon as we hit the hills though... it will be a different story.
Almost there now...
The road into Wanaka is a glorious downhill - quite busy though and the shoulder is tight in places. Often on a sharp downhill especially if the road surface is a bit uneven you can get a slight speed wobble on the bike, due to the large weight on the back. No - this is not my arse, I'm talking about all your worldly goods!! So it can get a little nerve wracking. But still - downhill is good and it's great to see how quickly the little numbers on your cycle computer creep up. We passed the Air Transport Museum and Puzzling World - which we would visit the next day. Wanaka is a gorgeous little town - as you sweep in you get these views of the Lake on your right - the road runs right along it. It is exceedingly deep - 300m at it's deepest. This kind of depth is unheard of in lakes in South Africa. We were now getting into the habit of looking west, where the weather is said to lurk!! Looked a little dark over the mountains.
We stopped at the info office on the lake shore to find out where the Top 10 Campsite was - we knew there was one and it was a 4 star - AND - and this is a winner - I would have a swimming pool to use on my birthday the next day!! Swimming pools at campsites are a rarity in Australia and New Zealand. Wanaka itself was PACKED - it looked like the Plettenberg Bay of the South Island - a lot of young "trendoids" filling up the lakeside cafe's, bars and restaurants. It was lunch time though.
We had to press on to the other side of town for the Pleasant Lakes campsite, along the main road lined with oak trees. It was a constant slight uphill though which was a little killing. Turned off at sign for campervans and the road continued uphill and was also in the process of being graded and resurfaced. Bugger!! All this after 65kms! Got to office - parked bikes and almost checked in when I asked if it was the Top 10 which it was not! That one was another km up the road! Back on bikes... Out on the gravel road, up another hill... Found it! It is right on the outskirts of town, which was going to mean a lot of riding while we were there - for supplies etc. But hey! We were there, and tomorrow was a rest day!
The facilities at the campsite were top class. A beautiful old fashioned swimming pool with that smooth lime-washed concrete surface that I remember from pools as a child. Just gorgeous. And cold cold cold. So refreshing. We got a nice secluded spot to camp and had a great shower. The good thing about always arriving at our camp around lunchtime is that no-one is ever around - most people in campervans spend their days driving and only arrive in the evening and there were actually very few tenters at any of the spots we stayed at.
After a good shower we rode into town to EAT. And bought supplies at the New World supermarket again. We spent time walking around the town, etc. Then the schlep back up the blinking hill to the campsite. We have started seeing quite a few cycle tourists - but none camping where we are at the moment. Back to the campsite for a wonderful swim. Later that afternoon we walked down to the lake and relaxed there. In bed at 22h30 that night - the latest yet! Actually saw the town lights come on!!
Day 8: 17 December 2005 - Rest Day Wanaka
So I am now in my thirties. It's official. The wrong side of thirty for me and Hello Kitty. And she hasn't aged at all...We slept in til 7am!! Must be getting old... Took our time getting up and set off for Puzzling World around 9 am. Quite a climb up the hill out of Wanaka - but SO fantastic when your bike is so light! Puzzling world was an amazing experience (hah hah, no pun intended). Mike says it's one of the best places he's ever seen. I agree. It's all about illusions - optical illusions and science stuff. There's a few rooms and they are all different illusions. There's one where pregnant women and people with ear problems can't go in - the floor is sloped at funny angles so what you think is down is actually up and everyone spends the whole time hanging on to the walls and feeling silly. Your eyes and ears deceive you! Vertigo enhancer, except I didn't need to puke into a bucket. Then there was another room where there were white moulds of famous people's faces - Einstein, Lenin, Mother Theresa, Mandela and Mozart (I think) - once you focus in a particular way the faces seem to follow you around. Creepy, but absolutely amazing.
Then there's the Maze - Stuart Landsborough who, together with his wife, created Puzzling World , has designed award winning mazes all over the world. I've gone through mazes before as a kid, but this was really something else. The maze has 4 towers - red, blue, yellow and green. You can do two challenges - either just find your way to each of the towers or do it in a particular order - harder. It's mainly adults who do it and there are signs up asking people not to call out to help others as it spoils the fun. Also there are escape gates for when you just can't take it anymore.... In the end it took us 40 minutes to get to each of the towers. It was really difficult and very clever.
After Puzzling World we stopped on our way back to the campsite for lunch which we ate on the lake shore. We saw two cycle tourists with heavily laden bikes - front and back panniers. WHAT DO PEOPLE CARRY?? We have everything we need but we don't have that much stuff...Back at the campsite we swam again.
Day 9: 18 December 2005 - Wanaka to Makarora (67km)
We got an early start - 7am exactly. Another perfect day! We felt very fortunate at this point. Anything can happen in this place. There were supposed to be two hard climbs in the day, but it all seemed quite easy. Must be the high chocolate intake. Early on we passed Albert Town DOC camping area which looked nice once again. It was to be the scene of huge calamity on New Year's Eve however, with crazy teenage campers burning out someone's car! Can you imagine...
Once again, beautiful scenery today. The first half you cycle along the shores of Lake Hawea and then you cross over a thing called The Neck to lake Wanaka again. It's only 520m above sea level. It can be a tough ride with a wind - but again if you can get an early start you're fine.
Lake Makarora was absolutely spectacular. We actually stopped to do a geocache on the shore at Boundary Creek. White pebbly beaches and this unbelievable blue water. We'd be cycling along and yell out to each other "Can you believe this? It's so beautiful!!!". It's just paradise. Snow capped mountains mirrored in the still lake water... exactly like a postcard. The water in the shallows is completely transparent and from above where we were you can see right through to the rocky bed below. Then it drops off to the bright turquoise depths... I've never seen anything like this.
The roads were now very narrow and winding and the shoulder non-existent. But the tour buses and campervans were patient and it was relatively quiet. We were to read later that the week before a middle-aged cycle tourist was knocked from his bike on the same road. He was clipped by the mirror of a passing bus and died on the road side before assistance could reach him. He was part of a tour. But I wouldn't like to blame the bus driver automatically - some cyclists think it's okay to ride two abreast in the road. I don't know the circumstances in this case. As we were drawing close to Makarora I mentioned to Mike that it was surprising that you don't get motorbike tourists using the beautiful roads - but perhaps there is too much rain. Just then a group of about ten passed us one by one -all on huge Harley's and of course making me jump out of my skin.
We got to Makarora at about 11am. It's a tiny settlement - only an info desk, shop and restaurant that serves yummy looking carvery-type meals and a lovely campsite - with - couldn't believe our luck, another pool!. Behind me the mountains rose up pointing out the way to the west coast and all capped with snow. There were many cabins at the campsite and a fantastic campers kitchen. No other campers!
The Makarora River and the beautiful mountains in the distance of Mount Aspiring National Park makes the entire area so beautiful - we'd love to go back to the island to hike - it would be awesome! The river was absolutely roaring along over the rocky bed and was actually leaping over the rocks - it was also very deep and an amazing experience to sit there and watch the water literally tearing it's way through the valley. It was as if it was being sucked in by the river. The clouds started to look a little menacing - the West Coast lies just over Haast Pass.

(1) & (2) On the way to Makarora.


Day 10: 19 December 2005 - Makarora to Okuru (96km)
Early start - 6:50 am! A little apprehensive. Jeez - only we would pick holidays that lead to apprehension!! But - HOORAY!! A beautiful morning! Conditions look perfect! Now, the ride to Haast Junction was 81 km. A very STIFF climb up to the top of Haast Pass and then a spine-tingling descent - the book describes the descent this way "The bitumen ribbon twists wildly in a headlong plunge...". Mmmm, and I am such a girl on descents. I figure that descents separate the cyclists from the ...pretend-cyclists? I class myself in the latter. As Mike is a cyclist, you can imagine where that leaves me on descents! Anyway - there was also the possibility of camping at Pleasant Flat DOC Camping ground at about the 30 km mark. The hill would be over by the 18 km mark anyway - then the hair raising descent.
As we set off the road was very quiet - I suppose it was before 7am. The first 10km were more or less downhill and we now felt that we had left the farming pastures behind - the road is thickly forested on both sides as we enter rainforest territory that will accompany us for much of the rest of our trip actually. Absolutely beautiful - ancient trees with mossy undergrowth - prime-evil is the term, I believe. I found it hard to keep your eyes on the road - I constantly found myself gazing off to the left to see how far I could see into the forests. So deep, dark, green and secretive. After a few undulations, the climbs begin. More or less a 10km climb. The final 3km a bit of a bugger really. You know it's bad when your speedo no longer registers your speed. You look down and it says "00.00km/h". Fantastic. I'm going no where. It would be quicker to walk.
Finally, we reached the top of Haast Pass at 542m - quite low really compared to the adjacent mountains. The top of Haast Pass marks the border between Otago (where we had come from) and Westland (where we were heading). The descent loomed - legwarmers on, jackets on - the rain was starting and it would be a freezing descent. The descent is often described as a "spiritual experience" and it was really as I can't think of many words. It seemed to go on for ever. Spectacularly beautiful. Exquisite rainforests. Rivers galloping into torrents. Hard to describe. The rain beginning. The wet road and the stupid cattle grids that you had to slow right down for as they can be very dangerous, particularly in the wet.
We reached the Gates of Haast bridge - which will be the first of MANY single-laned bridges that we would cross on our travels up the West Coast. This was a breathtaking spot as boulders the size of houses lay scattered in the course of the raging river. We reached Pleasant Flat campsite but it was too early to consider stopping and there were many sandflies that would now become an issue. The sandflies will attack you in clouds. They are endemic to the area and will bite ANY exposed flesh. They can't bite through clothing though, so you can either SMOTHER yourself in RID (an insect repellent) or cover up. We met a funny little old lady from the UK at the campsite who had opted fro the second option. She was covered from head to toe - balaclava, gloves etc. They don't really bother you on the bike so as long as you keep riding...we used three containers of repellent on the trip and it can't be very healthy. But the bites are so bad - much itchier that any mosquito bite. They take ages to heal. Everywhere you go you see everyone else which huge red welts around their ankles.
We kept going to Haast Junction - the road had now dropped right down, the rain had eased up (it was only low cloud really) and we continued following the by now meandering river towards the sea. It was quite weird to think that we actually hadn't seen the sea yet, because we had been surrounded by so much water in those huge lakes, it was almost like the sea. At this point the river had completely lost that brilliant blue colour of the lakes and had taken on a steely grey hue that mirrored the gravely river bed it scoured on it's path.
As we headed for Haast it warmed up and the road flattened out. We could smell the sea air and the scenery was definitely becoming estuarine as we neared the coast. We stopped at the village of Haast to see if it would be a good place to camp, but it didn't appear very promising. We were tired having already gone 81km, and the 4km to Haast Junction seemed far at that point, but we decided to press on. Also no camping there, so we carried on south along the coast. We got to a motel/shop/petrol station and I went in to ask where the closest campsite was. The old guy behind the counter said "12km that way or 7km that way - them's your choices." He was not very encouraging. Nor was his information. Having no real choice, we got back on the bikes to face another 12kms. This was perhaps the last thing we felt like. Luckily it was flat. Still, I couldn't feel my legs anymore. Was that a SLIGHT tailwind I felt? Maybe it was just my imagination. I'd take any encouragement at that point. There were times on that 12km stretch when it seemed like a good idea to close my eyes just for a few minutes. Also the knowledge that we were really just going out of our way for no reason - we would have to back track all the way to Haast Junction anyway to continue on up the coast to Lake Paringa. Anyhow - in the end it was a good thing as it was a worthwhile experience being at Okuru. We reached the campsite at 2pm. A long day. Again no campers. We were soon to discover why.
Starving as usual and the only shop was at the camp office. It wasn't always open, you had to ring the bell and the owner would open up and wait for you to choose your stuff and then lock up again. So we kept having to go back as decisions are hard to make at this point. In the end we bought cheese, cold meat, chocolates, coke, a frozen cheesecake, a frozen macaroni and cheese meal, a loaf of bread and two containers of cream cheese. Then we made ourselves at home in the stunning lounge/kitchen and ate it all.
The rain started, we were in the tent early. It rained all night. The next day it rained again. The only good thing about the rain was that a) - we weren't cycling in at and b)-it keeps the sandflies away. Woke up the next morning and could hardly see through the fly sheet - it was encrusted with sandflies. Just the sight made me itchy.
A break in the weather came and we set off for a hike along the beach. It was spectacular. The entire place was littered with these tree trunks as far as the eye could see. Where they came from I don't know. The sea must be so rough out there. Perhaps they are washed downed the rivers from the forests and out to sea and the tide brings them in. Who knows - but this hike made being at Okuru worthwhile.
As we got back the rain started. It got to be torrential and we finally decided we had to pack up and move inside to a cabin. It didn't cost much more than a tent site. The tent was so wet - the tent area was a swimming pool! We took the tent down and discovered that a million sandflies had made a nice cosy home for themselves between the fly sheet and the tent. Oh boy!
We had a nice little backpacker cabin for the night. A break in the rain came late in the evening and we dashed to do a walk along a boardwalk that explained the fauna and flora of the area. An indication of the rough sea conditions was a story about a group of Dutch sealers who were dropped off on a little island very close to the beach - it is plainly visible from land and appears close by, to collect pelts. They ended up being abandoned and it was 5 years before they were found, still happily skinning seals (the pelts numbered 20 000 or something) and only slightly senile from the sandflies. And the only land leeches in New Zealand.
Hopefully tomorrow would bring clear skies? Wishful thinking. We were off to Lake Paringa - our first DOC campsite - although we were starting to change our minds about these as the sandflies were only worse at water sources.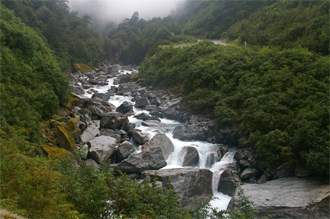 (1) & (2) On the way to Okaru



(1) The beach at Okaru


Day 12: 21 December 2005 - Okuru to Lake Paringa (63km)
Woke up as usual around 5:30 am. It had stopped raining during the night but as our eyes opened and our spirits lifted at the sound of silence - it promptly started bucketing down again. Really hard rain. The kind that makes you think how comfy your sleeping bag is and how dry your feet are. It was hard to decide what to do. As Mike said, if we decide to sit it out and the weather continues the same for a week, then what? Why set off tomorrow in the rain when we didn't today? We ummed and ahhed. I was negative - hey, I'm a girl? But we finally decided just to do it. Got all dressed up - decided to put on dry bike shorts as my others were still wet as they hadn't had the chance to dry. In retrospect this was a completely stupid idea as I was soon to have two wet pairs of bike shorts, but to be honest, the feel of wet chamois on your butt is not one of life's finest. So, legwarmers, rain jacket etc. Hopped on the bikes while there was a break in the weather and 5 minutes down the road it started pouring again. The rain streamed down our legs and poured straight into our cycling shoes which filled up like dams. The nice dry warm socks were instantly soaked and we had to adjust to that awful feeling of having your feet in freezing cold water until the shoes drained or the water warmed up - one of the two. Terrible downpour - could barely see. At least it was flat and there was no wind. I began to chant my mantra for the day "Rain is not a factor". Amazing what you tell yourself. Of course it's a factor - but if you start to believe it is you may as well go home.
We stopped at the same shop as the day before as we had no food and were unsure when next we would find any. That was at the 12km mark. I walked around the funny little shop dripping water on everything and my oozing gloves made paying a challenge.
At 14 km we crossed the Haast Bridge - apparently the longest single-lane bridge on the island - 750m. It has two pull over bays where slower vehicles (like bikes) are supposed to wait to allow quicker oncoming traffic to pass. It's a courtesy. To hell with courtesy - the raining was pelting! These single-lane bridges rapidly become a pain. As you approach you will notice a sign which indicates which direction has right of way - of course you have to stop and wait for any oncoming traffic on the bridge. You soon get into the habit of storming up to the bridge, pedalling a high gear like mad to get up your speed - then the person in front shouts "Yes go, go!" and you shove down into a lower gear and speed over before an oncoming vehicle approaches. It's all a major effort that could be completely negated if the Scottish road builders had stuck their hands a little deeper into their pockets and done us all a favour.
The Haast River coursed beneath the bridge - muddy grey in colour now towards the sea.
Over the bridge it was back into rainforest territory. Ferns, creepers, mosses and beautiful groundcovers - silent forests. You've got to realise that in order for there to be so much beauty and greenery - there's got to be this much rain. Then for a short distance, a view of the roaring Tasman Sea again - angrily pounding along. The trees leaning over at about 45°to the ground bear testimony to the winds that blow onshore here. Luckily for us it was not too bad today. We began the day's climb at about 15km and for the next 10km we would have to conquer three big hills up to Knights Point Lookout. Winding our way upwards towards the Lookout, the rain had eased and we were greeted with fantastic views of the ocean and coastline.
The sea was a myriad of blues with black craggy cliffs collapsing into tumultuous surf. Anyway - we didn't stay long - TOURISTS and SANDFLIES. We had 25km to the campsite and the weather was looking good! A soaring descent followed by more dreaded climbs!! The scenery was spectacular, but every ten minutes the rain would absolutely pour down. At least still no wind. I have never seen so much water in my life. Pouring off the mountains, down self-forged valleys, on the road, across the road, in the sea, in the lake, dripping off the front of your helmet, chin, gloves. It felt quite claustrophobic.
As we approached the DOC campsite we realised that it would be too wet to camp. We stopped there anyway to have a look around but it was "fly central". Also there was a lot of ground water about. We continued on to a little Motel which offered rooms for $50 a night. Mike wanted to throw his toys at this point and started on a "But we're supposed to camping and this is all starting to be a total waste of time..." rant. But it was the West Coast of the South Island of New Zealand and it was no good stressing about things you could do nothing about. Besides - the room had an ON SUITE bathroom. Oh bliss!! Everything was soaked.
We still went for a walk when a break in the weather came as there was a geocache Mike wanted to do at a creek at the Lake. We had put on rain gear and hiking boots etc. WE got to the point and it looked like walking through a river. Mike was keen to go and took off his boots etc to wade through. I waited for him on the bank and was pleased to be covered up as within minutes I was completely covered by sandflies. As soon as you stand still they just arrive - great clouds of them. I had my hood on, my hands in my pockets. As I waited I was thinking of Mike without longs on being sand fly dinner. I had visions of having to retrieve his devoured body!!
He eventually came back. Hadn't found it and had had to troop about in ankle-deep black mud. Had been devoured. Was not in a good mood.
Had a dehydrated meal for dinner. Went to bed a little hungry. But we were dry and tomorrow was another day.
Day 13: 22 December 2005 - Lake Paringa to Fox Glacier (70km)
You will be pleased to know - if you have fallen asleep from boredom, that I gave up my journal at Lake Paringa. So from here on out I have had to rely on memory. Which could be slightly dodgy at times...
Anyway, we set off in the RAIN from Lake Paringa - if in doubt I will just say it rained as I have a 95% chance of being right - the ride to Fox Glacier would be about 70kms. It was gently undulating though farmland mainly - so we left the rainforest behind for a while. It was very wet. I chose to ride in my waterproof (well, water resistant) rain mittens as my cycling gloves had taken to leaking black dye on to my hands and were beyond drying. The rain quickly pooled in the fingers of the mittens and so I had to ride with my fingers curled in as they would otherwise be in icy water. WE grew hungry at the 35km mark but decided it would be stupid to stop as we would just freeze. So we kept going - past the Pine Grove Motel - which is in the middle of nowhere. The road to Fox Glacier Village crosses three single-lane suspension bridges. The rivers here are glacial and steely grey in colour - it's a strange colour - the colour of the rocks.
We passed the turn off to the glacier and found our way to the campsite which was a Top 10 on the way to Lake Matheson. The village of Fox is lovely and nestled at the foot of huge mountains - Mount Cook (3,754m) and Mount Tasman (3,498m). The main activities from the village centre around the Glacier. There are hikes and also companies that offer helitrips onto the Glacier and walking on the glacier. These activities are expensive and I'm not sure how much they add to your experience of the Glacier itself. You may not walk on the Glacier if you are not on a guided tour, but you can get right up to the Glacier face, which we were very excited about. It was only a 10km cycle from the campsite to the Glacier.
We checked into a backpacker cabin here too as the ground was too wet for camping. The holiday park is large and has great facilities. We unpacked, washed and dried all our wet clothes and then relaxed on our bed - read etc. The sun came out and things began to dry out a bit. We thought about a trip to the Glacier, but the thought of it pouring with rain and getting wet again was too much! Tomorrow would be another day...
Day 14: 23 December 2005 - Day Rides to Lake Matheson and Fox Glacier
The morning dawned perfectly! Not a cloud in the sky! We set off early to Lake Matheson which was a 6km cycle from the campsite. There is a fantastic walk through the rainforest around the lake - all on a boardwalk and it's from here that some of the most famous photos of mountain reflections in New Zealand have been taken. The birdlife was amazing, but the lake was much smaller than I'd expected - perhaps we'd been spoilt after all those lakes we'd seen that were like inland seas really!
After the Lake Matheson outing we cycled up to Fox Glacier. This is about a 15km round trip from the campsite I think and is flat. The road to the Glacier is gravel, but very good condition and they say it can be like cycling into a freezer as the cold air rushes down the valley from the top. It was actually a hot day and we left the bikes at a spot and did a longish hike to a viewing point over the Glacier. Eventually we got to a point where you had to cross a river that was running quickly over rocks and we tried to find a way through. We couldn't find a safe place to cross and were about to turn back. A French couple were trying to find away and were also going to give up. We sat there for a bit and then a German couple arrived. He was keen to get through, but not her. The four of us watched as the French couple eventually found away, but the woman didn't want to. The husband told her she had to, so she did. Upon this, Mike and the German guy said, well we've got to do it. I suggested they go together and the woman and I would wait. It was a very short walk - 5 min to the lookout and gave fantastic views over the Glacier. It was all very unadventurous for me to choose to sit, but the way I see it I'd done more than enough adventuring over the past two weeks. The two guys had a good time and the woman and I chatted about our holidays. They were campervanning and she had hurt her knee which is why she wasn't risking going through the river crossing. I had no excuse.
The walk was an out and back route, so after coming back to the bikes we hopped back on and rode to the main car park. On the way you see the immense river that continually gushes from the depths of the Glacier. You can see the grey colour of the water. The reddish colour rocks you see in the distance point the way to the Glacier. Fox and Frans Josef Glaciers are only two of many glaciers in New Zealand, but they are unique in the world because nowhere else are Glaciers found at such a low altitude, are so accessible and appear into a rain forest environment.
It's amazing to think that this huge river of ice is advancing at a rate of 40cm a day. From 1965-1968 they advanced about 180m and then stopped and then began advancing again in 1985. However, they are much further back than in centuries past. They used to cover a far greater area. As they retreat over time, the rocks that the have scoured become exposed. The rocks and soil are unable to support any plant life. The reddish colour of the rocks is caused by algae which is the first stage in recolonising the area with flora.
The next day was also perfect and we had planned to cycle to Gillespie's Beach which is about a 20km cycle each way, much of this on a narrow, twisty, gravel road. On the way there we came across an awesome view of Fox Glacier and the higher mountains in the background.
We did a longish hike (about 3hrs) down to the beach where there is a seal colony. The path was very sloshy underfoot, owing to all the recent rain and I lost my boot up to my ankle a couple of times. Kept thinking "How are we going to get these boots back into Australia?". Some serious cleaning work would have to happen. The walk was long and a bit boring - also hot. But it was an experience. I thought that when we got to the beach it would be a nice place to relax for a few hours, but it was very hot down there with no shade to be found. So after arriving we basically turned around and went back! On the ride back along the dirt road, Mike noticed that his tyre was not right - it would have to be replaced with the spare back at the camp site. The closest place to replace the spare was Hokitika, so the tyre would have to last 'til then.
We met a Dutch cycle tourist who was waiting for the bus at the campsite. He had been cycling the island for a month and had had enough. As he said, if he wanted to ride day after day in the rain, he could have stayed at home. He was on his own and said that this was his 18th year of cycle touring holiday - he'd done the whole world from the sounds of it! He was on his way to Christchurch to meet up with his girlfriend who would come out for two weeks holiday from Mexico City. It was his third trip to New Zealand - he'd done the dirt roads of fiord land, further south - where the Milford Sound is. He said the sandflies nearly killed him. He was using a company called Atomic Shuttles which we had seen driving around everyday - little minivans. Apparently it would cost him $40 to get a ride from Fox to Hokitika. We looked into it for the future. It would cost us $35 to get from Greymouth to Christchurch on the shuttle as opposed to $110 on the Transalpine Train which was what we'd wanted to do. But the price difference was unwarranted - after all, in the end you were seeing the same views from the same road, except that the train went through an 8km long tunnel as it could not go over the top of the pass obviously, so you would actually see less. The Shuttle service is a great way to see the South Island actually - you could just use it to get from place to place without hiring a vehicle.
Back at the campsite, for our third night there we were back in the tent. Under the tree the ground was dry.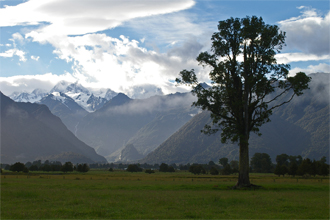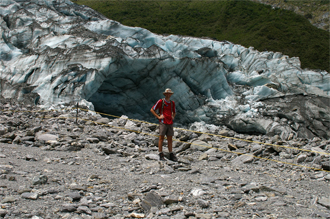 Day 16: 25 December 2005 - MERRY CHRISTMAS - Fox Glacier to Franz Josef Glacier
Christmas Day dawned clear but some rain was on the way. We set off on our 27km ride to Frans Josef Glacier - a short day, with what was supposed to be three big climbs! The road itself was lovely - quiet - I suppose that early start once again had something to do with that, with a decent shoulder most of the way. The slopes are forested with the lush rainforest again, the mountain tops snow-capped. Anyway, the three hard climbs turned out to be two, and were eventually over and rain greeted us on the other side of the mountain as we neared Frans Josef village - the ride was enough for Christmas Day!
We had long been fantasising about what we would eat for Christmas lunch and had been adamant that we would go in search of a nice place to eat - memories of some salami and cheap Turkish Delight chocolates in Tassie on Christmas Day perhaps spurring us on. But when we arrived at the campsite we treated ourselves with some great accommodation - backpacker style once again, but this time we shared our own little kitchen with the place next door. A great shower and then off to the village when there was a break in the rain to buy supplies. Coming through we had been alarmed to notice that everything appeared shut - except the supermarket which was doing a roaring trade. We found out that in New Zealand a public holiday surcharge of 15% is charged by all eateries, and this appeared to be why so many were closed - people seemed to be put off by this. We returned to our room and lay on our luxurious bunk beds, gazing out the door at our view of the dark mountains, eating...pretty much what we ate everyday. It was really wonderful... Just the knowledge that we were here, we didn't have to go anywhere... At the barbeque area next door a group was having a big Christmas celebration - they'd roasted a lamb in the oven in the kitchen with all the trimmings. We watched over the course of some hours as different parts of the feast were rushed, steaming, through the rain from the kitchen to the shelter, but bedraggled-looking campers in soggy Christmas hats. This was the life - comfy bed and entertainment! That is, until someone wafted across with the biggest pavlova I'd ever seen. Double-decker, smothered in cream, kiwi fruit, strawberries. It was all I could do not to trip the guy up and help myself!!
Day 17: 26 December 2005 - Rest Day at Franz Josef Glacier
A brilliant day! Perfect - clear skies! On with the sun cream and sand fly repellent and on the bikes - off to the Glacier. This was about a 10km round trip from the campsite and a lovely easy ride. The walk to the face was along the flat valley floor littered with rocks and scree. Like Fox, it grew progressively colder as you neared the face, until when you got there it was like being in a freezer.
The next night we were back into the tent - we are hardcore after all (as if)!!
Day 18: 27 December 2005 - Rest Day at Franz Josef Glacier
Can't remember what we did today - went back to the Glacier for another look and relaxed I guess! Isn't that what a holiday is all about? There were a few cute shops to look at in town and a fantastic DOC Info centre on the area - we spent a couple of hours there. It had interesting exhibits showing how the Glacier had changed over the centuries and an amazing old climbers hut that had been brought down from the top of the glacier. Many people had donated old original climbing/hiking equipment and the hut had been set up as it would have been 100 years ago. It was amazing to actually see the crude equipment that these people used.
Day 19: 28 December 2005 - Frans Josef to Pukekura (87km)
We set off today expecting to get as far as Hari-Hari - about 60km, but ended up going further. At this point when you know you are nearing your destination, any extra km you ride today is one you don't have to do tomorrow. Although there seemed to be a nice camp site at Hari-Hari, we were glad that we pushed on.
The view of Lake Mapourika which we cycled along for a while was again great. The vegetation began to change today, from rainforest to large stands of trees - spread out more. There are many cows. This is why New Zealand is the dairy farm of the world! For the Aussies - this place is famous as the spot where the Mainland Dairy commercials are shot.
Much of the day was along the flat, but there is a tough-ish climb up Mount Hercules before you reach Hari-Hari. It's pretty steep but through beautiful rainforest again. We were not helped by huge mower vehicles that take up half the road, mowing the edges. It's a bit tough to overtake on an uphill, with a fully laden bike, when you can't see much oncoming traffic. The quick dash kind of kills you!
Anyway, over the hill we had a great descent all the way into Hari-Hari. We got there at about 11 am and there didn't seem like much to do. The area appeared mainly agricultural, but it is also about 20km from the coast. There is a well-known coastal walk that you can do. We had planned at staying a night at Hari-Hari, but now had a discussion about what we actually wanted to do. I was feeling quite tired, but it was very early and we could push on to Pukekura. At this point any extra time spent on the bike was time off the next day's ride.
Hari-Hari is famous as the landing place for Guy Menzies first solo trans-Tasman crossing in 1931. He departed from Sydney and made the flight in 11¾ hours and crashed into a swamp where he emerged head first. We did some geocaching here and then headed off.
So far we had cycled 64km, it would be only another 23km to Pukekura, making the whole day 87km.
There were two climbs after Hari-Hari, just passed pretty Lake Ianthe, but nothing too serious. Beautiful rainforest country again. As soon as the agricultural lands end the rainforest takes over - it makes you realise that once the whole place looked like this!
Puki, as it's known to locals, is a tiny place - just the Centre and over the road a pub and backpackers accommodation. The camping area is on the lawn in front of the backpackers accommodation. It has a HUGE sand fly thing hanging outside the Centre. Luckily here there weren't so many. The Centre was a bit weird - a curio shop where you could buy things made in the area, a museum showing life in the old days and a restaurant/coffee shop. It had a lovely veranda where you could sit and eat and an animal enclosure with a variety of animals - most noticeably reindeer!!! Yes - the real Santa Claus ones with furry horns.
Inside the place smelt "like a khaya". The reason for this is the other thing Puki is famous for - Pete's Possum Pies. The possum meat was plainly being boiled to pieces on a gas cooker. It was a huge pot - like a witch's cauldron, the lid partially off, a huge wooden spoon handle sticking out and this sort of broth bubbling up and threatening to overflow. It smelt ABSOLUTELY disgusting. I imagine that possum meat is rather tough - they are just big rats in reality. A protected species in Australia where they are generally loved by all, they were introduced to New Zealand which is actually much lovelier than Australia, so they reached pest proportions pretty quickly. Cooking them seems reasonable enough. And if the e-mailed comments stuck to the walls are anything to go by, Pete's Possum Pies are really quite delicious.
Anyway, after smelling them there was no way I could stomach food, so ended up eating two ice creams. Mike was obviously STARVING as he tucked into a huge helping of lasagne which was on offer. He asked me quietly if I thought it would be beef or possum, I wasn't sure. He didn't care. It was beef. This from a man sensitive to smells. I was amazed.
We set up camp. There were reasonable facilities - only one shower and toilet though. The place filled up pretty quickly with camper vans, but never seemed overcrowded and the other campers were very quiet and friendly.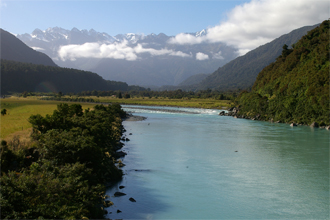 Day 20: 29 December 2005 - Pukekura to Hokitika (47km)
This was only a 47km day - short and sweet. No more hills now, just plain sailing through some rainforest and then along towards the coast. The scenery along the coast is now grey and windswept. Typical vegetation - tough and wind-resistant. Gently undulating at first, we passed through the small gold-rush town of Ross which was the last settlement before Hokitika. The road develops a very good shoulder from here on and it was easy riding - a very good surface. Once passed Lake Mahinapau it is over the 200m long single laned bridge into Hokitika. These single-laned bridges are now designed not only for two directions of motor traffic but also two directions of rail traffic!! So you have to have your wits about you. Rail was the major form of goods transportation from Greymouth out this way for many years. The rail lines are no longer in use.
We cycled all the way through the town to the campsite that we'd picked out. It looked beautiful as it was right on the sea with sea views and wooden log cabin-style huts. Reminded me of Storm's River. But no room in the inn! So we had to back track again all the way through the town and turn off to the very large camp ground. Don't you just love a 5km back track at the end of a day on the bike!!
The people at the campsite were very friendly and helpful and the facilities were very good. I especially liked the automatic lights I the toilets and showers that came on when you closed the door!
The town was a short walk/cycle away along flat roads!! The town is located around its famous clock tower - built in memory to New Zealanders killed in fighting - the World Wars and the Boer War! Mike ate a few burgers at Porky's! There were many lovely craft places in the town - a glass blowing studio where we were amazed to see men blowing glass wearing sandals - we've obviously been living in Australia for too long!
There was a New World Supermarket of course - always the first port of call! The town is right on the beach and the sea is grey and wild. In the years of early European settlement in New Zealand, Hokitika was the destination for many boats leaving Sydney, providing easy access to the gold mines of the south island. The town promotes it's history beautifully - with a well-signposted coastal walk and many tales about the life boats and ship wrecks that the area was known for. It was said that it was often more dangerous pulling in to Hokitika than any other time on the voyage from Sydney. One man told us that he often goes by fishing boat to Sydney - 4 days it takes him!
Day 21: 30 December 2005 - Rest Day at Hokitika
The next day we walked Hoki flat - doing some geocaching here and there. went to see the old lighthouse up on the hill which was reached by a steep walk. It was right next to a historical convent and graveyard. We looked around quite a few graveyards on our holiday - they are a fascinating record of the history of an area. Particularly the various nationalities of the people buried there. They bear testimony to the toughness of these people "West Landers" they are called - to have established themselves and built communities in these inhospitable places. Particularly the role played by nuns and monks in those days - providing spiritual and practical services.
We also went to the Hoki airport which is very much a functioning one. The airport is right on top of a hill and a very modern building. A beautiful view site nearby. This was the site of another geocache, but there was a couple at the view site having their lunch or whatever. We had the rough position - 50m that way, and a good clue (under the biggest bush you can see) so I just walked up to it and dived in. There comes a time in such endeavours when you begin not to care what others think.
The rain returned in the evening - but it was actually a blessing as the sun is menacing when it is out.
Day 22: 31 December 2005 - Rest Day at Hokitika
We explored the back roads of Hoki on our bikes - all the way back to Lake Mahinupau - another lovely DOC campground here. I must say, if we had had a campervan we would definitely have made use of these DOC campgrounds - particularly as you can then just stop and decide if you would rather go on.
That evening we decided to go try a geocache near town - we wore rain gear but of course got soaked right through - traipsing through virtual swamp lands only to discover we were too far of course and returned back to the campsite empty handed! Oh joy! By this point I had had enough of the rain.
Day 23: 1 January 2006 - Hokitika to Greymouth (40km)
New Years Eve was quiet - it is always an unknown in these packed campgrounds - you wonder what people will get up to. But the wind was shunting and that drowned out people noise and we were able to get a good night's rest.
So - our last day of riding - and a 40 km ride is not much to write home about. Although I'm doing that anyway! Jeez - hope you are all still awake! Hope this isn't boring...
A really flat start - all the way along the coast. A few single-laned bridges today - and they are becoming a real problem. Very rickety, built of wooden railway sleepers with sizeable gaps in between - just big enough to get a wheel wedged in, mess up your bike and quite possibly get run over by a car travelling in the opposite direction. The bridges are often in a dip and partially covered so visibility is sometimes not what it should be... enough said.
Our campsite in Greymouth was reached by about 10am which was ridiculously early - but it was a public holiday after all! We took a walk into town - which was about 6km away I suppose - and checked out the Grey River and another clock tower, and the flood barrier which was only built quite recently. Before this, the town was at the mercy of the sea and storms and the river would often flood with great loss of life and infrastructure to the town.
The campsite was very nice, right on the beach and with great facilities. And a New World Supermarket within spitting distance!
We spent a lot of time walking around Greymouth that day - although being New Year's Day much was closed. Not that there was much available anyway. Checked out the graveyard right above the campsite (the owner of the campground in Christchurch would later enquire whereabouts in Greymouth we had stayed, and would comment "Quiet neighbours, hey?"). And they were - but the neighbours to our left not so much. Shortly after we had pitched our tent and were enjoying a cup of coffee there was a whirring and a thundering and a high pitched whining and a tiny plane came whooshing at us, almost up our noses, I think I ducked! The Greymouth airstrip was just over the fence!
Day 24: 2 January 2006 - Rest Day in Greymouth (40km)
The rain came again today. But we were not to be dissuaded and did much geocaching.
Day 25: 3 January 2006 - Greymouth by Christchurch by bus over Arthur's Pass
Although we were always excited by the idea of the train trip on the Trans-Alpine Railway from Greymouth to Christchurch, the bus was a third of the price. So we went with the bus. And also as the train goes through 8km of tunnel you see more on the bus. We packed up at a leisurely pace and meandered into town, through the rain and waited at the clock tower until we could meet the bus at the local movie house.
I think the bus pick up was about 13h45 or something and we loaded our stuff on and off we went. It poured with rain. By that I mean that I've never seen rain like that in my life (except maybe in Kuala Lumpur). It was just torrential. And it got worse the higher we climbed up towards Arthur's Pass. Arthur's Pass is actually a little rest stop/village. It's not the highest point on the road to Christchurch. It's a popular spot for hikers. There was a hiker there, waiting for the bus. All he said was, "How much does it cost to get to Christchurch?" and "Get me out of here please!" He looked a little desperate. All I remember is being so grateful that we weren't cycling. The gradients were pretty tough. After a while I asked Mike "Can you smell something burning?". He said "Yes!" - and pointed out the smoke coming out from under the driver's feet. The clutch was on "fire" apparently.
At one point we passed under a concrete buttress which had been specially built over the road to divert a waterfall which was determined to be there. Once over the pass the rain grew less and less and the hills flatten out considerably. Then over a rise tripping a long at a good rate we came across two cycle tourists heading straight for the rain! I didn't even feel guilty - we just looked at each other and said "Rather them than us!!"
We arrived in Christchurch late - we actually drove right passed the campsite we had planned to stay at, but whilst the driver was happily dropping other travellers off wherever they requested, he wouldn't help us out as our bikes would take too long to get off. We got off at the main stop in the city of Christchurch, unpacked and put everything on our bikes again and then roughly made our way to the campsite - through a huge park and over a bridge - about 5km I suppose. At least it wasn't raining and at least the sun only sets at 10pm!!
The campsite was on a main thoroughfare into the town, but was lovely - beautiful rose gardens. Went to get supper at the New World Supermarket...bet you guessed that by now!! Kind of nice to know that no more days of cycling awaited, but also sad in a way!
Over the next couple of days, we spent a lot of time cycling round the town. It's a beautiful place - lots of parks and trees and many cycle ways. The whole place is very cycling friendly and flat and you see many people on bikes.
Day 27: 5 January 2006 - Rest Day in Christchurch
Caught the bus to the beach. The town is far from the beach and between the town and the beach lies suburbia. It's a different kind of set up to what we are used to in Cape Town and Sydney, where the town is centred on the beach, but I guess the weather is often very bitter here. The beach itself was beautiful. We walked along the landmark pier and at the start of the pier is the most STUNNING library I've ever seen. It's ultra modern and part of a complex. The whole frontage is glass and overlooks the sea. All they way along the glass are comfortable armchairs where you can sit and listen to CD's. It's an amazing place. The bus trip was quite long to get there - the bus picked us up from in front of the campsite and dropped us some distance from the pier, but we had geocaching to do on the way. We then caught the bus back to the city centre and walked back to the campsite. It was a good but tiring day!!
Day 28: 6 January 2006 - Fly back to Sydney
Got an early start. We spent the morning completely cleaning/washing the tent, bikes, our shoes etc. Very fussy in Australia, you know. As it turned out they let us in without batting an eyelid. We used our toothbrushes to scrub our shock absorbers on the bikes which get dusty and our cycling shoes etc. Then of course we had to PACK the bikes again for the 10km ride back to the airport. The roads were quiet and we had a breezy trip.
We had checked out with Qantas in Christchurch about the availability of bike boxes at the airport as it wasn't going to work getting boxes from a bike store, getting them to the campsite and then getting our bikes to the airport. They were available, we were told. I went to enquire and the guy was then very sticky about the fact that we weren't Qantas passengers, but he sold them to me anyway. We then PACKED again and packed the bikes. We crammed as much heavy stuff as possible into our carry on luggage to cut down on the excess baggage!!
Then we just had to wait. We checked in early and then relaxed in the lounge waiting for our flight to be called. It was a little late. The flight home was good - I watched "In Her Shoes", we had lunch/dinner and then were home. Then of course had to reassemble the bikes outside Sydney International, dump the PRISTINE bike boxes!! We put on the panniers and then a push to the train station, change of trains at Central and home to Hornsby. The great thing about a trip like this is that when you get home the unpacking is minimal!!