The Netherlands, Germany and Denmark Cycle Tour
Home Page > Bicycle Touring > Europe > The Netherlands-Germany-Denmark





4 June 2011: Perth - Singapore - Amsterdam (12 km)
Holidays at Last! We left home at 9.30am and caught the bus, then train, to town to collect the bikes at Mike's work. We had arranged the airport shuttle for 11:00am and with our flight to Singapore only leaving at 4pm we had plenty of time. I watched The Young Victoria and Downton Abbey episodes 1 and 2 on the flight. We landed in Singapore at 21.55 and only had a couple of hours to kill before our flight to Amsterdam. We did a geocache in the butterfly garden which was so hot and humid!
We flew Singapore to Amsterdam leaving at midnight. This was a 12 hour flight arriving in Amsterdam at 7:00am local time which would give us the entire day there. Slept quite a bit on the plane, but overall it was a long and tiring flight. Watched The Adjustment Bureau which was a good movie. I did not get up once during the flight and when we were preparing to arrive in Amsterdam noticed that my feet had swelled terribly. This has never happened to me on a flight before and is a lesson in that you do need get up and move.
Upon arrival in Amsterdam it took a while to get through customs and strangely, trolleys were hard to come by. First thing to notice; the people are tall! While the second thing was that so many people bring their pet dogs to the airport! Mike put the bikes together outside while the skies were very grey. Predictably it started to rain just as we got going. Mike's expert GPS navigation took us on bike paths right from airport to our camp site at Amsterdamse Bos about 10 km away. We were quite wet when we arrived!
We set up camp which was in the lovely forest area called Amsterdamse Bos and then caught the bus into town. Our introduction to the European way of driving, that being on the wrong side of the road, was a bit of a learning curve. The bus trip was quite hilarious as firstly we crossed the road about 4 times trying to figure out which side of the road we should wait for the bus! Then, when finally on the bus, a debate broke out between us, the bus driver and a lady who got on at the next stop about the most economical way for us to pay for the bus fare. The lady seemed to run a bed and breakfast and was trying to get rid of some bus tickets. The whole thing was hilarious; the driver didn't seem to mind when we paid or how much! We got into the city and walked around a lot. Wow, everyone's on bicycles - EVERYONE. The typical canals and beautiful architecture... flower sellers sell bulbs at corner stores. Everyone has potted colour and plants and decorations outside houses. Bicycles are EVERYWHERE. After quite an exhausting day, we caught the train home and had about a 15 min walk back to the camp site. Being Sunday, the supermarkets were closed so we bought some food at the camp store.

(1) Putting the bikes togther at Schiphol International (2) Camping at Amsterdamse Bos


6 June 2011: Rest Day Amsterdam
Woke up at 8am - so tired and sore!!! Raining again! We waited for the rain to stop, and then set off for the train station again. We decided to use the train rather than the buses as the buses work in a very confusing manor. There seems to be more than one public transport bus company, and fares cannot be shared between the two systems, so you can end up paying double. At least with the train, you know where you are!
We sat in the bike carriage and people get on and off with bikes working out how to fit them in like a puzzle. A group of three boys got on at one stop, and then when their stop came to get off, only two managed to get off the train in time; the one was left behind as he couldn't get his bike disentangled in time! He got off at the next stop and cycled back to meet his friends.
We had bought cheese and cold meats etc. for lunch at this amazing supermarket that morning. It was a normal supermarket but the selection of cheese and fresh produce was unbelievable! Huge cheese wheels in the supermarket. Fruit like we've never seen - so fresh and beautiful. We expected to be able to pay by credit card as it was part of a supermarket chain (Albert Heijn) but they did not accept cards which were not the store card or local credit cards. We found this to be the case for most of the trip - either a high surcharge or no credit card facility. We switched to cash from the start which was fine.
As we had been warned about long queues at the Van Gogh and Rijks Museums, we pre-booked tickets online. As it turned out, there were no queues! So now we have seen The Sunflowers and Irises and The Nightwatch in real life. The painting's colours are so much more vivid in real life and you can appreciate the detail more. They don't call them Dutch Masters for nothing.
We walked around the city a lot and really appreciated the beautiful buildings - very busy though!

(1) Museumplein (2) Writing postcards at the Rijks Museum


7 June 2011: Amsterdam - Enkhuizen (98 km)
Mike's expert navigation saw us safely through the city cycle ways of Amsterdam. Interesting cycling on the right side of the road, particularly when you get to intersections!
Beautiful day today with no rain and no wind. We followed Route LF21 from Amsterdam the whole day with the cycle path often running along lovely little roads or on top of the dyke with lovely water views. We went through a few towns cycling on little brick streets where the houses open right onto the street. So quaint.
About 20km from Enkhuizen the route deviated as there were construction works preventing use of the cycle path. It was quite tricky finding our way back on to it, but after some faffing around, we arrived safely in Enkuizen even if it was a little weary. Beautiful town and perfect peaceful campsite. Pitched the tent under some tall trees and ate ice-cream while overlooking the harbour - Perfect evening. As with all the towns we had passed through, all the buildings are old and built of little clay bricks, with the roads twisting and intermingled with canals.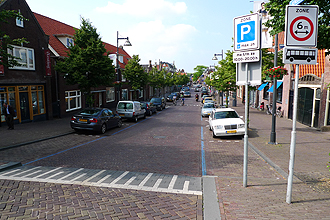 (1) Leaving Amsterdam (2) Enkhuizen



(1) Drommedaris, Enkhuizen (2) Camping Enkhuizen


8 June 2011: Enkhuizen - Wezep (95km)
Rained heavily all night and woke up in it. Cold too. Dressed warmly and headed off around 9am which for us is quite a late start. At Enkhuizen we took the Houtribdijk to Lelystad. This dyke is 27km long and splits "Lakes" Ijsselmeer and Markermeer and is an amazing ride. It is quite a busy highway but as usual there's a totally separate cycle way alongside road and often you are on the opposite side of the dyke so you don't even see the cars and trucks. The view here is of the grey sea as far as the eye can see on either side. Some rock walls create huge sheltered pools which look to be for fishing but are inhabited by large flocks of white swans. The birdlife on the trip so far is astounding; geese and ducks of every description. As we neared Lelystad the dyke swung round and the wind was directly into us which provided a hint of how a head wind can feel! We had to shop for food in Lelystad as we wouldn't go through another town before arriving at the expected campsite. Lelystad had a huge old Dutch ship in dock (called The Batavia) and another being repaired in a wooden frame. There were also various old hulls from centuries gone by on display. Very interesting, particularly with the Dutch explorers having played such a big part in South African history. Looks like the waterfront is being developed into some tourist attraction too. We watched the barges for a bit at the Houtribsluizen and then got off in search of a shop. We found a Albert Heijn which was clearly our favourite shop so far; sort of like a South African Woolworths. I bought 2L of yoghurt (it was so cheap - I only now understand the cost of the drought back home where yoghurt costs around $5 a litre for good quality yoghurt and here it is under EU1. Also bought beautiful red tomatoes still on the truss and a punnet of strawberries. Also cheese of course.
Once on our way again, it was the best cycling ever; through the brilliant green of the Nieuweland with such lovely little lanes. Then following the "knooppunt" system through farmland where you go from numbered point to numbered point, and always given special crossings over roads. It is so lovely. Views through farmland with massive avenues of wind turbines everywhere and the roads passing through avenues of trees.
Going through the back roads through farmland, all the houses are absolutely beautiful with no mess or clutter and the gardens are full of colour. It is all unbelievably cute. Without exception every household makes an effort with lovely window displays of houseplants, flowers, dried woodland displays. Many homes have wreathes on the doors and in windows celebrating spring or love or anything. One imagines that this is kept up all year. One house had a huge model stork in the garden carrying a baby wrapped in a cloth in its mouth. Another has balloons and a pink sign on the door "Hoera! Dis 'n Meisie!" (Hooray, it's a girl!).
We arrived at the very quaint farm camp site at around 3:30 pm. A lovely little place to camp with thick green lawn and lovely facilities. Free range eggs for sale. A perfect and relaxing evening, and even watched the less than one week old horse find its bearings.
Getting back to the tent after a short walk, we were very surprised to see that the window in the flysheet had delaminated from the tent body. So much for a four season Sierra Designs tent! We treat our equipment well, and have no idea how this could have happened. On further inspection, we also noticed that much of the seam sealing was coming adrift which did not pose well for a month long tour where rain was expected. We ended up using some tent repair patches and plasters to get it sealed up again, but who knows for how long. Need to look for some tent repair kit along the way.

(1) Nearing the end of the Houtribdijk (2) Lelystad



(1) Beautiful cycleways (2) More beautiful cycleways



(1) Camping in Wezep (2) The Campers' Kitchen


9 June 2011: Wezep - 't Haanje (108km)
The hayfever is really affecting both of us with both of us sneezing and I have particularly itchy eyes. We brought anti-histamines with us but they are ineffective as they often are when you go to a different part of the world. Our major town today is Zwolle which we passed early on in the day. The bike paths are fantastically laid out as you can so easily pass through large towns. They also take you past the prettiest places. All the canals and waterways are filled with water lilies and other water plants and look so healthy. Waterbirds build nests of twigs in the middle of rivers, and some farmers even provide high platforms where storks build huge nests.
The day passed with us weaving through the endless web of bike paths navigating from "knoop punt" to "knoop punt" and passing through green forest glades and open farmlands where the crops grow a meter away from the path. Wherever you go you meet people on bikes; young and elderly and all friendly.
Going through one small town, we both had to look twice when we saw our first automatic robotic lawn mowers. People obviously have to mow their lawns so often as they are so green and lush that they use these automatic lawnmowers which look (and work similar) to those robotic vacuum cleaners that go around finding dirt and sucking it up while you're at work. The first time I saw one I almost stopped riding.
We stopped to buy antihistamines at Hoogeveen, the last large town we passed through, and then reached our camp site at 't Haantje around 4pm. Quite a long day. We hadn't been able to buy supplies for supper so we had a meal at the campsite café. I had homemade onion soup and mixed ice cream and cream, and Mike had a burger and chips.
A quiet evening and early to bed. We are now getting used to falling asleep in the daylight as the sun is still up at 10:30 pm.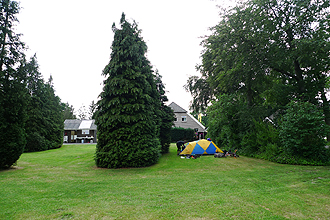 (1) Windmills and Cycleways (2) Camping in 't Haanje


10 June 2011: 't Haantje - Gronigen (74km)
A shorter day today which we were pleased about. Stopped at Rolde at about 35km for a drink and amazingly saw the Australian Super Circus set up near the town centre! Each town has market days where the array of fresh produce and flowers, fish and cheese gets placed on display. We even came across a Mobile Fish Van which goes door to door selling fresh and fried fish ringing a bell like an ice-cream van!
The last part of the day's ride had narrower paths and off road sections, but was still great. As usual the weather was good and the views from the saddle lovely; wooded areas, farmland and picturesque towns. Scents of roses, honeysuckle growing wild and of course manure... The smell of manure was to remain with us the whole tour in most places... difficult to get used to as a townie.
The campsite was close to the town centre and in a lovely wooded setting. We set up camp and took a walk into town to have a look around. The route into town was through a beautiful park and then along a bike highway. It is so interesting to watch the people cycling by, kids cycling home from school in groups of 10 having a chat and a laugh, people giving others lifts on the backs of their bikes, fathers cycling home with two toddlers sitting in front on their bakfiets. It is such an eye opener and an insight into a different way of life. The market was set up in the town square and stocked everything from fresh fruit and veg, to fresh and cooked chicken, and baked goods. Delicious all round. This was a good place to spend our first rest day on Saturday which started with some washing which we hung up to dry, and then spent the day in Gronigen.

(1) More beatiful cycleways (2) Camping in Gronigen



(1) Mobile cycle shop in Gronigen! (2) Traffic lights specific to bicycles


12 June 2011: Gronigen - Nieweschans (73km)
A lovely day's ride in which we took a couple of "short cuts" from the planned route but still had a very picturesque ride. We passed through many little villages one after the other which were more like suburbs really. You could almost tell we were approaching Germany as we definitely noticed differences in style of houses and other design features. One little village had amazing street decorations for what seemed like a summer festival of sorts; scarecrows decorating houses and then long rows of washing lines strung up all over the streets with washing on them, and then a gypsy/Romany theme. The one strange aspect of the day, which was a Sunday, is that there were no people around - No sign of any people. It was a little weird.
Our campsite was about 500m from the German border and very nice. Niewenschans is a small historic village and very interesting. The campsite was quite informal and seemd like a municipal campground really. A little sign at the entrance told us to select a site and the manager would pop around and collect the fee. We never met the manager so had a free night's camp! Another cycle tourist came to camp at the same spot and boy was he travelling light. Road bike and a single pannier, tiny tent and looked like just a little mattress, and shorts and t-shirt. It looked so hassle free! We walked around the town a bit and then early to bed. The town itself was very picturesque.

(1) Beautiful cycleways everywhere(2) Camping in Nieweschans


13 June 2011: Niewenschans - Wiesmoor (72 km)
We got an earlyish startat around eight o'clock and set off into Germany with no fanfair. It was clear from the start that this was a different country as the architecture of the houses was different. We spent much of the day along busier roads but the route was still very picturesque. Much of the route was the Dollart Route which is the sea kept at bay by the polders (dykes). The landscape was very interesting and the bike paths and distances to towns are clearly signposted.
We caught a ferry from Ditzum to Petkum which was quite full. When we arrived at Ditzum harbour we read through the lists of ferry times. There seemed to be a ferry to Petkum and a separate one to Emden. We asked a lady waiting if the ferry that had arrived was for Emden and she confirmed this, but we didn't realise that there was only one ferry which stopped at Petkum first and then went on to Emden. So we could have caught the ferry at 10 am, but instead we waited til 10.30 when the timetable advised that Petkum ferry would leave. And of course there wasn't one! So we ended up wasting an hour and getting the ferry at 11 am. Of course, if we had known that we would have an hour wait, we would have looked around the very quaint village of Ditzum.
We soon worked out why the villages had been so quiet the previous day; it was a long weekend with a public holiday today. This made for quieter roads, although busier bike paths and of course no food shops open which was critical! The villages that we passed through had houses beautifully decorated and huge pots of colourful plants. Gardens are immaculate and colour coded.
The campsite at Wiesmoor was a large resort and had wonderful facilities. Beautiful water gardens surrounded the ablution buildings. Really lovely. On the way in we had stopped at a traditional cake stall of sorts - apple tarts, cherry tarts, etc. all deep fried. We bought some not knowing exactly what they were - sort of like donuts, but totally grease free.
The campsite had a kiosk and we had Bradworst and pommes (chips); a very German meal for our first night! The resort is built on the banks of a lake and is very picturesque.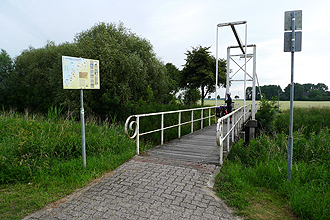 (1) The German Border! (2) Catching the ferry at Ditzum


14 June 2011: Wiesmoor - Bremerhaven (104 km)
An early start today saw us off at 7:40 am as we knew we would have a long day to Bremerhaven. The landscape was really pastoral with all shades of green, and sheep and cows abound. Much of the route was on bike paths built out of the old small bricks and oh soooooo bumpy.
The views across the tops of the polders were hug; as far as the eye could see across muddy flats. We also joined the North Sea Cycle route for the first time today which was a thrill.
We arrived at the ferry terminal to Bremerhaven at 14:20 and didn't have to wait as all! The trip took about 15 minutes and we then made our way through Bremerhaven to the campsite. We knew that we would have to shop for food en route and hunted around for a supermarket. I went into a nearby bakery to make enquires and met a very helpful lady who gave directions. In fact so helpful, that the baker drove there to show us where to go, with us following crazily on our bikes. Again we were pleasantly surprised by the cost of the goods which were much cheaper than in Australia.
One striking change for us was that in the area of Germany that we visited people are not comfortable speaking English and many do not speak it at all. We had managed quite easily in the Netherlands by speaking Afrikaans which locals could understand and many people spoke excellent English. So in Germany we ended up having really strange and amusing conversations; us speaking English and the other party speaking German and possibly both completely missing the other's point but having an agreeable conversation anyway. Probably not dissimilar to many conversations held between people speaking the same language!
The campsite overlooked a lake and was beautiful - It was a cooler night!

(1) Which way...? (2) Buuummmpy Ride



(1) View from the top of the polder (2) Camping in Bremerhaven


15 June 2011: Bremerhaven - Brunsbuttel (107 km)
Originally we had planned to cycle to Krause which would have made the ride only 72km, but early on we decided to press on and caught the ferry over the River Elbe to Gluckstad, and then cycled the 30km north to Brunsbuttel. The route was partly on the roads but mainly on bike tracks. It was very picturesque and interesting. I would say that overall the Netherlands was more cycling friendly, but certainly Germany is not remiss in this. What was immediately noticeable about the German countryside that we rode through is the number of wind farms (many) and the hundreds of solar panels on barn roofs everywhere. There must be great incentives to generate solar energy. Puts Australia to shame considering how much sunshine we get compared to Germany (oh yes, and then there are the few Aussies who say that windfarms make you sick! - On that basis Germany must be the sickliest nation in the world - As if!).
We passed through many villages on this day - we would pass through one and then see the sign for the next in 4km for example. Again we arrived just in time for the ferry; this time to Gluckstad. The queue of cars, camper vans, trucks waiting for the ferry must have stretched for kilometres, but on the bicycle you just whiz to the front with no hold-up at all. What a pleasure! Just after getting off the ferry Mike realised that he had a rear wheel puncture (nail) so we pulled into a field to fix it. There were many worse places to fix punctures, but it was still a bit of a hassle. The remaining 30 km into Brunsbuttel were along the river bank on cycle way. We had hoped for a bit of a southerly tail-wind but this never materialised. Just as we arrived in Brunsbuttel there was another ferry to catch which just took a few minutes. So that made it four ferry trips in three days for us! It took a while to find the campsite and then we had a slight communication barrier with the manager but all ended up well. We pitched the tent and took a walk into town to buy something to drink; drinking yoghurt and fruit juice as it turned out as it was hot and we were so thirsty. When we arrived back at the campsite we had neighbours; another cycle tourist pair and a motor cycle tourist. We chatted to the motor cyclist the next day and caught up with his adventure through much of Scandinavia and a bit of Eastern Europe (check out his story at http://www.cullinan.de/gigatronik/). That evening we went and sat on a bench on top of the polder overlooking the River Elbe. The sheep were all around and really tame; almost like pets. They use the benches as scratching posts and were very interested in Mike's shoes and quite a few tried to nibble the laces. We spent the next day in Brunsbuttel. I wanted to do some washing but there didn't seem to be a laundrette in the entire town, so ended up using the Ortlieb rack pack. Nothing like doing your laundry in your luggage! You don't need the kitchen sink - you've brought it with you!

(1) Gravel road riding (2) Fixing a puncture in Gluckstad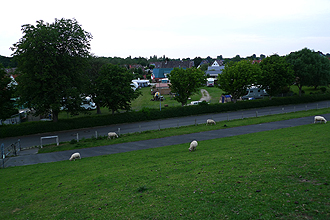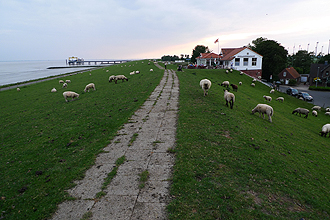 (1) Looking over the Brunsbuttel campsite (2) On top of the polder


17 June 2011: Brunsbuttel - Tonning (88 km)
By gaining some time/distance by getting to Brunsbuttel yesterday, we thought we would capitalise by still doing a decent length day today. Yesterday's rest day in Brunsbuttel was very hot and then thunder storms came through and we had rain all night and early morning. We had a late start today waiting for it to die down which thankfully it did and we had no rain at all on the bike. The route took us through some forest before heading back to the north-west coast and the North Sea Cycle Route hugging the dykes which was fabulous. We entered Tonning over the Eidersperrewerk where you can cycle over giant hydraulic gates which control the flow of water into/out of the sea/river. This was the River Eider. Waterbirds abounded today and we might have even seen some Eider ducks! The campsite in Tonning was beautiful and definitely the best we had encountered so far. A wonderful tent site area which we had all to ourselves with a table and bench, which is great as you don't have to sit on the ground. There was also an under-cover table and bench and a power point so we could charge the camera and netbook. The facilities were excellent too; beautiful and brand new ablutions and washing machines, etc.

(1) Solar panels everywhere (2) On the way to Tonning



(1) Eidersperrewerk (2) Camping in Tonning


18 June 2011: Tonning - Dagebull (76 km)
Another late start! We set off just before 9am as it had rained overnight again and rained in the morning on the bike. We followed our route through farmland until the main town of Husum and then along the North Sea Cycle Route for most of the day. Overall on this route you have shelter from the wind off the sea from the dykes, and this was the case for most of the day. The dykes are beautiful grassy banks populated by sheep. The sheep are very tame and will stay stationary on the path in your way and not blink at all. These routes are covered in sheep turds and with the rain this just became a "mud" bath. There are many gates on this route to separate different pastures and they can be as often as every kilometre. The main gate is over the path for cars/tractors although you don't ever come across any. The side gate which is sprung is for cyclists and walkers. This becomes a bit tiresome as you can imagine. We also had a strong headwind for a stretch when we headed in a westerly direction.
The National Parks are home to many different groups of birdsand we saw hundreds of swans with chicks and also many types of geese and ducks and other wading types of birds. At times these birds are on the move across the cycle route with gangly babies trying to keep up.
We stopped for a geocache in one pasture on top of the dyke. Must say a word about geocaching - it has been very good and very bad. Some days we have found 7 or 8 en route and other days have stopped a number of times and have not been able to find any. It does take quite a bit of time in the day but we only stop for those on the route. The fields are overgrown with stinging nettles which you have to try to avoid - they will sting through your clothes as well.
Anyway, we lent the bikes up on the path at one of the many gates and went to look for the geocache which was on top of the polder. As per the general area, the path around the bikes was covered in slimy sheep turd. While we were on top of the dyke, a brazen but very inquisitive little sheep, was just too curious and went to inspect the bikes. He sniffed around and stretched out to have a closer look, and then duly knocked both bikes over. The sheep got such a fright and ran for its life and all the sheep in the paddock just watched and waited. We got our own back by using the sheep's drinking water to wash the liquid turd off the panniers - That'll teach 'em! Not happy.
The last stretch for the day was on the edge of the North Sea and we were blasted by rain and wind. The wind got so bad that I battled to keep my speed above 10km. It was very strong but very beautiful. Dagebull was a lovely spot to camp and had a few cafes and a tiny beach. No swimmers today as it was freezing and the sea was extremely rough. The town has a large ferry terminal for ferries to the Oostfriedland Eilande. The train line runs almost right to the ferry itself. Tomorrow we will just do the 15 km to Niebull and then catch the compulsory train over the sea to the island of Sylt. I had dreams of a swim in the North Sea but think that'll go unrealised!!!

(1) One of the many gates (2) View over the campsite in Dagebull



(1) & (2) Not quite the summers day in Dagebull


19 June 2011: Dagebull - Westerland, Sylt (16km)
"Oh boy" is all I can say. That a day can have such highs and lows is beyond belief. Okay, that might be overstating it somewhat.
We woke early after you guessed it, a night of rain... and woke in the rain. We were ready quite early considering, at about 7.30am. Very cold and windy, but fortunately for us a terrific tail wind and the rain soon abated. About 10 minutes from Niebull Mike found that he had another rear wheel puncture and we stopped for him to fix it. It seems that the Conti Travel Contacts do not cope at all well with the type of gravel/flint here, as we always find the offending object and remove it, and yet more are picked up to cause further punctures!
It had just started to rain again and luckily we found a bus shelter where we could at least be dry while he fixed it. While taking the obligatory photo of him fixing the puncture, I dropped the camera which dented it, although thank goodness, it seemed to work okay. Then the rain really started coming down so we waited a bit, but couldn't/wouldn't wait all day so set off. Arriving in Niebull we rode around a bit to see what shops were open thinking that it would be cheaper to stock up here rather than on Sylt. As it was Sunday, nothing was open until 11am. We arrived at the train station and by this time were very wet and cold. We went into a little building/ticket office which was unlocked but not yet operating. It was nice and warm in there, but didn't know if it was the right place to buy tickets. We were unsure where to buy tickets or where to take the bikes. We decided to get changed first as we were very cold in our cycling gear. We did so in a bike shelter. We watched a few trains come and go and went into the station to see about buying tickets and where to board with bikes. The ticket sales were at teller machines and the access to the platform was down a very steep flight of stairs that did not look touring bike friendly.
We decided to go down to the other end where the cars and motorbikes board which ended up being a 2km waste of time in which time we got absolutely soaked again. We had rain jackets of course but everything from the hips down was wet. When we got there, we were advised to go back to the station as this is where bicycles leave from. We ended up taking shelter at a car garage as it was bucketing down and was very cold. We got back to the station and upon closer inspection saw that down the side of the very steep flight of stairs was a rubber belt which indicated that you should put heavy bags and bikes on the automatic belt. I have no idea how this would work as it was about 50cm wide, so you couldn't lay your bike down on it and it was too high above the stairs to walk next to it holding it up. No one was using it. We bought tickets for ourselves and our bikes and then unpacked the bikes and Mike carried them down the flight of stairs, and then up the second flight of stairs to the platform. I carried some of the bags. We were shocked that the whole set up was not only not cycle friendly, but it was not even wheel chair friendly. We saw one handicapped teenager having to be carried/manhandled by his family just to leave the station. If you were in a wheelchair and on your own, you would not have had a chance! Maybe we are spoiled in Australia where nearly every suburban train station in Perth has either a lift for access to the platform for wheelchairs, or there is a ramp. Who would have thought that Germany could be so third-world, particularly for accessing transport to a tourist destination!
We then waited on the platform which got quite busy. The train pulled in and the first carriage was for bikes. Mike took his bike and I was to follow with the bags and he would return for my bike (this is all in the pouring rain). Luckily I managed to take the bags and my bike. Mike got his bike on the train and the doors closed in my face! There was no button you could hit to get the doors to reopen so I just banged on the door. The guy on the carriage with the coffee trolley hit the door open button. If he hadn't I would probably have been left behind. We managed to arrange ourselves and bikes on the train in quite cramped circumstances.
It was four stations to Westerland. By the time we had arrived the rain had thankfully stopped. We only had a couple of kilometres to go to the campsite as we wanted to camp at the one nearest the town. The campsite was super expensive with next to no facilities, but we were expecting this as Sylt is very touristy.
We didn't even shower before hitting the town! We had been truly washed on the way! We put up the tent in the dunes (which was the extent of the campsite, but quite grassy still). We found a nice spot for the tent with no-one nearby, and then set off for the town. By now the weather had really improved and it was sunny and lovely and quite hot. The walkway to the beach went over the dunes and along a long promenade that was very very busy with all the tourists. The beach was very long and the North Sea quite calm even though it was still very windy. The beach was covered with enclosed beach chairs, all blue and white striped, very Danish really. We had a lovely time in town, lots of shops with lovely things to look at and no rain and we were well and truly dry. Bliss.
The funny thing is that you have to pay for everything in Germany, even Germans will tell you that. For example, you can walk along the promenade but you can't go onto the beach without paying. One of the perks of camping where we did (and I assume other places too) is that you get a pass which allows free access to most things.
We got back to the tent later that afternoon and put our all our wet things out to dry which was excellent. The wind was blowing so hard, all we had to do was hold the items up to the chain mesh fence and the wind held them place. The perfect drying rack really.
The next day we would cycle to the northern point of Sylt and catch the ferry to Denmark's Romo so this was our last night in Germany and we are quite pleased about that. We have come to the conclusion that Germans either fall into the 98% category (we call them the 98 percenters) or the 2% category. That is that 98% of them must be the most miserable people on earth and will not greet you, but look straight through you when greeted. On the other hand, the remaining 2% of Germans are super-duper friendly and will go out of their way to say hi, etc. Prior to this trip we had so much respect for Germans, but this was a bit of an eye-opener to say the least. We will obviously continue to buy the superior equipment as it goes without saying that they manufacture superb stuff (as can be attested by the bicycle equipment we tour with). Sylt was lovely however, with lovely ocean views and walks to do.

(1) Sheltering from the rain while repairing a puncture (2) Catching the train to Sylt



(1) View of the beach (2) Camping on Sylt


20 June 2011: Sylt - Romo (34 km)
The ride north from Westerland to List was truly exceptional, absolutely beautiful, in fact some of the most beautiful coastal scenery we have ever cycled through. The cycle path curves through sea grass dunes and there are views of the sparkling North Sea all the way. It was lovely. We stopped at the most northerly supermarket in Germany to spend the last of our Euros. The harbour area is quaint and has lovely shops and a beautiful promenade. The weather was lovely too. I bought two postcards to send to the family back in South Africa and then we bought our ferry tickets. We even received a complimentary cigarette packet coupon for the ferry trip! How hilarious; definitely not Australia. Caught the 11:25 am ferry which took about 45 minutes. We sat in the cafe area of the ferry and had coffee and just enjoyed being out of the "elements".
It was very quiet and relaxed on board and noticed another cycle tourist on board. We rode off the ferry in Havenby on Romo and came across an ATM right away to draw our fist Danish Kroner. It was only 11 km to the campsite at Lakolk and a great ride. Immediately on leaving the ferry, one could tell that Germany had been left behind. So far Denmark seemed lovely. The campsite was HUGE and had excellent facilities. In Denmark you must have a camping card and they keep that and you pay the next morning. There were cute shops at Lakolk and it is said to have the widest beach in Northern Europe; you have to walk forever to get to the water. People drive their cars to the surf as the beach is just like a massive pan. We loved the campsite as it was very quiet, but very windy!!!

(1) Beautiful cycling on the last day in Germany (2) Catching the ferry to Romo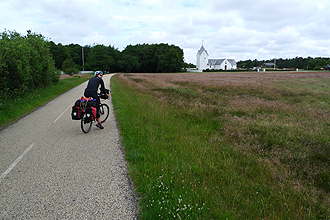 (1) Good to be in Denmark (2) Camping on Romo


21 June 2011: Romo - Oksbols ( 100 km)
We both woke up feeling like we would rather not be cycling which does not bode good things for the day. Funny how after some of the shortest cycling days, it's difficult to get back into the longer days. We set off at 9:00 am in lovely weather, just quite cold. The road from Romo to the mainland is about 9 km long and runs directly across the sea. It is a beautiful road and a great ride.
We stopped off at Ribe which is Denmark's oldest town; approx. 867 AD.
From then on we followed Cycle Route 10. All cycle routes are clearly sign posted and you can't really go wrong. We both felt tired and stopped for a longish break around mid-day.
Mike had a worrying hop in is front wheel which had been bothering him all day, so we wanted to stop at a bike store in Varde to buy a new tyre. We thought we would spot a bike store riding through (as you often do), but we didn't so went to the information office to ask. The friendly assistant told him "down by the station" and showed him on the town map. Off we went but couldn't find it. We rode around a bit, then back to the town and finally back the train station. Would you believe it, it was ON the platform, actually part of the train station itself! We managed to get what seemed a decent tyre , and then had a further 15 km to the campsite. We stopped in the town to buy supplies and eventually arrived at the campsite at 5:00 pm. What a long day! Unfortunately the campsite was full of flies as there were horse stables nearby.
Mike put the new tyre on that night and we kept the old front tyre as an emergency backup as there seemed nothing obvious wrong with it. The bike however definitely rode better with the new tyre.
We are happy to report that the Danes are very friendly and will always smile and greet you! What a difference to the German "98 percenters"!

(1) Leaving Romo for the Denmark mainland (2) A church



(1) Ribe (2) Camping in Oksbols


22 June 2011: Oksbol - Hee (North of Ringkoben) (84 km)
The route today followed a rail trail in the beginning stages which was very picturesque with lots of fir trees. We had an inland route planned to Hee, but changed it to go west of the Ringkoben Fjord. The rail trail skirted a few campsites, but the scenery changed in a blink of an eye when we passed through a short tunnel which went through a green grassy hillside, and on the other side a wild vista of sea grass greeted us. The view all round was superb after the well organised semi-rural track of the day. The cycle route west of the fjord follows a rough gravelly path in the dunes (close to the sea) with extreme changes in vertical grades which we soon found made the going slow. It was sandy and stony in patches with steep uphills that was more suited to walking. Not long after joining the trail we decided to opt for the road rather which with a great tailwind, we could average over 30km per hour all the way to Sondervig. The road and views were excellent.
We did some shopping at Sondervig before turning off towards Ringkoben. We took a chance on a sign posted cycle way to Hee just before Ringkobing which looked quite gravelly and stony. After some time we got a bit worried that it was not the right way as there were no signs to speak of, and the GPS showed that the road ended! We stopped and asked a man collecting water from a creek and he confirmed that there was a footbridge not too much further on and that we were on the right path. After that, it was only a short distance to the campsite.
A word about campsites in Denmark. All are part of a National organisation and you can pick up a booklet which shows all their locations and what type of campsites they are i.e. their facilities, costs, etc. The amenity buildings, etc, are therefore in our experience far superior to what you would normally expect. However, there may be hidden charges. You leave your camping card with reception and pay when you leave so ask what the charges are beforehand. At the campsite we stayed at in Hee, when we came to pay there was a charge of 15 kroner each for the shower which we were not told about beforehand although we had asked. This campsite issued you with a swipecard which you had to swipe to get hot water in the shower. Most showers in campsites have a timed off switch (a bit irritating means of saving water) so that each few seconds/minutes on a timer the water goes off and you have to constantly push the switch or button to get it going again. You get used to it. We should have guessed what was going on at this place as the water went off after a few minutes and you had to reswipe. We felt ripped off by the extra charge particularly since one of the swipes (each) was waiting for the hot water to get hot. The cost for camping here was already 190 kroner, but on the plus side we did have access to free internet.
The campsites are generally expensive and are probably worth the expense if you are making use of all the facilities, especially if you have a family as there are plenty of kids amusements. This campsite in Hee for instance had little goats to look at, two angling lakes, an outdoor and indoor (heated) pool complete with super tube, paintball, go-karting and chair swings. Every campsite has mini golf (funny, in the Netherlands this is called Midget Golf). We wanted to look at using the many free campsites in Denmark, but although they seemed to be shown on our map, they are not advertised and we could never find them. The comforts of a campsites are however not to be sneezed at!

(1) A road so new, we couldn't even ride on it (2) Taking a break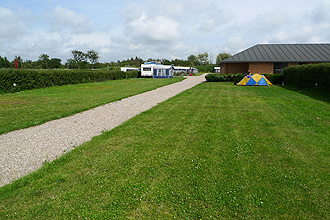 (1) The early part of the cycleway west of Ringkoben Fjord (2) Camping in Hee


23 June 2011: Hee - Estvad (90 km)
In Denmark it works well to pick a cycle route and follow that through; today's route was Route 18. The routes are clearly marked and reflected on the Denmark Cycling Map that we had. We do divert from the routes, but on this day we stuck to Route 18 for most of the day.
The first part of the day was through conifer plantations which was so beautiful. About 20km was on good quality gravel road. This was by far the most "hilly" day we had had on the trip with a total ascent for the day of 350m. This is nothing by usual standards, but when you think that on most days on this tour the ascent was practically zero, you can appreciate that it was hilly in comparison!
The gravel road section had some climbs and I unfortunately got a rear wheel puncture soon after just making it ahead of a flock of sheep which were being herded along a side road. This meant that Mike was under some pressure to fix it as if they had passed us sitting on the side of the road, we would have been stuck behind them all day! In the end we had the bikes up and running with about 30 seconds to spare!
We had rain off and on during the day and had some very lovely views over the farmlands. We almost did stop at Vinderup as I was tired, but the campsite and town were uninspiring and it was only 1:30 so we decided to go on to Estvad which the GPS indicated had a campsite. This was an extra 20 km but the ride was lovely and the road excellent. Unlike The Netherlands where you have a dedicated cycleway parallel to the road, in Denmark the cycle routes do take you on road, but the roads were generally quiet. I got another (grrrr) puncture; same wheel different spot... Luckily when I discovered it we had just arrived at a lovely picnic area with tables and a geocache. I looked for the geocache while Mike fixed the puncture, but could not find it (another grrrr).
We got to the campsite soon thereafter. It ended up being a longer day than we had planned but we were enjoying our time on the bikes. We clocked over to 1200 km today. At least you don't have any pressure to get to the campsite as it never gets dark.
The campsite was near the fjord/lake and we took a walk there that evening.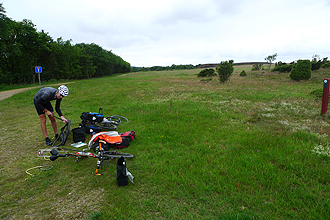 (1) More gravel road (2) And fixing another puncture (racing the sheep)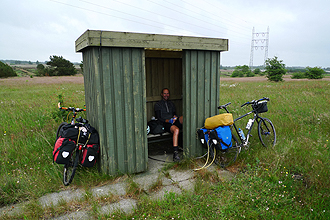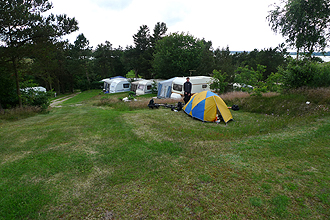 (1) Taking a break from the rain on the side of the road (2) Camping in Estvad


24 June 2011: Estvad - Logstor (79 km)
We had some rain overnight, but not much. We are battling to get enough sleep as it's still light after 11 pm and then again at 4 am. Mike puts a t-shirt or something over his face, but we should really should add eye cover goodies to the shopping list. You'd think that they would be in high demand here. Usually you get them in your goody bag on the flight then never use them, but this time we didn't get them although we actually needed them; that's typical!
Felt tired this morning. Set off towards Skive and realised that we would have unfavourable wind today. We had some trouble believing the route we were on was correct just after Skive. It was Route 12 and for the first while it covered the same route as Route 2. Then suddenly the signs for Route 12 disappeared and the signs only showed Route 2. Anyway, we were on the correct route all along and kept going. As yesterday, today was fairly hilly and the legs fairly tired! We got to the ferry crossing at Sundsore after about 35 km. The small village before this had a Spar supermarket where we bought a drink. As we pulled up at the harbour the ferry was just leaving, but we only had to wait about 15 min for its return. It was FREEZING! The water of the fjord that it crosses was black and choppy and as we waited for our ferry to come back you could see it labouring into a headwind. It was quite a large ferry for what we thought would be a quiet part of the world. To think it makes the trip every 15 min every day, all day, is amazing. Over the other side we followed Route 12 again which took us quite out of our way to Louns, but it was a really pretty place with beach shacks along the water. After this detour, we stuck to the 533 to Logstor. The wind was a westerly cross wind (worse that a headwind when touring) whipping straight off the water. The rain lashed down at times and it was freezing. I became a very poor cycling companion. When planning the day, the maps indicated that this road would have a cycle way along it for most of the way, however this was not the case. The shoulder was very narrow but the shoulder line marking were very short stripes or blocks that were quite raised from the tar as is usual here. So if you ride on them your whole body and bike vibrates or stutters along. Without the cross wind you could comfortably sit on the shoulder, but the wind made it hard to hold your bike in the small space. Each time a car passes the momentary blocking of the wind causes you to veer into the road as you have to be constantly compensating for the push of the wind. We had 26 km along this road which isn't far but all day I had been battling to keep my speed up and with the headwind that we had, my legs were finished! Mike was patience personified, providing me with constant updates as to how far, singing stupid songs and cracking silly jokes. I was a total misery.
When there were trees along the left hand side of the road it provided fabulous protection against the wind. At one point we drew right along the water, with the beach running along the left hand side of the road. A kite surfer in full wetsuit was shooting across the waves and the wind was so strong I struggled to keep the bike upright! It was quite bad with passing trucks, as they are so big and provide a large wind buffer that sucks you in as they pass by about a meter or more. It's hard to control. Anyhow, we survived!! Mike suggested stopping at an earlier town when my speed hit 11 km an hour going up a semi-hill but I was determined to keep going!!!
The last 10km or so thankfully had a cycle way and we followed that which was great. The campsite was charming and even though it had been (and still was) so windy. We walked into town to buy some food and found a lovely quaint fishing town. It had the major supermarkets too. We walked back via the promenade and the canal, and through the gorgeous native forest into the campsite. We would really recommend this place as it turned out to be one of the nicest towns and campsite combination on the trip. Showers were free and HOT and lovely views and walks around town, some lovely deli's for local food shopping or supermarkets. We decided that a rest day here would be just what the doctor ordered and it was! NO rain tonight or on the rest day!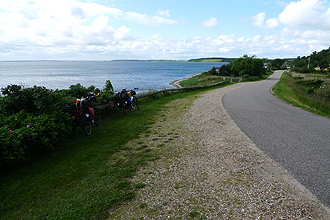 (1) On the way to Sundsore (2) Waiting for the ferry at Sundsore



(1) Catching the ferry to Hvalpsund (2) Camping in Logstor



(1) & (2) Logstor


26 June 2011: Logstor - Hjorring (93 km)
Two nights in a row without rain! We got a 7:30 am start for the ride today as it got hot in the tent by 6:00 am. What a day of cycling! Compared to our day's ride into Logstor this was a breeze! We arrived in Hjorring at 12.10 pm and still found a couple of geocaches en route (and didn't find a couple of course). We had a slight tail wind for most of the day and a terrific cycleway all the way. Mike's route worked out perfectly. What a difference! Arrived having ridden 92 km and it really didn't feel like it. Hjorring campsite had a large pool which I thought was heated. Having jumped in, I found that it was not and had one of those gasping-too-cold-to-breathe moments. I stayed in all of 30 seconds but am pleased to say that I had another swim later on. So my swimsuit was not a waste of space after all! Still have to have my promised North Sea swim; maybe Skagen.
We had a relaxing afternoon in the sun. The town was quite pretty and well laid out. As it was a Sunday everything was closed, but it was nice to have a look around.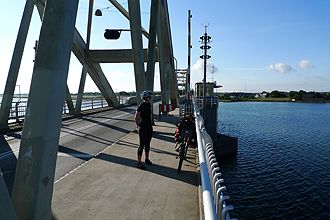 (1) Leaving Logstor (2) Camping in Hjorring


27 June 2011: Hjorring - Skagen (70 km)
We were so excited about reaching Skagen on this trip. It is the northern most town in Denmark, with the northern most point of Denmark about 3 km further on. I had had a bad night's sleep as a pair of motorbike tourists arrived to stay in a little cabin near our tent at about 11.30 pm. They then proceeded to talk loudly for an hour. Very annoying! Anyway, got up excited about getting to Skagen and were on the road at about 8.30 am. The ride felt longer than yesterday's even though it was so much shorter. Mike had worked out a winner route which took us out of Hjorring and onto cycle Route 62 and then Route 1 without any trouble.
Route 1 took us over some gravel roads but they were a pleasure. A fine grain, almost hard packed soil and beautiful route, through conifer plantations. Peering into these forests there seems to be a green mist. The floors are covered with thick moss and the trees are beautiful. We rode along the coast for a bit and then the cycleway into Skagen was lovely through coastal grasses and small dunes covered in heather.
We had planned to camp at Grenen campsite about 2km from the beach and stopped there, but the receptions was closed between 12:00 and 14:00 so we decided to camp at Poul Eeg which was only a kilometre away. I ask you, how can you close reception for lunch on the first day of high season? Poul Eeg campsite was great and we had the green, grassy tent area all to ourselves, two picnic tables and two lovely trees. Private as surrounded by hedges and no other campers; perfect! Facilities were fin, but not as exclusive as we have encountered and you pay a premium due to location but that's fine. What we still cannot grasp is paying to shower; in this case 5 kroner for 3 min! Why this cannot just be worked into the price is beyond me, especially when you are paying 200 kroner per night!
We spent the afternoon looking around town, lovely little shops. No tacky souvenirs but a lot of craft, especially glass and ceramic. The harbour was full of boats and seafood industry is big here. Not to put too finer point on it but in certain places the town stinks of fish production. Still it was very pretty and had a lovely atmosphere.
We had a rest day at Skagen during which we cycled to the beach and walked to the point where the North and Baltic Seas meet which they do in quite a dramatic fashion. The view is BIG and you can see forever all round with huge container ships and other vessels making their way through this busy channel. Perfect day with lots of sunshine and little wind; blue sky for the top of Denmark - doesn't get better!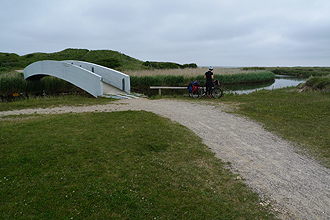 (1) Beautiful forest riding (2) Northern Denmark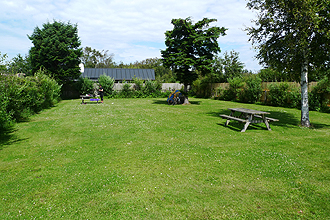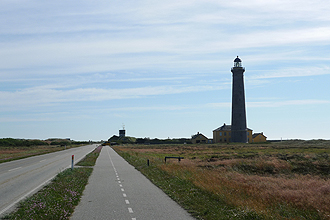 (1) Camping in Skagen (2) Cycleway to Grenen



(1) & (2) Grenen


29 June 2011: Skagen - Asaa (83 km)
Headwind today, and it really wears you down! We followed Route 1 and 5 from Skagen to Frederikshavn. It was a lovely route as usual , very picturesque and on a cycle way all the time. The sun was strong although the wind takes the heat off and although we applied sun cream we both got very tanned! After Frederikshavn, the route hugged the coast which was very pretty as you have all the pastures and farmlands and then the sea which was quite calm.
We arrived at our campsite at Asaa around 2:00 pm and had the huge camping area to ourselves. The Spar supermarket was close by which was also great. There was a swimming pool but we did not use it preferring a sleep in the tent! We took a walk to the harbour that evening and then the rain came in! It stopped during the night but started up in earnest around 4:00 am which allowed us to sleep in until 8:00 am as we waited for it to end... which it did not!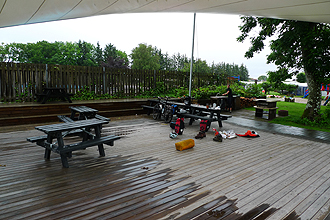 (1) Camping in Asaa (2) Packing up in the rain


30 June 2011: Asaa - Hadsund (63 km)
We packed up under the large sail that acts as a shelter and only headed off at about 10:00 am when the rain eased slightly. We spent most of the day riding in it, but as it was a short day the late start was for the best as you can't get to the next campsite too early. We had planned to ride to Aarborg today and then train it to Aarhus, but decided to ride to Aarhus along the east coast instead.
We followed Route 5 today again, but stayed on the road from Dokkedal to Oster Hurup. These routes are great as you have to watch out for the route markers when you think you have a turn coming up.
Mike had another puncture! Number 5 for us for the tour; 4 of which have been in the rear wheel which is a total pain as obviously you have to unpack the bike. We had thought of replacing the tyres for the tour but believed they had another tour in them. We've been very disappointed with them (Conti Travel Contacts) and will look at buying Schwabe Marathon Plus Tours for the next tour. We ride on Marathon Pluses to commute and they are puncture proof due to a thick wall where it counts; they are heavy though, but worth it. We will actually toss these tyres when we pack the bikes for the flight home which is great as it saves on weight! We'll just keep the new one Mike bought in Varde.
Anyway, the puncture was only at the 20 km mark so we still had a way to go. We reached the ferry at Hals (ferry trip number 8) as it was ready to leave; literally just rode on and off it went. We then had about 34 km to go to Hadsund. The ride was very pretty with views of the sea most of the way and Route 5 from Oster Hurup to Hadsund taking us through the farmlands again. The Hadsund campsite was excellent; the cheapest we have had in Denmark with no bells and whistles (read bouncy cushions and kiddies playgrounds), but a special camping area for cyclists (which we've had before at Skagen and Tonning), free showers for cyclists and access to the hostel facilities including kitchen like you would have at home etc. I even found an ENGLISH book on the bookcase so happily swapped the one I'd picked up in Romo (and which I started rereading in Skagen).
As it rained most of the afternoon we spent hours in the kitchen/living room and planned the route to Aarhus in more detail. The rain stopped in the evening and the tent was able to dry overnight.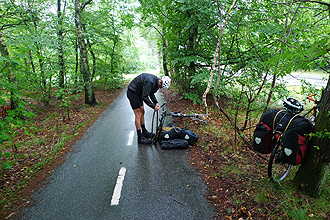 (1) Wet wet day (2) Camping in Hadsund


1 July 2011: Hadsund - Aarhus (73 km)
No rain today but quite cold after yesterday's rain so spent the day in my rain jacket. The hills which ended in Skagen were back with us in earnest and this was the hilliest day we have had on the tour - 400m ascent today and two short, but very steep climbs. Leaving Hadsund, the ride takes you over the water which was very picturesque. We followed Routes 18 and then 26. We had put Route 26 into the GPS which was good as it was not signposted. The second 10 kms of this day were the most picturesque of the entire trip. Two climbs through beautiful beech forest; the second through an emerald green mist of forest glade; really beautiful riding. The road undulated through farmland to Randers. The wheatfields are definitely riper up here and may just mean that summer is getting on!
We skirted Randers but decided to stop at the last moment at a MacDonald's that we were riding right past; that called for hamburgers and ice-cream. We then decided to stay on the main Route 180 as it had a cycle way all the way to Aarhus. As we got back on the bikes, Mike noticed that there was something wrong with his back wheel/tyre. We stopped for him to have a look and noticed that the rear tyre had torn at the wall. Luckily we had not thrown away the front tyre he replaced in Varde so could put that on and it was fine. Can't believe that these tyres have performed so badly on this trip! We clocked over to 1,700km today and had some long steady climbs along the 180.
We reached Lisberg on the outskirts of Aarhus at about 1.30 pm which was the only real camping option for us in the town. We then caught the bus into town and spent some hours walking around, looking at shops (fabulous summer sales) and took a walk to the ferry terminal so that we knew how it would all work tomorrow for the ferry to Kalundberg. We didn't want to repeat any mistakes like that in Niebull with the train trip to Sylt. Aarhus port and ferry terminal is MASSIVE. We asked at the info centre and they had fabulous burgers at the local fast food place at the harbour; best meal all tour! Walking back through town I had a huge soft servewhich I'd been waiting for all tour but never had the chance of having. It was delicious.
We caught the bus back to the campsite at about 7.50 pm and it was easy to sleep by 10:30 pm as it was quite dark.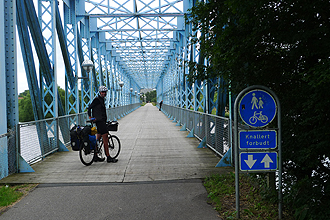 (1) On the way to Randers (2) Going through Randers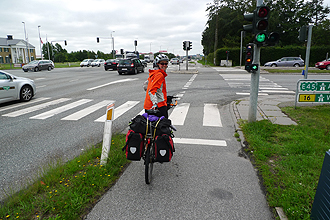 (1) Going through Randers (2) Camping just north of Aarhus


2 July 2011: Aarhus - (Ferry) - Skarreso (39 km)
We woke at 6.30am to, yes you guessed it, drip drip drip on the tent. Couldn't believe it! We were packed and ready to go by 8.30 am. The ride was only 8 km and we had planned to dress in our off bike clothes and take it a bit casually. Now it was pouring with rain so better to dress in damp cycle gear, rain booties, etc. The ride through Aarhus direct on a fabulous cycleway on route 180. We just got wet and cold. We were there by 9:00 am and the waiting room for the ferry was super warm so we could dry out all our stuff while waiting for the ferry which only left at 11.30 am.
The rain pelted down whilst we waited so it was nice to be warm and dry. The ferry trip was super relaxing. We sat in the quiet room on lovely loungers, had free internet, and could even dose. We were worried about the rain on the other side, but the ferry seemed to cross the front so all seemed good. The crossing took 3 hours and as the ferry opened its mouth we were hit with very cold air. Anyway, we got changed back into our cycling gear and checked out the route. We were aiming to camp at Skaereso Camping ground in the little village of Jyderup which would be about a 30 km ride along Route 4. We stopped for something to eat at Kalundborg (lovely warm meat burger patties with onion gravy). The ride was quite undulating and we came across a group of riders doing a randonneur course of the island; must have been a couple of hundred kilometres. Unfortunately, Mike got another rear wheel puncture which just about pushed him over the edge! To his credit he had avoided swearing up until this point . So are looking forward to tossing the tyres and tubesas they only have to last about 70 km more! This was less than 5 km from the camp site so you can imagine... We came across one of the randonneurs struggling up a hill and Mike did everything in his power to keep as quiet as possible and not to overtake him, including zigzags across the road. It was chivalrous as what could be worse than to be overtaken when on a road bike by a heavily laden cycle tourist (although he would have already done about three times the distance we had done!)?
The campsite was perfect; just our "cup of tea"; a great expanse of grassy meadow next to a lake. Very beautiful. No playground, no screaming kids, no bouncy castle, etc. The price was very reasonable and showers were 2 kroner but "you will need a few coins" the receptionist lady said. Of course we took this as a challenge and used one 2 kroner coin each which provided a very hot 2 min shower. Another manager (husband of receptionist) advised us to camp near some trees as they were expecting a rain storm that night. We followed his advice and another single cycle tourist did so too. There was a lovely hill in the middle of the campsite with a beautiful wooden bench under a flag pole with the Danish flag proudly flying. We were tempted to camp on the hill as the views were lovely and if there was rain it's good to be on higher ground, right? Anyway, we followed the man's advice and camped over the hill in front of the trees. We walked to the main street to buy some yoghurt and fruit juice and then came back to the site. We had a sleep and then Mike went out to the bathroom. The manager man ran after him and shouted "If the weather is too bad you can have a cabin FOR FREE!" which although he declined, gave us an inkling of what was to come! And the storm hit that night; huge thunder and lightning that had us both rolled in a ball hysterically (if not seriously frightened!), at least wondering as to the intelligence of lying in a tiny tent with metal poles in an electrical storm about 100 m from a flag pole. However we would have been worse off if we had camped at the flag pole! Anyway, the rain came in and the storm passed around 10.30 pm. We slept well and woke to a wet campsite at about 7 am. It was becoming more and more difficult to get up in the mornings!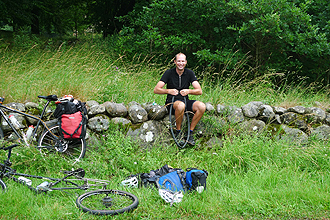 (1) Catching the ferry from Aarhus (2) Aaahhh, the final straw...



(1) & (2) Camping in Skarreso


3 July 2011: Skarreso - Hyndige Strand (75 km)
We finally managed to get up and get going!!! This was our last real cycling day of the trip and we followed Route 4 for most of the way with slight deviation onto main roads (with cycleways mainly) to avoid gravel roads.
The route was lovely. We pulled up at a Eurospar for a drink after about 2.5 hours riding to celebrate our milestone 1,800km! We saw a final windmill and went through the outskirts of Roskilde. We then cut down to the coast to our campsite Hydige Camping just after Greves. The campsite is in two sections and we asked to be in the beach camping side which is "quiet". The campsite manager said that they'd been hit hard by the rain last night and had had 2 months of rain in 2 hours so the site was quite flooded. The beach camping side was better. They were expecting more bad weather tonight. We were happy to be there, the campsite was lovely and the showers were free! And HOT.
We went across the street for hamburger and chicken to eat and then rested at the site, retreating into the tent as the thunderstorms came through.
We had a rest day the next day and took the train to Copenhagen city. We did a self-guided walking tour and looked around many shops. We saw the filming of an intro to The Amazing Race which was quite fun.
The centre of Copenhagen has many pedestrian malls and this makes it easy to browse around shops. The public buildings are very grand, but then Amelienborg Palace seemed very small actually. Part of the walking tour was supposed to go through the Citidel - the original fortified town/palace, but it was closed. Not sure if this was due to the rain. We didn't realise the extent of the rain and flooding until we spoke to the camp site receptionist that morning. We went to the reception to purchase train tickets (they have a great system by which you can make use of the klippekort system - usually it would have cost 60 kroner each way to the city but on the klippekort it was only 27 (if memory serves). The klippekort gives you 10 trips through a certain number of zones, we only needed 4 (2 returns). They sold us a klipperkort with two trips left and we then bought a full one of ten to return, used two trips to do so and the site bought back the other 8. This was a great idea by this site and saved us a lot of money! Anyway, the road to cross from the beach camping to the side with the reception was chockers at 9 am and we assumed it was regular commuter traffic, but we were told that the motorway had been closed due to flooding and all traffic had been diverted. Also, trains were not running every 10 min but every 20 min. We had considered catching the train to Sweden (Malmo is only a 30 min train ride from Copenhagen, but would not have been able to as this line was closed due to flooding. In the city quite a few museums were closed too. The train station was mayhem; the Roskilde Music Festival had ended on Sunday (we passed through Roskilde about 30 km from Copenhagen) and so many people (all youngsters - students largely) had been stranded at the train station due to the long-distance trains being cancelled; they were lying all over the place, sleeping, belongings strewn everywhere. I am sure that usually the station is very organised and clean, but not today!
Copenhagen itself was in the midst of ongoing upgrading. The project has been on the go for some years and of course many of these areas had been flooded and water was being pumped out and so on. But it is a beautiful city with lots of cyclists, although not as many as Amsterdam, but the weather must have contributed to this.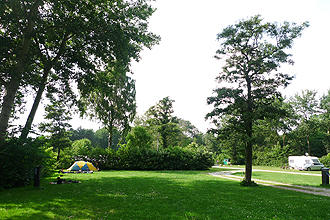 (1) On the way to Greves (2) Camping in Hyndige Strand



(1) A short walk from the campsite (and the cycle route the next day) (2) The signs we had been following for so long


5 July 2011: Hyndige Strand - Kastrup Airport (25 km)
Luckily there was no rain last night and very little dew fall so the tent was DRY which is fabulous for packing away. We spent some time cleaning the bikes and the tent (to avoid quarantine issues in Australia), and packed up. The ride to the airport was lovely; all along a cycleway right from the back of the campsite and so much of it along waterways. As we neared the airport we spotted Field's Shopping Centre. We had been advised that this is the biggest in Scandinavia, although we were not that impressed when we went to pay it a visit. We knew that the Crowne Plaza Hotel, where we had booked in for our last two nights in Copenhagen, was next door. This developing area around the airport is very new and feels quite unlived in. We got to the airport and I went inside to buy bike boxes (200 kroner each so they were expensive, but less hassle than trying to find at a bike store - couldn't even find many bike stores). Mike packed the bikes and we booked them in as stored luggage until Friday. All that remained was to advise the info desk that we required a shuttle to Crowne and they picked us up in no time at all!
We were able to book in at the hotel right away although it was only 12 o'clock and as we were on the 17th floor we had an amazing view of the coast and could see the road to Malmo and almost Malmo itself over the sea! I had the bath I'd promised myself and donned the towelling bathrobe and relaxed on the reclining chair. Later on we walked the short distance (about 200m) to Fields which had nice stores but was much smaller than we expected.
We got back in time to watch the last 5 min of the Tour de France.
A good night's sleep was had by all; the bed was actually bigger than our tent!
The next day we bought 24 hour metro tickets which entitle you to train or bus travel anywhere in the Metro area. The trains are the S-train or the metro (the metro being super cool as it is driverless). We had a metro station right next to the hotel which was very convenient.

(1) On the way to the airport (and the Crowne Plaza) (2) Arriving Kastrup International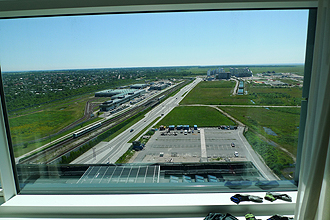 (1) Packing the bikes at the airport (2) View from the Hotel Room


7 July 2011: Shuttle to Kastrup Airport
We got the hotel shuttle back to the airport to start the long journey home.
Total Distance Cycled: 1,853 km
Punctures: 8
Ferry Trips: 9
Campsites: 24
A slideshow of the photos of the trip can be found here