Germany and Its Neighbours Cycle Tour
[ Germany, France, Switzerland, Liechtenstein, Austria, Czech Republic, Poland, Netherlands, Belgium, Luxembourg ]
Home Page > Bicycle Touring > Europe > Germany and its Neighbours





Total Distance Cycled: 4,830 km
Number of Cycling Days: 50 (excl. first day)
Number of Cycling "Rest" Days: 7
Number of Different Campsites: 48 (+ 3 Hostels/Hotels)
Average distance per day: 96 km
Shortest day's ride: 44 km
Longest day's ride: 138 km
Number of Punctures: 1 Front (second day!)
Coldest Mid-Day Temperature: 4 degC (and this was Spring/summer!)
Hottest Mid-Day Temperature: 38 degC (Berlin)
Scenery in Switzerland (especially the ride up to Stechelberg), and western Austria
Rain stopping for a beautiful ride up the snow-covered Arlberg Pass
Crossing the Afsluitdijk in The Netherlands
Mini Campings in The Netherlands
Some of the steep hills in Switzerland
The flood we followed from Innsbruk to Prague
Cobbles (Especially those in eastern Germany and Belgium)
Camping de Branding (Zandvoort, The Netherlands) - Worst Campsite Ever!
Foods we consumed with regularity:
McDonalds Breakfast Special (E1.50 for Egg McMuffen and Coffee)
Real chocolate and Ice-cream
Best new items for the tour:
Gore Tex Rain Gear (pants and jackets)
Taking mudguards and Mud Flaps
Bicycle Wheel Ring Lock and Cable
Busch and Müller e-Werk for charging Kindles and running GPS from Dynamo
Special mention: Using freely available Doggy-Doo Bags for water-proofing...!
19 May 2013: Frankfurt Airport - Nauheim (Campingplatz am Hegbachsee) (24 km)
So here begins another cycling adventure: Our longest ever. We plan to cycle between 4,500 km and 5,000 km through 10 countries spending a variable amount of time in each. All journeys start somewhere though, and I guess for us this starts by taking the bikes and our bag with tent, etc, to Mike's office in the city on Friday night so that we can collect it on our way to the airport on Saturday morning.
We left home on Saturday at 8:45 am, taking a bus and train to town and stopping at Woolies to buy some eats prior to take off. We collected the bikes and bag (we take all our clothes in carry on - making full use of the 7kg limit) and then waited at our usual airport shuttle pick up arranged for 11:10 am. We arrived at the airport at 12 noon and picked up our currency pre-ordered. We could check in immediately which was excellent with no queue (well done Air Singapore!) and then ate plenty of yoghurt before clearing customs (again no queue at all). We relaxed a bit before boarding at 3:10 pm.
Air Singapore cannot be faulted in our experience either in service or timeliness! We had great seats at the back of the plane for the leg to Singapore, and a good meal. Unfortunately I could not watch any movies as there was some issue with my monitor (this is something I really enjoy on the flight) but I read my book instead. We arrived in Singapore for transfer to Frankfurt at 9pm and had something to eat and drink before boarding the much anticipated A380. We were on the top deck and had purchased exit row seats so plenty of leg room. Interesting being on a plane with stairs inside! Beautiful flight; good meals as well as being well looked after. "Goodish" sleep even! We arrived at Frankfurt at 6:15 am under blue skies and put the bikes together. The ride to the campsite where we had planned to spend the night was about 20 km long which was followed with about 4 km around town. We didn't expect the ride out to be so scenic, totally offroad through beautiful forest. "Ah," I thought "It is real - We are here!"
The camp site was basic but with hot showers and a lovely view of a lake. Many people were taking advantage of the good weather and cycling or walking around it. It was sunny and warm. As luck would have it, we had unfortunately forgotten our pre-ordered Europe camping card at home, but this didn't seem to be an issue yet. We were told by the Chief Air Stewardess on our flight that supermarkets don't open on Sundays in Germany, and also that it was a public holiday on that day and so Monday was a day off too! So no buying food supplies for TWO days!!! We had a meal at the campsite cafe that night. I had Bratwurst and a beautiful crunchy bun (donated to Mike) and Mike had delicious homemade lasagne and chips. We were in bed at 5.30pm. The rain started as forecast that night.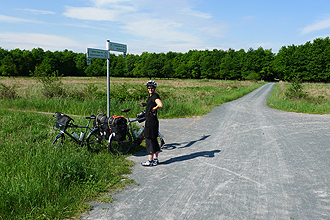 20 May 2013: Nauheim (Campingplatz am Hegbachsee) - Altrip (Blaue Adria) (110 km)
We set off at about 7:30 am in the rain and were excited about using our new Gore cycling jackets and rain pants. Coupled with rain booties our feet remained toasty dry all day. The terrain was flat making use largely of the Euro Velo Route 6 most of the way, and mostly on cycle ways. The route took in farmland, industrial river scenes (the Reid and the Rhine) and beautiful forest routes. We stopped often to put on or take off our rain pants and jacket depending on the rain! It was cold. I wore my new Icebreaker liner gloves all day which went well. We had had to leave without breakfast which didn't do Mike's in-flight headache/migraine any good!!! We stopped at Nauheim very near the campsite but confirmed that the local supermarkets were securely shut for the day. We did a GPS search for McDonalds which can always to be relied upon for good hot coffee! A few came up; the closest on route was about 30km away, which was ably completed on empty stomaches! We had delicious bacon and egg burgers and coffees (extremely good value for Euro1.50. We would follow this special deal throughout Germany!), and even some muesli and yoghurt. Oh the joy of refuelling! The day unfolded with a strong headwind and lovely river views all the way. We planned for a second refuelling stop about 10km from our overnight stop. Another set of Golden Arches delivered burgers, coffee, more yoghurt and muesli and ice cream sundaes. The ice-cream was a mistake on my part as I'd not realised how cold I was and then froze so had to put on another pair of gloves, my beanie and jacket hood. Puncture! We stopped for a puncture break which came as a bit of a surprise as the tracks were generally good and we have a lot of respect for the Schwalbe Marathon Tour tyres. We were unhappy about this (my front wheel) and whilst fixing it two family groups came by and were so friendly they even apologised for the weather! Who would have thought that our "puncture proof" Schwalbes would succumb on the first proper cycling day!
We stopped at what we thought was the campsite but were told that it was closed and should rather given go to another campsite a few kilometres away. This proved to be a nice spot and we were early to bed once more. Our first of many campsite which didn't provide toilet paper! Luckily the receptionist was obliging or we could have had a messy situation "on our hands". Six hours on the road with a head wind took its toll. No supper, but Mike lucked in on some airplane peanuts he had saved. We made plans for shopping after a couple of kilometres in the morning!
21 May 2013: Altrip (Blaue Adria) - Selz (Le Salmengrund) (101 km)
We had no rain on the bike which we were grateful for. The ride was made a little more challenging again by a headwind throughout, but the scenery was beautiful.
We set off at 7:30 am and headed for our first supermarket! We arrived before opening time (which was 8:00 am) but there was a lovely warm bakery which sold delicious coffee. We had a cup whilst waiting and bought some buns. Seeing the lady place two sachets on our tray we assumed they were sugars and so I asked for two more. The lady seemed a bit confused but obliged. Imagine my embarrassment when I took the tray to the table and saw they were complementary biscuits and that I'd demanded extra!! After a fruitful shop we headed off again. Mike located a lovely secluded picnic spot via the GPS, and we sat eating breakfast watching the barges travel the river Rhine. It gave us our first views of the barges that ferry loads of stuff up and down it all day long battling the current one way. We feasted on yoghurt, bananas, fresh strawberries, muesli, salami, buns, cream cheese, ...
We passed through the historic town of Speyer where we bought the all important fuel for our stove. This was a very impressive town. Otherwise the day crept along by the banks of the Rhine which provided lovely views, but again, pity about the headwind.
The afternoon brought us to the French border which we crossed unremarkably, still following the Rhine. Shortly afterwards we arrived at our campsite for the night. It didn't take long for the rain to set in, and then continued to rain all night.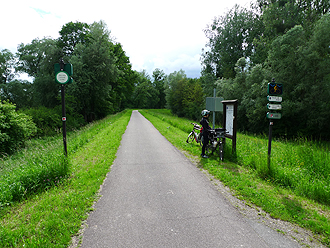 22 May 2013: Selz (Le Salmengrund) - Boofzheim (Camping Du Ried) (102 km)
We woke to the rain but wanted an early start as we were heading through Strasbourg about two-thirds of the way through the day and as it is a big town, was expected to provide us with much to see. We donned all our wet weather gear and headed off only to find that we were locked in to the campsite!! We ended up cycling through the entire site and finding an emergency exit that we could escape. We stopped for a breakfast break under a bridge to shelter from the now heavy rain, and passed our first sign advising that we were in France. The villages were very quaint and pretty. We rode along the Rhine River once again for the whole day, and it was if anything, even more picturesque that the route the day before. There were avenues of plain trees whose branches met overhead forming a tunnel of green.
The only low point was the rain which did not stop for a moment, and coupled by a temperature which did not really exceed 10 degrees. So, we were cold. Although we are very prepared for rain with our new Gore jackets, rain pants and booties, the cold does eventually seep in. Still, exciting to be in France with its Artisan Boulangeries!
Strasbourg ended up seeming too big and we didn't end up spending much time there. We did ride around it a bit, mainly as we were looking for a replacement Busch and Müller battery charger (dynamo driven) which had failed in the first couple of days riding! Also, though my prized and trusty Knog cycle computer which had served me well without complaint for 4 years decided to give up the ghost spurred on by being filled with water I would guess.
The ride from Strasbourg to the campsite was along a 30 km stretch of unbending river and provided a lovely bit of riding. As we rode through the village we came across a boulangerie and purchased a piece of delicious cheesecake and a banana chocolate croissant; yippee for us!
23 May 2013: Boofzheim (Camping Du Ried) - Bamlach (Lug ins Land) (91 km)
The night noises at the campsite included regular distant bell tolling from the local church (pleasant) and raucous nesting ravens (not so pleasant). We managed to charge all our batteries using the free power provided with the campsite. The lack of toilet paper was again a real inconvenience and we would purchase some as soon as possible! The day dawned cold, my new replacement cycle computer's built in thermometer advised 5 degrees at 7:15 am! At least no rain!
We had a later start than normal as we had to return the power adaptor to the office and they only opened at 9:00 am. We bought toilet paper at a nearby supermarket; 6 rolls of course as you can never buy just one it seems. We stopped at the lovely boulangerie for more cheese cake and pain au chocolat and a baguette. The baguette was strapped to the back of my bike on top of the toilet paper. Could this be true French style?
The first 30 km were along the Rhone/Rhine route again; a straight line following the picturesque canal. We deviated to a small village and found a pretty park to sit and eat our baked goods accompanied by coffees purchased from another local boulangerie.
Leaving the canal to cross flat river plains given over to agriculture, mainly wheat farming, the icy westerly wind became a real factor for the remainder of the day. It was cold and strong at times, but did not detract from the enjoyment of the day. We did not stop for another bite to eat, shopping on the way for an evening meal.
We would camp in Germany again tonight at Bad Bellingen, a hot water spring resort at the top of a hill. The mountains were becoming closer throughout the day. We will definitely return to France if only for the baked goods! The day ended with a short but stiff climb to the campsite. A scalding hot shower was appreciated. The temperature remained around 10 degrees for most of the day, settling to 4 just on 9:00 pm.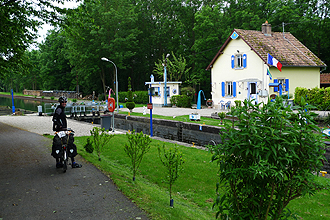 24 May 2013: Bamlach (Lug ins Land) - Solothurn (Zum Muttenhof Camping) (104 km)
It can only be fitting that the day we rode into Switzerland we woke to a minimum temperature of 2 degrees (at 7:00 am). Fortunately this increased somewhat during the day, but at 12 noon it was still only 4 degrees. So it was a cold day in the saddle.
We reached Basel after an uneventful 20 km and hit McDonalds for an egg and bacon brunch. Passing through Basel things got a bit grim when hail began to fall. The city is large and impressive, but the hail hurt our heads and faces. The faces soon began to lose all feeling. Now and again the sun came out which was uplifting, but it never lasted long. It rained, the off road cycle trail we followed for a while was a sticky muddy mess. But all was not lost. Reaching the foothills of the climb of the day we were entranced. Switzerland had suddenly arrived and it was all our fairytale wishes come true. Twisting, hilly country roads, grass the greenest we've seen yet, groups of school children commuting home from school by bicycle (can anyone be lucky enough to call this place home?). Further on, steeply grassed hillsides peppered with cows with actual cow bells that sounded clearly, cold rushing rivers, old turreted castles and roads climbing ever upwards, sheep grazing in pastures. It was so beautiful. The most beautiful day's riding yet. We climbed a lot but the views and sights passing through small villages clustered around were so interesting you forgot about the steepness.
After the climb the steep descent was freezing. All our cycling clothing went on to try to stave away the cold, but it didn't really help.
We shopped for food en route and the final town we passed through Solothurn was very impressive, on the banks of the Aare River, but it was nearing 6:00 pm and we were too tired and cold. It had rained on and off all day and we were desperate for a hot hot shower, supper and bed. We are however in love with Switzerland!!!
25 May 2013: Solothurn (Zum Muttenhof Camping) - Thun (Bettlereiche Camping) (94 km)
Another chilly day on the bikes, but at least no rain. Just plenty of cold alpine air! Much of the day was a long the flat, passing through little villages and by-passing Bern. As usual, excellent cycle ways and lovely scenery. One "super" steep hill only. The mountains were now close by and we did some end of day food shopping in the small town of Thune where it poured with rain and became very cold afterwards. Important for us to stock up on food as supermarkets are closed on Sundays.
The campsite at Thune was lovely; located on a lake with snow covered mountains all around. We were surprised at how low down the snow still fell. The campsite attendant apologised for the weather (this was universal all the way through as everyone apologised for the cold). He said that usually they were much busier at this time of year. The maximum temperature was only 9 degrees today. I guess that the locals get sick of the cold as we do the heat at home. We had a meal and then rain fell in the form of ice which surrounded our tent and did not melt that night. It was freezing after this and we went to bed when the temperature was 1 degree. We noticed some fresh snow around the houses on the other side of the lake.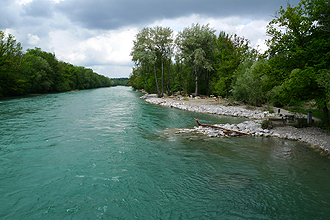 26 May 2013: Thun (Bettlereiche Camping) - Stechelberg (Camping Rutti) (44 km)
The day dawned cold but dry! The mountains as dramatic, but a little cloudy. We made our way towards Interlaken which was absolutely beautiful. Part of the way was along a cycleway that hugged the lake shore. As we entered the old town square the church bells were pealing which they did for about 10 minutes and with the echo off the mountains provided a "goosebump" experience; truly amazing. The houses surrounding the cobble stone square bore shutters of different colours; it made a beautiful picture. The waters gushing through Interlaken were bright glacial blue and the air held a definite crispness to it.
We turned off the main route after about 28 km and started to climb to Stechelburg from where you can get the cableway to Schilthorn Peak; a high and famous mountain with terrific views of other well known peaks. The climb up the valley floor towards this point was absolutely breathtaking. Extraordinary! We pitched camp at the highest camping option on the route (Rutti campsite) and had something to eat as well as doing a load of washing. The campsite was in a stunning position at the foot of huge rock walls that towered over us and with views of snow covered mountains all around. We then walked the kilometre or so to the cableway. We had got 40% off coupons from the campsite as a "perk" which was great as the cable car trip up to Schiltorn is not cheap. When we got to the ticket booth we were told that visibility on the mountain top was poor; as the white out on the webcam made clear. This was a bit disappointing and we decided to consider going up the next morning if possible. When we arrived back at the tent one of our tubs of yoghurt was missing. Mike found it down the hillside with a hole in the bottom and half eaten up! We had seen signs warning of foxes that would try to make off with food! We had learned our lesson.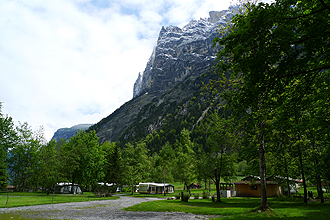 27 May 2013: Stechelberg (Camping Rutti) - Giswil (Camping International Giswil) (76 km)
Poked my head out of the tent at 6:00 am; Blue skies! Temperature: Zero degrees! We had breakfast and headed off to the cable way again to get the first ride up the mountain. This was at 7:25 am and we shared it with workmen and their equipment, base jumpers and a small school girl going to school at Mürren. The cable way goes up in 4 stages taking you to 2,970 m in altitude. The views along the way were magnificent with villages and hotels dotted around. The cable way plays the James Bond theme music as a fun touch. Schilthorn was made world famous when "On His Majesty's Secret Service" was filmed there in 1969. We were the first up and the views and remoteness were absolutely breathtaking; no wind and NO clouds. Snow and ice underfoot. We stayed for an hour and then got the cable way down. We were told that at this time of year it is usually all green slopes up there, but for us the white blanket was a novelty.
Back on the valley floor we got dressed in our cycling gear, packed up tent and all, and set off. It was 10:30 am by now and an extremely late start for us. We dressed warmly for the anticipated downhill rush and it was cold! We stopped en route at Lauterbrunnen, a small village, and checked out a bike store and cheese shop. Our next stop was at a shop we both spotted coming up that sold old cow bells. We loved them and bought one for our front door; a brass bell usually for a small cow or sheep. It has an old worn leather strap. We love it because it is authentic.
Back to Interlaken we stopped to shop and eat as usual. We then set off for the remainder of the day. The day itself was the best we had had weatherwise. Imagine the sense of freedom wearing shorts and short sleeves! We even used suncream on our faces!We were anticipating big climbs but were still in for a major surprise. As the route we chose is a cycling route, much of it is on trails or walking paths and so the gradient can be much steeper than a road. The next stage of the ride from Interlaken was along beautiful lakeshore. The first climb took us away from the shore, up high and continued for some kilometres. We then dropped down into Meiringen along the flat valley floor. After the town there was a climb which was signposted as 450m in 5 km. This was almost an average 10% gradient for 5 km!!! Could we do it? To make matters worse, the bitumen transformed to gravel and the hard work began. The scenery was lovely but a struggle to keep one's front wheel straight. Mentally I considered that this climb would take an hour. It was a struggle at times but we persevered. The load on the bike makes a big difference, but an 9% average gradient for 5 km on rough ground is not to be sneezed at.
After this big climb we of course had some huge descents which had their own warning signs due to steepness of descent; one section was 14%! Difficult to enjoy the descents as the bike will just go taking you with it given half the chance! We ended up alongside another lake (we saw a string of these glacial lakes on this day's ride) right at a campsite and were tempted to stop but with 10 km to go to our planned stop we kept going; to yet another lake. We arrived late at 6:00 pm. A gorgeous campsite right on the lake's edge. It seemed that summer had arrived at last in Switzerland.
I had had a knocking sound for the last part of the day; rather my bike had. Only when I got off at the campsite did I think of a broken spoke. There didn't appear to be any, but closer inspection revealed that many of the spokes on my back wheel had loosened for some reason and 7 needed tightening which Mike saw to. Helpful to have a bike mechanic on tour!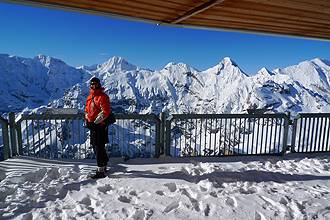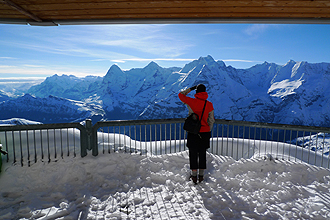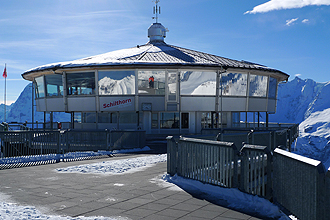 28 May 2013: Giswil (Camping International Giswil) - Sattel (Camping Sattel) (91 km)
After yesterday's ride we were after an easier day. A rest day would have been good but we had decided to try to have a day trip to Zurich so would save up a day for that. We set off at 8:15 am. We had had some rain overnight but fortunately this had cleared as we set off. The first part of the day was over easy terrain and we had time to do some geocaching; meeting up with and passing/being passed by the same runner three times (the third time she said "Next time coffee, hey!" - cute). We passed some fabulous lakeside scenery once again heading towards Lucerne. In particular, one stretch of road which hugged the lake shore and where a boardwalk had been constructed as a cycle way jutting out over the lake. The scenery in this country can only be described as unparalleled. Lucerne is visually impressive and well worth a visit. The cycleway brought us through it effortlessly and we continued along more lake shores thereafter.
We were really enjoying the sun and perfect weather. We ended the day with a 7 km climb along a brilliant road with a manageable/enjoyable gradient. Views of the mountains, blue sky, green hillsides tumbling down to glistening blue lakes, the sounds of gushing streams and eternal cow bells; these are the things we will remember about Switzerland.
The day ended in Sattel, a small place with a railway station. We would catch the train to Zurich from here tomorrow, leaving our bikes and gear at the campground.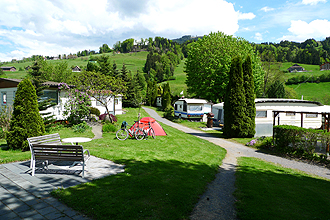 29 May 2013: Rest Day - Zurich
We caught the train to Zurich for a REST DAY. This was an hour train trip from the Sattel station (changing trains at Arth-Goldua station).The trains are nice and comfy, and of a very high standard. It was cold and rainy for much of the morning but we did a lot of walking round the town. It fined up a bit in the afternoon. Zurich is a very attractive place with many historic buildings. There were three churches with beautiful clock towers within three blocks!
30 May 2013: Sattel (Camping Sattel) - Buchs (Werdenberg Camping) (115 km)
We woke to the sound of rain on the tent. Never an auspicious start. The last day's ride had been warm and gorgeous, but the weather had certainly changed again. We set off around 7:45 am and things soon began to become very clear. The day would be long, cold and tough. By the end neither of us could believe that we had made it to the planned end. Steep climbs which meant freezing descents. We have been so grateful on this trip for our wet weather gear that we bought for this trip. We had not taken rain pants away for years and had never had any that you would ride in, but our Gore pants have proved the best item on the trip. I don't know that we would have made it today without our wet weather gear. The rain pants teamed with our booties and jackets were perfect. We were still cold, but it was manageable.
We had a climb out of Sattel and then onto cycle paths that as usual took us around farm houses and through tiny villages. After about 25 km we stopped for a rest and snack; we were both cold and Mike's hands were absolutely frozen as his wool liner gloves that he wore over his cycling gloves were soaked and not up to the task. I also had these but used them under a pair of Outdoor Research gloves and then cycling gloves so the combination was better. We then came across another warning sign for cyclists: 280 m ascent on 4.5 km. This seemed steep but manageable and was actually a climb up to Sattelegg ski area. The rollicking descent was freezing though. At about the 44 km mark we passed a campsite and I felt very tempted to call it a day. I was so cold and the weather did not look like fining up. It's one thing to be climbing up and down for great views but another if it's cloudy and rainy and you can't see much! Doesn't seem worth it. Still every now and again you'd come across a group of sweet looking cows or sheep and that was nice enough.
At this point I thought "let's make it to the half way mark and see". We had another stiff climb with a warning sign reading "360m ascent in 6 km"; also pretty steep. This was followed by another speedy descent. We stopped for lunch at the halfway mark of 56 km, and after that things seemed to fall into place. The day persisted with ups and downs and it remained very cold but warmed up here and there. One got into the rhythm of taking off rain jackets and pants for climbs and putting them on again for downhills. We came across a good outdoor store and Mike was able to get a better pair of gloves. The old man minding the store did not know how to work the credit card machine and we only had 24.50 Swiss Francs remaining in cash while the gloves were marked at 29.90. He wanted to give them to use for free, but we just couldn't do that! I kept trying to give him the money and he kept trying to put it back in my bag. Eventually we made it out of the shop leaving the money and taking the gloves.
After this point we began to draw very close to the mountains; the snow that covered them came right on doen and looked thick. We passed several campsites but were determined to cover the route as planned. The final climb was spread out over 10 km with the last two kilometres quite steep. In total we climbed a total of 1746 m on this day. We stopped before the descent to gear up and the rain predictably began again - freezing cold! The final part of the descent was 10 km fast downhill from dizzying heights with amazing views.
We camped at the Buchs old town which was a really interesting place and we were so pleased to have picked it. There is a Schloss, parts of which date from the 1200's, and below it the old wall and a cluster of old buildings which have been beautifully restored to be used as studios and homes for various crafts people. It is so cool to see authentic historical buildings preserved for current functionality. This is known as "Switzerland's tiniest town". We went for a walk around the old town after supper. After paying for the campsite in Euro we had very little change left and then the showers were a franc each. I went to beg for change from reception as I had about 55c in Swiss francs and 50c in Euro, but the man was very helpful and we each managed to have a very HOT and very long shower to thaw out. The gratitude one feels for a hot shower at the end of such a day cannot be surpassed.
The Schloss was dramatically lit up at night. Very beautiful with a backdrop of snow covered mountains behind. Neighbouring the campsite was a beautiful clock tower and church. The bells tolled the hour, half hour and it seemed quarter hour as well throughout the night as well as pealing for 5 min at 9 pm and 6am. No excuses for not getting up on time.
31 May 2013: Buchs (Werdenberg Camping) - Wald am Arlberg (Arlberg Camping Hostel) (67 km)
We had another long day planned at 93 km with another steep climb towards the end. We woke to guess what... rain at midnight and it didn't stop all day. We had a few exciting things to look forward to like leaving Switzerland for Lichtenstein (although leaving Switzerland is sad too) and then arriving in Austria. We had camped almost on the border to Lichtenstein and shortly thereafter came across a fabulous village called Feldkircher which was setting up an authentic Medieval craft fair, complete with friars and a cage in which to lock naughty children/people. Stalls were selling craft items and it all looked wonderful and superbly made. We bought delicious wild boar salami and prosciutto. There was so much to see, from handmade wooden swords for children, woollen hand knitted clothing in medieval styles. We've seen these fairs in other places, in fact Perth even has one, but you believed that these people dressed like this everyday. Could have stayed all day, but the road was calling.
The first 50km were easy and although cold, much better than the previous day's ride. Much of the riding was through flat farmland that we hadn't seen since Germany. In Switzerland all the land runs downhill so cannot be used for any crops that don't require terracing. Here there were fields under irrigation once again. The mountains were different too being very rocky which boulder like outcrops.
After the 50 km mark the temperature really started to drop and the rain increased to very heavy. At around the 60 km mark we grew hungry and stopped at a lovely little picnic spot to eat. It was a proper little building with benches and a fire place and even a water wheel. We decided to abandon the day's plan and camps at the next campsite we found as it was just too cold and the rain had not stopped at all and did not look like clearing. We had done some climbing but not much and came across a campsite opposite a shop in Wald a' Arlberg. We bought some things for supper from the shop and the lady who worked there advised that there had been fresh snow falls on the Arlberg peak nearby; no wonder it was getting colder the higher we climbed. We went to the large reception building at the campsite which was unattended but the cleaning lady was very helpful and called the manager. It was going to be 17.50 euro for a very wet tent site or 20 euro to sleep indoors in the empty hostel. We chose the latter! The hostel was a ski lodge and had lovely showers and beds. Spotless. These places are set up for hoards of skiers during ski season but also cater for summer guests. We were fortunate to be the only people using it! We use a MSR stove which we like to run on benzene as it has no smell, but can take all kinds of fuel including petrol and we were quite low on fuel. After we had cooked supper outside under some cover I went down to the common room to see if there was a kettle to boil water for coffee. There were two men in there playing cards (some people were accommodated in the many caravans on site) and one asked what I needed. I tried to explain that I was looking for a kettle. As I was carrying my toothbrush at the time I could understand his confusion when he asked "Do you need it to brush your teeth?"I quickly escaped as I had to burst out laughing.
As we had ended the day earlier than planned, we would start the next day with a 15km climb to the top of Arlberg Pass (1802m) and then as far as we liked downhill (maybe even aim for 140 km to Innsbruck), but we would have to see what the weather would bring.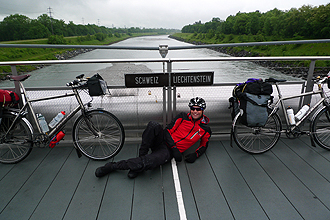 1 June 2013: Wald am Arlberg (Arlberg Camping Hostel) - Haiming (Campingplatz Haiming) (84 km)
Well, the weather certainly brought many new experiences! We had rain all night, drumming hard on the roof of the hostel. We were pleased to be out of the tent and indoors with all our gear able to hang and dry out. When it rains solidly like it has been it makes getting ready in the morning quite an onerous affair. I had put my SOAKING wet towel in the dry room over night and it was bone dry in the morning which was excellent as it hadn't be completely dry for days. We were up at 6.30am and on the road by 7.45 which is our usual start. A bit anxious this morning about the weather and most importantly the CLIMB. Snow was now low on the hills so who knew what it could be like on top.
The rain stopped as we left and that was a nice surprise. The climbing was steady straight away but not too intense. We had seen notes on maps advising of sections of 13% gradient on the high climb and that was a bit nerve-wracking. We passed through three tunnels, one of which was 1km long and the sound of passing cars was deafening which I hadn't thought about before. The last and longest tunnel spat us out into a world of white! We could not believe it, thick snow on the ground! We stopped to take a few pictures and our feet began to freeze so we hopped back on the bikes. Up here it is all about ski lodges, ski lifts and so on. The road was a little busy and also steep but with switch backs which always makes the climb easier. The final 1-2km were very steep and straight up. A snow plough/machine was collecting the snow off the edges of the road and spitting it up and out over the edges. We would not have made this climb the day before and we were relieved to have stopped when we did. The road might have also been closed. Passing motorists could not believe it when they saw us on the climb. One man actually put his hand over his mouth and shook his head in amazement. Truth be told, we were amazed ourselves, here we were on the first day of summer with snow two feet deep along the road. Visibility was quite poor as it was very cloudy but at least it wasn't raining. Also, it was warmer than it had been over the last couple of days.
At the top of the climb there was a restaurant and souvenir shop and I made a purchase that I had planned prior to leaving Perth: a pair of slippers! I've been hunting for a pair with soft soles and these say "Austria" so I will never forget our climb over Arlberg Pass.
We geared up for the descent which was brilliant and passed the 13% gradient sign going down. The roads were beautiful and the snow quickly disappeared from the roadside as we descended. We stopped to buy some food for lunch and found a bench under a shelter to eat. We had been roaring along downhill, with a tailwind to boot, to this point. All was blissful, and then the rain started. It grew harder and we ended up riding in quite heavy rain for the rest of the day. We soon realised that we would not make the full 140km to Innsbruck (it would always have been a tall order anyway) as the conditions simply did not support it. Even with the gear required, riding in the rain all day kind of wears you down. After that steep 15km two hour climb this morning we could now not enjoy the views along the valley as visibility was poor. Still you make the most of it. We decided to camp at Haiming and pulled into the camp site around 3:30 pm. The man at reception was so impressed by our effort in the rain that he only charged us 10 Euro to camp and threw in free shower tokens. Very kind! It rained and rained, and didn't stop. We ate in the tent which was very wet but soon felt like home once the inside was dried out! According to our plan we should have camped in Innsbruck tonight and had a rest day there tomorrow so instead we would just have the 50km ride to Innsbruck which is kind of a rest day anyway.
Our first day in the Tirol was certainly something to write home about!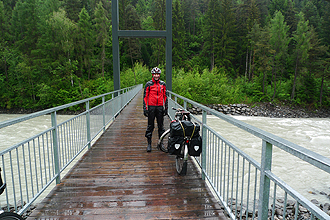 2 June 2013: Haiming (Campingplatz Haiming) - Hall in Tirol (Schwimmbad-Camping Hall) (64 km)
So it rained all night and we woke in the rain to pack up and then rode all day in the rain. It was quite miserable really. The route was good though and we passed through Innsbruck and camped about 6 km after it. Innsbruck is a very attractive town, but with the driving rain we did not have much chance to look around. I went into a strudel shop to buy a baguette and Mike waited outside. Whilst he waited a lady cam up to him and shook his hand looking very sorry for him. The lady who I paid for the baguette apologised for the weather which most people did. The campsite was a municipal one set up for campervans mainly and the ground was very wet. We ended up putting up the tent on a piece of bitumen and spent the afternoon and a very restful night inside. Too wet to do anything else. One of Mike's cycle shoes had broken at the cleat which was proving dangerous as well as inefficient so we did have a look on the free internet for cycle shops that we could possibly shop at the next day as everything is closed on Sundays. Early night!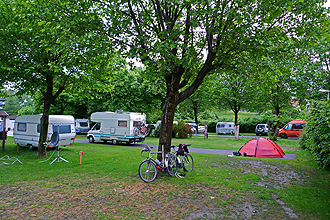 3 June 2013: Hall in Tirol (Schwimmbad-Camping Hall) - Kufstein (Camping Hager) (80 km)
Even though we had been asleep so early we were only awake around 6.30am. Luckily it was to the sound of silence. The rain had finally stopped but the skies were very cloudy. We set off through the town centre of beautiful cobbled streets, looking for bike stores. We finally settled on one about 8 km from our starting point. Unfortunately it only opened at 10am so we waited. Luckily no rain! Luckily, Mike found a good pair of shoes and the shop attendant took his cleats off and put them on the new pair and threw his old pair away. Lucky Mike then had a dry pair of shoes, which is one way of arranging that! The sales assistance also told us that there had been some road closures due to flooding and that they had had a meter of snow on the nearby peaks overnight.
Our route today would have been 110km but the weather again closed in in the afternoon so we cut it short. We were tired of arriving at a campsite wet and cold. Also the campsites we had used on the trip so far did not offer camper' s kitchens or even a shelter under which to cook or eat so if it was raining you were pretty much stuck making do in your tent. The first 50 km were a long a lovely cycle route which provided views of various castles and churches and the river which was really picking up pace we had noticed. Although the day was very cloudy, at least it was not raining so you had some views to appreciate. After about 50 km the headwind started and we could see the mass of cloud ahead that we were heading towards. The cycle way also had a deviation as one of the crossings under the railway line was flooded. Around 70 km we started looking for a campsite. Mike found one using the GPS and the rain came in as we approached. We had left the cycle way for the road at this stage and traffic had slowed as some sort of clean up was underway. As we passed we noticed digging machinery, sandbagging and men with shovels. It looked as if a new river had cut its way down the mountainside causing a mini landslide and water had obviously gushed through our campsite as well. Never the less we could camp there and we pitched our tent right next to a wooden shelter where we could sit and unpack and cook which was nice. Also brilliant hot shower - something we had really come to appreciate this trip!
We hoped for better weather tomorrow so we could make it to our planned camp site after Saltzburg.
4 June 2013: Kufstein (Camping Hager) - Unken (Camping am Steinpass) (90 km)
We woke to more cloudy skies although I did spy some blue early on. Some climbing today but nothing too dramatic. As we wound our way eastwards along the now very full and rushing river we began to see some of the damage that had been done by the flood waters; a mudslide down a hillside which caused trees to be uprooted and a structure brought down; evidence of wash outs along river banks and roads, but the worst was yet to come!
Parts of the day were very picturesque, the cycle way meandering through villages scattered over green hillsides, however we began to tire of the ups and downs the cycle way seemed to take particularly when the surface turned to gravel. We picked the road where possible on this day, we decided that we could make these choices as our journey would be long and we would not miss out on the scenery being amongst it so often. It did rain off and our feet were freezing, possibly as we had started the day with wet socks (both pairs of cycle socks now beyond hope) and they had no hope of drying on our feet. Even with our Goretex booties over our shoes our feet just froze.
At one point along the way we went back onto the cycle way which seemed to have washed out completely (workmen looked to be repairing the damage) and the result was a major mud-bath which we had to push the bikes through. You can imagine what our shoes and booties looked like after this. Mike bemoaned his new shoes and their treatment as they were already coated in mud.
As the day wore on we stopped for a lunch break on a bench in a lovely riverside setting. We were starting to feel as if things were becoming a bit of a chore, mainly due to the weather and our cold feet. A stop at a small Spar supermarket put an end to this, we bought some supplies and the shop had a clothing annex where I found Norwegian wool socks. We bought a two pack each and put them on at a bench outside the store. Bliss! We had often discussed getting wool socks. Off the bike we each have a pair of Smart wool socks that we bought in Sweden which are fabulous. The advantage of wool is of course that it keeps you warm even when wet and on this trip our feet often were wet. Anyway, our feet were happy for the rest of the day.
As the day wore on we realised that our aim of making up lost time and stopping at our original planned camp after Salzburg was not going to happen. When we came across road closures due to the flooding we realised that Salzburg may not happen either. As we are on two wheels we can leave the road onto a cycle way or track and then re-enter the road after the damaged area which we did. It soon became clear that the flooding caused by the raging river had been serious. You could see tree traps at bridges (many closed due to fears of them being swept away) and clumps of grass caught up high in trees by the raging current. One large section of the road had been washed away. Emergency services were out in force. At one road closure a sign warned of avalanches. The road was very busy particularly with truck traffic and wet and we made the decision to stop at the 80km mark and camp at Lofer. Getting off the main road and on to the road to Lofer was tricky. The cycle way was totally washed away. At Lofer we were told that flood waters had washed through the campsite and camping was impossible. We had no choice but to press on another 10 km over what we had anticipated to be a large climb. We were a bit worried about the climb as we could not use the cycle way now (it was completely washed away in parts and otherwise closed off with emergency tape) and the road had no shoulder. Not much fun when going uphill with large trucks passing. As the road had been closed in two places it looked as if many trucks had been stranded and were now trying to make their way back to where they needed to be.
Luckily two things happened; the road went downhill so the hill had not eventuated (we had in fact already done it) and there was a roadside cycle way all the way. We got to the campsite which was basic, but very pleasant and dry. We met up with a family there who had actually been evacuated from the Lofer site the night before by the fire brigade due to the flood waters!
What a day. At least we were able to sit outside until it became too cold at about 7.30pm. We were lucky that we could get through the roads at all. We were also a little concerned about the conditions in Salzburg and Vienna (we had been told that Vienna had record high water levels.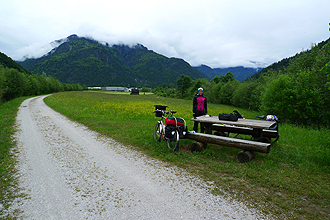 5 June 2013: Unken (Camping am Steinpass) - Salzburg (Camping Nord-Sam) (50 km)
We woke to cloudy skies that showed the promise of clearing. It had been a dry night which was a relief. We were unsure about how the day would unfold. There was the issue of damaged roads and flood waters and also we both woke feeling tired. It had been a week since our last rest day with a lot of hard work in between, coupled with the stress of never knowing if roads were open or closed. According to our planned route we were supposed to have camped about 6 km after Salzburg last night. We got on our way having really enjoyed our night's accommodation at Unken. We stayed on the road for a while to begin with but then turned onto the cycle route which provided the usually steep inclines and descents; one descent was signposted at 15%. Some of the route was washed out and we decided to turn back to the road as we were unsure at what point the route might become unpassable.
We turned onto a decent sized wooden bridge (wide enough to take a car) only to see that it was covered in piles of tree branches, trunks, limbs that had been washed down in flood waters. Amazing that it was still standing. We had to unpack the bikes and Mike carried them over the piles of debris. I followed with the panniers and rack packs, etc.
On the road again things went easily, continuing downhill on a beautiful road surface. It was just busy with truck traffic once again. A cycle way took us away from the road through fields to a crossing under the motorway which was again totally flooded. We used the GPS to find another crossing point, which took us through some off road sections until we could pick up the route again just outside Salzburg. By now we were back in summer mode, the skies were blue and wide and for almost the first time in certainly eight days there was no rain in sight. We were back to short sleeves and bare legs! We rode in through Salzburg which is a beautiful town dominated by a large fortress above it all. It was a glorious day. We stopped at Maccas in the city and had a good feed and enjoyed free WiFi access.
While eating we contemplated staying in Salzburg which would set us further behind schedule, but it looked like a nice place to spend the afternoon. Having decided, we made our way along the river to the nearest campsite and set up camp.
We caught the bus from a very conveniently located bus stop close to our campsite into the city and had an enjoyable couple of hours there. All in all a great day and a short one riding wise; a good rest. We were now a solid day behind our schedule but decided to just keep to the plan now without trying to make up time. It was worth seeing the town and we looked forward to better weather now.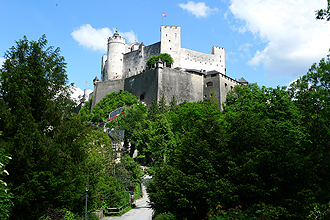 6 June 2013: Salzburg (Camping Nord-Sam) - Altmünster (Camping Traunsee) (90 km)
Woke to blue skies! Set off with bare legs but warm tops which were quickly removed as we started the slight uphill climb away from the river. The first 36 km took us through rolling farmland and picturesque villages along fabulous cycle ways. We stopped at a bench for a snack after 20 km, what a pleasure to sit in the sunshine under wide blue skies once again.
A tunnel took us through the hillside out alongside a glorious lake that we skirted for a long stretch. The lake was a millpond, but clearly very full due to the recent weather. The tunnel was for bicycles only (Australia could learn a few things here), while the car tunnel ran alongside. Every so often there was an opening to the outside with views of the lake.
We then took a road which took a slight uphill gradient for quite some kilometres but it was a beautiful surface and road and easy grade along a river. We stopped for lunch at a lovely spot with about 30 km to go. After a quick descent we turned off the road and continued following the river downstream with a headwind to match. As the river got wilder so did the headwind, it became quite a slog. We started becoming concerned about the weather that this wind would deliver to us. After a while we passed alongside a series of tunnels (the cars went through the tunnels, we had a route outside) and the road was very picturesque once more, along the edge of the coast with the lake to the right. One of the tunnels was named Franz Josef (echoes of our cycle holiday at the New Zealand glacier!).
We passed through the old town and kept going. Shortly afterwards we reached our campsite Camp Traunsee which was beautiful with spectacular views of surrounding mountains and right on the lake. A beautiful spot. For the first time on the trip we were relaxed in the afternoon sun, taking a walk to the nearby Spar supermarket for a very refreshing drink.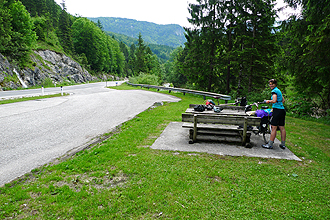 7 June 2013: Altmünster (Camping Traunsee) - Perg (Camping Au an der Donau) (114 km)
The day dawned with an air of promise with only some light mist and already 17 degrees by 7 am! We bounded out of bed at 6 am, the plan being to have a bacon and egg breakfast at Maccas a few kilometres down the road. We were on the bikes at 7:05 am, which was a new record for this trip. The fast food outlet was in a semi-industrial area and we ended up scaling some hills to get there only to discover that it was only to open at 8 am! Bugger, no hot breakfast then. We stopped at a bakery for a baguette and coffee which was delicious and continued on our way. The first 36 km were undulating through farmland with some nice views but overall the steep ups and downs were more annoying than anything else. After a STEEP decent which lasted about 4km we had the climb over and settled alongside the river which was to be the pattern for the day.
This was not a very interesting day in terms of things to see but the route flattened out nicely and we were able to make good time arriving at the campsite by 2.30 pm.
As we passed through a few villages we could see that the flood damage had certainly escalated as the flood waters moved downstream, plenty of sandbagging of properties and some fields of crops flattened by the river. We continued unimpeded however but were concerned about the condition of the campsite and if it was going to be open.
As we arrived we could see it had survived relatively unscathed and the operators were very friendly and happy to see campers once again. The site was on the Danube but its polder had kept it safe. It had been a hot ride, we had consumed 4 litres of Coke along the way; how the weather had changed! That evening we walked along the polder a bit and saw the cycle route sign showing 194 km to Vienna; we would be there by Sunday. Apparently Vienna had survived the flood unscathed and the flood waters had been through Prague without damage to the old town.
8 June 2013: Perg (Camping Au an der Donau) - Vienna (Donaupark Camping) (70 km)
We woke to a beautiful day and set off to enjoy a ride along the Danube. We had no reason to expect any problems en route today as we had had a chat to the campsite manager the previous day on arrival and he was full of questions about our ride in. He didn't have any comments to give us on the route to Vienna, perhaps we should have asked more questions of our own! After about 2 km we saw that the river cycleway was completely destroyed with bitumen torn up and huge logs strewn along it as far as the eye could see. Well, all of a sudden the prospect of an easy relaxing ride was turned on its head! This called for some serious navigation on the GPS, and we were able to pick a route on the road slightly inland. However, as we continued the damage to crops and homes became clear. We stopped for a geocache at the sign which also demarcated prior flood levels. The last flood in Aug 2002 was up around 3 m but this one would have been 4 m. Everywhere one looked was muddy and grey. We stopped at Saxen to decide how to progress at the 25 km mark. It was obvious that avoiding the river valley was the only way forward as there were also road closures here and entire towns had been isolated. We decided to plot a route through to a rail service that ran to Vienna as there did not seem much point in wasting a lot of time and not even be able to enjoy our planned river route.
Mike got out the laptop with map capability and plotted a route through Oberbergen. This involved a lot of climbs up and down, many of them very steep but affording beautiful views. We reached the train station in Amstetten after a dazzling descent have ridden 50 km and were able to hop onto a train bound for Vienna which was leaving in 5 minutes. The total cost inclusive of bikes was 39 Euro! The journey took 2 hours so was very reasonably priced. Upon arrival at Vienna Central Station we had a further 20 km to our chosen campsite at Klosterneuburg and there were some breathless moments as we crossed through very thick mud alongside the river route with emergency services still very much in clean-up mode. We stopped on the way at Hofer to shop for some food but as we neared the campsite the roads were flooded and we were really concerned that the campsite would be closed. Luckily it was on a higher piece of ground and so was unscathed. The street that our tent site looked down on though was thick with mud and all day the unfortunate inhabitants walked up and down in wellington boots ferrying their belongings and engaged in clean up.
That evening we visited the nearby monastery which was beautiful and spent a rest day in Vienna on the Sunday admiring the sites.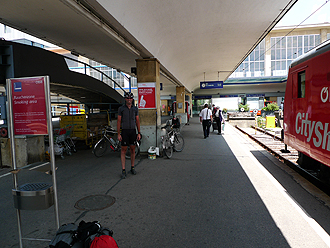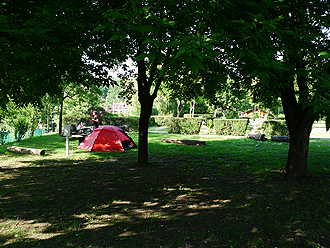 9 June 2013: Rest Day in Vienna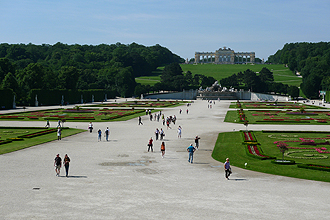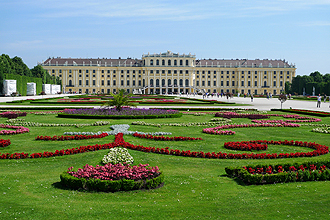 10 June 2013: Vienna (Donaupark Camping) - Geras (Camping Edlersee) (108 km)
We had paid a deposit for a plug to use to charge our kindles, batteries and the computer so had to return this at 8 am. As we would have a later start than we would have liked, we had a cooked breakfast at the campsite at 7.30 am, with plenty of hot coffee. We set off on Veloroute 6 once again (a Euro-velo route that we remembered from the Rhine River route). It seemed okay at first, though we passed piles of people's discarded flood damaged furniture, but it shortly deteriorated and became unrideable. We deviated onto a busy road and continued on through village after village. We stopped at Spar for some snacks and managed to get across the river at a larger crossing after some deviations. We had a tea break at a small church after about 30 km. We really enjoyed the route away from the river, no surprises in store. The route took us through largely agricultural lands now with large wheat fields and big skies. We made good time. We noticed that things were changing now as villages became smaller and the distances in between them larger, and many seemed very closed up. The day was hot and we were drinking a lot.
We noted that there were large thunderstorms rolling in and were concerned about getting caught in one or two. We were just remarking on this when Mike saw a little white building in the distance and said "Wouldn't it be cool if that was a little house where we could shelter from the storm?" In turned out to be exactly that; it was a little hut meant for travellers to shelter in with a picnic table outside and bin, etc. Very cute and just when we needed it! It rained quite a lot and we had lunch here before continuing on.
After the first 70 km the road became more undulating and we passed through vineyards. Then it became hilly. We stopped to shop in Pulkau and while I was inside Mike noted a truck driver stop his huge truck in the village square and leaving the engine running, popped down the street and came back with a huge ice cream cone. He was amazed. We had seen ice cream stores in Vienna but the queues were as ridiculous as the prices and we had not indulged. So we popped into the shop in this tiny village nearly 100 km from Vienna which had about 20 flavours of gelato. We could not believe it. 1 Euro per flavour and the most generous servings I've yet to see. We had two flavours each and sat down on a warm bench to enjoy them. Thereafter we had 20 km of climbs; one hard one which was signposted with a 10% warning (these are our favourite!!). As the road eventually became a more gradual uphill climb we settled into a rhythm but it was still hard work. The views were remarkable from up here and the real visual drama took place in the clouds which were huge and white and billowing and visible just on the horizon. At last we had 5 km of slight downhill and this took us to the end of a long day. Tomorrow would see us over the border into the Czech Republic after about 10 kms.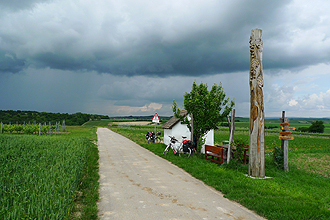 11 June 2013: Geras (Camping Edlersee) - Veseli nad Luznicí (Penzion Na Soutoku Tomas Kuk) (117 km)
As we went to bed last night a thunderstorm hit and it then proceeded to rain all night long, stopping miraculously as we woke up. We hung around until 7.30 am as the camp office was supposed to open at 7 am in order to pay (the office was closed when we arrived at 5.30pm last night). No one had arrived by then. We worked out that the cost would have been 14 euro and had only 11 in change so we left that on the front door step and went on our way.
The route today was undulating and climbed steadily for the first 50 km, descending for the next 50 km. I found the climbs and descents tiring after a long day yesterday but I think that the real challenge was the constant headwind today which makes everything harder. The weather cleared up as the day progressed however which was good.
We crossed the border into the Czech Republic after only 10 km, unsure what to expect. The first village we came to had music blaring over loudspeakers fixed to every street pole, and audible from a distance. We weren't sure whether this was an anthem or a hymn but the inhabitants seemed to emerge from their homes and appeared to have their eyes closed perhaps in prayer. Was this a daily occurrence? We did not know. When the music was replaced by a man speaking, it turned downright creepy and we thought we might end up being cooked in a giant pot! Welcome to the Czech Republic!
We came across a Coop supermarket at the next village in time for tea. It was the smallest supermarket I have seen but had a wide enough selection. Time to get used to a new currency, but this store took Mastercard anyway.
After stopping at a much bigger Coop for chocolate milk we went through the town centre to discover another gelato store. The piles of delicious ice cream could not be ignored. We had two scoops each at a ridiculously cheap price. After the two ice creams we had had on successive days we will now look for this every day.
Much of the route was through forests, some natural and others pine forests. The route was very beautiful and we were impressed by the quality of the roads. There were however also some heavily potholed gravel roads which were not too pleasant. The cycle ways were very well signposted and there were many different routes. We were on the Vienna-Prague route and from the amount of signage and maps displayed for cyclists it seemed popular.
There were some climbs, one short evil one came with an 11% warning sign. The day rolled on. We passed through villages with regularity and stopped at another Coop; these are the sorts of supermarkets where cheese and salami are still cut to your requirements.
We were longing for our campsite when we arrived at 4.30pm. It was very neat with lovely green grass lawns and picnic tables and also closed. We tried ringing the number on the door a few times but could not understand the person concerned. We eventually abandoned this and continued another 6 km to a site next to a pension which was fortuitous as the campsite was still closed and due to open tomorrow. We were forced to get a room in the pension instead. Nice to have an en suite! We ate dinner in our room from the purchases we had made during the day and then had a cappuccino treat at the nearby hotel.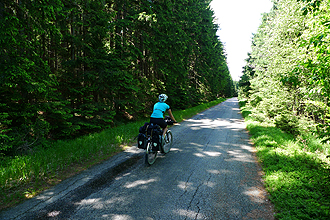 12 June 2013: Veseli nad Luznicí (Penzion Na Soutoku Tomas Kuk) - Cholin (Camping Cholin) (102 km)
We were off to an early start at just after 7 am and made good time throughout the day which enabled us to have reached our designated campsite at 2.45pm. We had perfect weather today without our friend "the headwind".
The villages were now becoming bigger and we passed through two towns; Tabor at about 40 km and Sedlcany which came as a surprise at the 80 km mark.
We had some climbs to contend with and the day in general was undulating but nothing too steep; except one climb out of Tabor over cobbled streets which was super steep but short.
We did manage to buy an ice cream; a soft serve this time, delicious.
The countryside is very pretty and picturesque but nothing too interesting along the way. We still followed the cycle route to Prague.
Our campsite was on the river and very basic. Its internet site was quite trumped up. We had not purchased food for supper as had decided on a restaurant meal at the camp restaurant but that was closed! The ablutions and amenities area were very dirty but it was very cheap also and our campsite on the river very nice.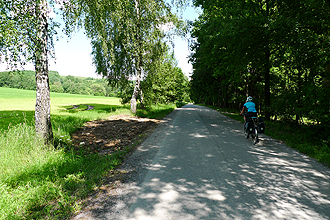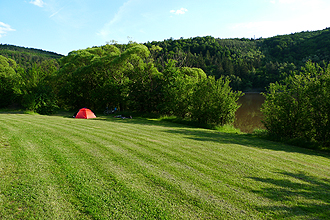 13 June 2013: Cholin (Camping Cholin) - Prague (Camp Dana Troja) (74 km)
We set off early, around 7 am and the day looked like it was to be a warm one. We were straight into it with a tough-ish climb, and the climbing continued for the first 25 km. We took a short cut at one point as the cycle way is often designed to take one on a scenic route which is often composed of steep downs and ups and usually takes longer.
At the 30 km mark just having finished a beautiful downhill section and nearing the river we were faced with a warning sign indicating that there was now a detour ahead and the road was to be closed. "Flood situation" we mused. We stayed on the road anyway and for the next 10 km there were several warnings and detour suggestions. Also the road became suspiciously empty of traffic. We became more and more concerned but also less inclined to turn back and opt for an alternate route the more invested we were. Then at the 40 km mark we reached it, a metal flood barrier closed the road right off and was about 4 m in height. We peered over the other side and saw that the road was fine and we would be able to get over the barrier on the side where it joined the hill. We unpacked both bikes and then Mike climbed up the hillside and I passed both bikes to him and then all the panniers, etc. We could then climb down the other side, repeating the procedure. After this the route passed easily along until we encountered quite a bit of flood damage and clean up on the go, alongside the river.
We were finding this part of the trip disappointing as these river routes are supposed to be beautiful cycle ways but that experience had been robbed by the flood.
We arrived in Prague at 12 pm but eventually arrived at our at campsite 1pm after a very frustrating fight through road closures throughout the city due to flood damage. There was a big police presence as well, however we could no longer see a reason for the many cordoned off areas, the flood had after all long since passed and the areas concerned were all passable.
Our chosen campsite, Camp Dana Troja was a small autovan camp and really lovely. The staff were so friendly and helpful. Superb service and very highly recommended.
14 June 2013: Rest Day in Prague
15 June 2013: Prague (Camp Dana Troja) - Zittau (Seecamping Zittauer) (137 km)
Our route commenced with a steep ascent up the hillside to take us over the hill and away from the city. Our plan for the day was for an 86 km ride to camp in the Czech Republic for a final night. The plan was to change.
The route passed through a variety of towns and villages for the first 40 km or so and was relatively grim in terms of scenery (the towns can be very run down and depressing). We then passed along a lovely river route through a valley surrounded by large boulder formations all the way to Doksy which was our planned overnight spot. The landscape had become very much flatter now and any climbs were soon over and not steep. There was a beautiful campsite at a bend in the river but it was only at the 70 km mark so too soon really to stop. We saw many cyclists along the route, clearly quite the place for a day out on bikes.
Arriving at Doksy and inspecting the campsite we decided not to stay. The campsite was really grotty looking and advertised a disco as an attraction. Not quite the thing for a Saturday night campsite. The place also gave us the creeps and sometimes it pays to trust one's instinct. We decided to keep going to see what else cropped up and soon come across a..., you guessed it, ICE CREAM stand and indulged our latest habit whilst inspecting the GPS to decide on our next move.
We realised that it would be about another 60 km to Germany which meant that we could leave the Czech Republic to camp in Germany and also gain time on our route. The girls who manned the ice cream stall were very helpful in this regard. Suddenly it seemed possible, our optimism buoyed by the tailwind, our first real one of the trip.
We stopped at a supermarket at the next town and Mike planned the route on the GPS whilst I made three trips into the Penny Mark to spend our last 500 Kroner.
We took the main road, avoiding the cycle way and all went swimmingly until the next sign warning of..., you guessed it, a road closure. The entire road had collapsed but luckily a detour was in place. We made the final ascent up to the German border passing through the village of Lückendorf and the spectacular descent and road quality was the first sign that we were back in Germany.
We spent some time at the Triple Point where Germany, Poland and the Czech Republic meet, and then made our way to our fabulous campsite in Zittau. Phew, 7 hours 30min ride time today!
16 June 2013: Zittau (Seecamping Zittauer) - Rothenburg (Neisse Camping) (74 km)
We were unsure whether to take the day as a rest day as our campsite was really well situated on a lovely lake with great facilities. We had made up a whole day with our long ride yesterday but we chatted to a man at the campsite who suggested that we pay a visit to Goritz, an old town reached by a lovely cycle route alongside the river. It was 40 km away and seemed that you could camp there. En route we would pass through an old cloister as well at Ostritz. So we decided on a late departure (10 am) and had a restful cycle along the river. The route was a very popular one for day trippers and we enjoyed it too. Arriving in Goritz we weren't that impressed really, however upon finding out that the campsite didn't exist we didn't spend any time there as we needed to press on. The town is situated along a river that borders Poland with several bridges connecting the two sides.
We settled on another campsite which showed on the GPS to be about 15 km away. The camp site was part of a very interesting theme park type place; organic though with strange little huts and tiny villages with a "spooky theme". We took a quick look at the camp site and decided it wasn't for us.
We had to ride only a further 5 km to a site on the Lusatian Neisse River run by a company that arranges river rafting. The site was unsupervised when we arrived, but a young man arrived at the same time to drop off some river rafts and was so helpful and said that his boss would unlock the ablutions and we could get food and drink at the river which was less than a kilometre away. We pitched the tent and rode down there and it was a lovely relaxed atmosphere with the folk who had had the day on the water rafting and were enjoying a barbeque and some drinks. We had a few of these delicious fizzy fruit drinks in the coolest bottles with reusable seals that you gave back for a 20c deposit. We took two back to the tent with us.
The facilities were immaculate. We were able to charge our camera battery, computer and AA's which was cool. It was a huge grassy area where you could just relax which was nice and two other cycle tourists arrived a little later.
17 June 2013: Rothenburg (Neisse Camping) - Burg (Kniepp- und Erlebniscamping an den Spreewaldfliessen) (124 km)
We did not have breakfast with us so stopped after a few kilometres in the town of Rothenburg to buy some at a supermarket. We had the most relaxed day on the bikes; not a hill in sight and all the time on spectacular cycle ways which ran along the German/Poland border all the way. The route was one of many very well signposted cycle routes in the Nieber River area ranging in length from 650 km to 24 km. Something for everyone. Regular accommodation also for the most part. We just could not believe the high quality of the cycle ways after the Czech Republic even though we were pleased with those at the time.
We stopped for ice cream and to look around the grounds of the schloss at Bad Muskue which was interesting. At many points in the day one could cross into Poland if the mood took you.
We stopped for lunch at Forst and had planned a 100 km day to Cottbus. Arriving at the camp site Mike's premonition was correct, it catered for caravans only, so we had an extra 20 km to Burg Spreewald. The good thing about the day was that this all felt possible and actually easy as the route was flat and so easy to navigate.
The campsite at Spreewald was pricey at Euro 21 and we actually preferred the spot we had the previous night. But we had a nice meal at the restaurant and the facilities were very good. The place marketed itself as a health resort type camp site with massages etc. on offer which perhaps explained the high price. When we went to the tent area as directed there were many small tents dotted around and an adult in charge came over to tell us that there were thirty 11 year olds camping there on a school trip so it might be a bit noisy. We then went back to the reception to ask to move; they should have really considered this in the first place. They then placed us in a large camping over-flow area which we ended up sharing with a few other people for the night.
18 June 2013: Burg (Kniepp- und Erlebniscamping an den Spreewaldfliessen) - Seddiner See (Campingplatz ICANOS eV) (130 km)
We had an early start, 7.30 am and tried to out ride the mosquitoes which had now become a feature of the trip. I woke up in the early hours to go wee wee and could see strange flashes of light regularly. I wondered if this was lightening but it seemed too regular and there was no thunder. We were woken around 4 am with a large thunder storm and loud thunder cracks. The area we camped on became water logged and rain water pooled all over. We were happy to leave.
The day itself was long, hot and not that interesting really. We passed through Glashutte which seems like a traditional craft set up with meals, museums and handiwork for sale. Quite a big tourist attraction. We had ice creams and bought a piece of delicious wild boar dried sausage. The shop we bought it in was amazing, the proprietor made the sausage himself and the aroma when you went in was so wonderful, a vegetarian's nightmare I assume.
Much of the route was through pine forest which is very hot and we were eager to get to our end point. We stopped en route to buy bug spray and Cokes to drink. We arrived at our campsite in the late afternoon which was a lovely informal place on the lake shore. We had a refreshing dip and made our plans for our rest day.
19 June 2013: Rest Day in Berlin
It was a 2.5km walk to the train station and we bought a day ticket and spent the day Berlin. It was hot and humid (34 degrees) and a little crazy as it was also the day President Obama visited Berlin. Much of the city was cordoned off and it was crawling with police. We ended up being able to see all the sites we had come to see, but only by waiting out the VIP's until 6 pm when there was finally access to the Brandenburg Gate and the Holocaust Memorial.
It was an interesting and haunting experience. We ended up getting back to the campsite at 9 pm. It was so hot all night long that we could hardly sleep.
20 June 2013: Seddiner See (Campingplatz ICANOS eV) - Bergwitz (Camping Bergwitzsee) (99 km)
The day went well and it was as flat as yesterday's ride. We reached our destination campsite at 2 pm and we weren't hungry at all on the ride due to the heat. We stopped twice to buy cold drinks and carried 3.5 L of Coke on the bike all day, as well as the water.
Having become used to stretches of big cobble stoned roads which were very jarring, today's route took the cake; a 3 km stretch which nearly shook us off our bikes!
We joined the Berlin-Liepzig Cycle Route which was well laid out and interesting, passing through Wittenburg, the birthplace of Martin Luther. It was a very hot day with temperatures rising to 41 degrees on the bike and very humid as well.
Our campsite was on the lake shore which was wonderful and we spent the afternoon swimming and sleeping.
In the late afternoon, a somewhat surprise storm saw us diving into the tent for cover as a MASSIVE thunder storm rushed through over the lake. The wind whipped up to a frenzy and the rain pummelled down on the tent. We went to sleep to the sounds of the storm.
21 June 2013: Bergwitz (Camping Bergwitzsee) - Seeburg (Campingplatz Seeburg) (94 km)
We woke to raging winds and the tempting thought of a rest day, but in the end we decided to soldier on! By the time we left at 8 am the wind had dropped, but it was still a little cool and overcast which was a blessing after yesterday's heat. Our new routine was coffee at the tent and then stopping for breakfast along the way. We stopped after 12 km and stocked up at an Edeka supermarket as supplies were low. The route would be easy enough with one or two climbs, however we had a very strong headwind which, especially through flat wheat fields, reduced our speed along the flat to a measly 13 km/h in places. Each time we went through a town where there was some shelter our speed shot up, but it was a day that you knew would take forever due to factors beyond our control. There is no fighting wind, it saps your strength. We had a stiff but short climb to Petersburg and at the top stopped for lunch and to take stock of the route. Mike then looked at the plan and saw that we could cut about 10km off it. We continued on and ended up needing to take a short ferry trip over the river. We used the cycle way for parts of the day and tried to avoid the dreaded cobble stones where we could!
We had a few more small hills before arriving at Süßbersee, a lovely village on the lake shore with its own Schloss! Beautiful campsite with a small tent site protected from the wind.
22 June 2013: Seeburg (Campingplatz Seeburg) - Walkenried (Knaus Campingpark Walkenried) (96 km)
We had to wait until 8:15 am to leave as we were unable to pay the night before. It's strange, but most places we camped at did not allow payment the night before, so we were usually a bit at the mercy of the opening time. It varied from 7.30am to 9am.
It promised to be a hot day and we had decided to stop for breakfast at about 10 km at the local Macca's (Can't beat their breakfast special in Germany). After breakfast we commenced a long climb which set the tone for the day. Overall there was over 1000m ascending which is high. The day had many ascents (most fairly steep) and steep descents as well. Some gravel sections as well.
We didn't have nearly the same strength wind as yesterday, but it was still a challenging day. We were interested to see that the landscape and villages had changed considerably from previous days. The scenery had changed from agricultural flatlands to steep hillsides; some terraced as vineyards. The villages were once again quaint and well-maintained. We realised that we must be getting close to the old "West Germany" as we had of course been in the old "East Germany" since our arrival in Germany. Like those in the Czech Republic, the villages we had been seeing up 'til today were often unkempt and in poor condition and many appeared semi-deserted. Certainly it was a noticeable change seeing places once again clearly cared for and almost "put on show". Many of the villages were very old (one area boasted 900 years of settlement) and had beautifully preserved buildings to demonstrate this.
We reached our campsite after passing a sign which demarcated the spot where the border between east and west was removed on 11/11/1989 at 19:34!!!!
The campsite was in a lovely village itself with a Norma supermarket so we could have left the shopping entirely until the very end! The route we had followed was a witch riding a bicycle, an apt symbol!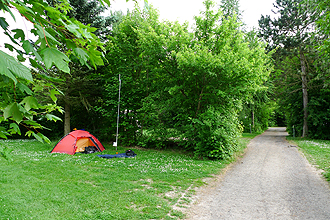 23 June 2013: Rest Day Walkenried
We woke up and thought "Rest Day"! We had until this point had only 4 days off the bike and they were spent in Zurich, Vienna, Prague and Berlin so were not restful. We needed a day to do nothing which presented itself today. As it was Sunday the shops were not even open to go shopping. We took a walk to the monastery ruins in the afternoon but otherwise did nothing but read and relax.
24 June 2013: Walkenried (Knaus Campingpark Walkenried) - Witzenhausen (Campingplatz Werratal) (98 km)
We were following a main cycle route today, aptly named the Iron Curtain Route. It was strange that nowhere along the route were there any signs that denoted a cycle route until nearing the end, and certainly none that advised we were on the Iron Curtain Route. It was a fabulous ride today from a scenic perspective and also very interesting as we crossed the old East/West German border a number of times. We passed three signs which denoted the time and date that the border was removed at that point. We also passed a sign which denoted tanks on the road. The area was very beautiful as well.
We did quite a bit of climbing once again today, in all 1,070m over the 87 km. The route today was initially planned as 103 km but through some careful navigation, Mike was able to reduce it considerably. We had climbs and descents for the first 37 km and thereafter some longer climbs and steeper descents. At around the 35 km mark, we entered the town of Duderstadt which was so beautifully preserved. We picked up some supplies at a chemist, optician, supermarket and then had our favourite Maccas brekky. We had some rain en route, but the weather was cool and overcast which was a good change. We arrived at a campsite at 2 pm but as we had left at 7 am it was still a longish day.
We had a look around the town that afternoon. We both needed a haircut and there were three salons in town however all were closed!
25 June 2013: Witzenhausen (Campingplatz Werratal) - Friedrichsdorf (Terrassencamping Warmetal) (80 km)
We woke up to some rain and were a bit reluctant to get going but managed to be on the bikes by 7:30 am. We were headed to Hann Münden along the Werra River which was about 20 km away and a Macca's brekky was calling. The route along this river is a popular cycle route but we were unprepared for how popular! We saw 7 cycle tourists within the space of about 5 km! The day was quite chilly. When we arrived at this amazing town we discovered that the road to Maccas was closed by what looked like a landslide down the hillside but fortunately we still had the opportunity to look around the old town which was absolutely exquisitely preserved. Buildings dating back to 1400 still serving as restaurants, etc. The old Radshus with its written decrees on the front of the building from 1600. Amazing! We bought breakfast at Penny Market (1kg of Straticella yoghurt to share, thank you) and ate in the town square. It was one of those places where you would have spent more time if you could. So interesting.
We set off once again along the river heading for the Rohloff factory. This was a planned stop and a chance to go and see where our fantastic, uncomplaining internal gear hubs were made! Mike had had some personal e-mail communications with one of the Rohloff guys when his had problems after our tour last year and was keen to meet him. We met Stewart and he was so kind to give us a personal tour of the factory to show us how the hubs are put together. We spent an hour there and left with an even greater respect for our wonderful hubs.
We had one very very large climb on a wet, muddy, gravel surface before a lovely descent down to our campsite. The route today was really good and interesting. Also shorter than usual! We spent the afternoon relaxing at our campsite. The campsite was a little strange. It was properly signposted etc but the reception building wasn't obvious. A caravanner saw as looking around and directed us to a building that looked like someone's house. It was unlocked so we went in and said "hello hello" and a man came downstairs. We said "Campsite?", he said "Twee persone eine nacht?" we said "Yes - betaling?" (payment), he just waved us away and when we asked if we could pitch the tent anywhere he nodded and walked back upstairs. Looked like we were getting a free night's accommodation. The showers all looked brand new but required activation cards which we weren't told about. After looking around a bit, we found a shower that didn't need one and then took turns enjoying the warm water.
26 June 2013: Friedrichsdorf (Terrassencamping Warmetal) - Camping Margaretensee (102 km)
We ended up not having to pay at the previous night's campsite! Winner! We were up at 6 am and headed off at 6:45 am. Our new routine is to have brekky on the road which we find is much better. The route today would have one main climb which not be too onerous, and then much of it would be downhill, at least from the 60 km mark. We woke to cold weather and much of the day the temperature hovered around the 10 degree mark. We could not believe that last Wednesday we had sweated it out in Berlin in heatwave conditions. We donned winter woollies once again complete with gloves and rain jackets. Most of the day stayed dry at least, but the cold weather made itself known. The route was very picturesque and followed a cycle route with some sections on cycle ways which was good.
We stopped for breakfast at the 25 km mark and bought some coffee to go from a service station sitting at an outside bench. We stopped again for lunch around the 65 km mark after doing some food shopping, again at a lovely table and benches. One thing is can be counted upon is that you will be able to enjoy your meals in a pretty setting at a bench or table.
We clocked over to 3,000 km today at the same spot where we found a geocache. We were still geocaching every day, making sure we find one a day but more often finding 3 to 4. The geocaching does add on quite a bit of time to the day however, so we play it by ear.
We had the ever present headwind again today which is wearying. We passed through a lot of wheat fields again and at one point had a fantastic view over the surrounding farmlands with wind farms as far as the eye could see. We had brilliant descents and were happy for all our winter clothing as it was very cold going downhill. We stopped at Salzkotten hoping to find a store that sold White Gas / "Was Benzine" for the stove. We had bought a bottle at the start of the journey in Germany and had not been able to find any since, so had resorted to using petrol. We knew that a store called DM would stock it as that is where we got it before. Amazingly there was a DM is Salzkotten and they had it! We were happy as it burns a lot cleaner than petrol and doesn't smell, and would now see us through to the end.
We ended the day on 20 km of flat roads very reminiscent to those we would see in the Netherlands cutting through small farming roads. We had some rain during this section.
The campsite was huge and we arrived at 2:45 pm and found it a bit tricky trying to organise payment and shower card, etc. due to communication barrier!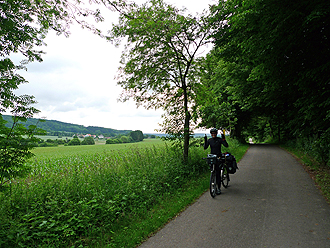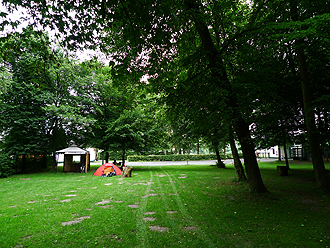 27 June 2013: Camping Margaretensee - Camping Tannenwiese (111 km)
We had such a restful afternoon yesterday and a good sleep but still struggled to wake up around 6 am. We hit the road at 7.15am with our sights on breakfast stop at 35 km again at Maccas. Mike had woken with a headache and was not feeling that great so we would try to take it easy. The day would be long but it would be easy, hopefully. We had also arranged with Busch & Müller to have a replacement USB-Werk delivered to our campsite at Tannewiese so this was something to look forward to. It was a cold day again and we were hoping for some warmer weather. It rained off and on. The countryside was starting to look more like the Netherlands and we spent the day meandering through farmland on tiny paths. The route was excellent and the campsite Tannewiese was just our cup of tea; small and personable with a lovely flat tent pitch and also very quiet. The manager was so friendly and accommodating, and the good news was that the replacement USB-Werk had been delivered so we could again charge our AA batteries using the dynamo.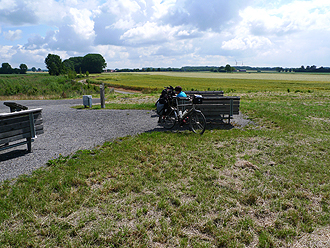 28 June 2013: Camping Tannenwiese - Borculo (Natuurcamping Scharvelt) (94 km)
I had a shocking night with some sort of allergic reaction. Not sure what caused it, but it woke me up and my sinuses and throat were blocked and inflamed and I struggled to breathe. After taking 2 anti-histamines and my asthma puffer a few times it settled down and I managed to get some sleep. The campsite was lovely but the trees around our tent had quite a lot of green mildew on their trunks and I wondered if the mould spores had caused this reaction. My sleepless night disturbed Mike as well and we only woke at 6:45 am (to rain), but luckily I felt much better and we were able to leave around 8 am. The route was flat today and very much Dutch in feel, weaving our way through town and farmland. Unfortunately it rained and was cold for much of the day and we were back into full rain gear. Couldn't believe it!
We stopped for brekky around 18 km and bought some yoghurt at an Edeka supermarket which we ate sheltering under our first windmill of the trip!
We stopped for lunch at a roadside shelter around 1 pm and reached the Dutch-German border at 2:30 pm. Crossing over into the Netherlands, we came across our first "knooppunt" of the trip and knew we were there! The cycle routes have such distinctive markers!
Our campsite was a nature one and very lovely and we felt welcomed. Now that we were back in the Netherlands we had 4 campsites to choose from within 5 km!
Mike had used the USB-Werk to charge a set of AA batteries for the GPS and they had charged all day via his dynamo. Although the batteries never showed as fully charged whilst riding when he tested them in the GPS later they showed as full. Although they were probably not 100% this was still a good result. However, the charging seems to reach optimum at 20km per hour so it was a good thing we were trying them out in the Netherlands and not the hills of Switzerland!
29 June 2013: Rest Day in Borculo (15 km)
We woke up and couldn't get out of bed! It had rained all night and was still raining. We decided on a rest day.
The camp site was lovely and the people friendly, one man offered to charge our laptop for us which was very kind and the first offer we had had.
We took a ride into town and a market was on the go where we bought dried sausage and cheese, and were able to stock up at the Albert Hein supermarket. We were also able to book in for haircuts in the early afternoon. We only got up at 9:15 am so were in town around 10:15 and the morning and afternoon went quickly.
30 June 2013: Borculo (Natuurcamping Scharvelt) - Kampen (Mini Camping de Kattewaard) (115 km)
We woke to cloudy skies but no rain and were on the bikes to make the most of the still morning around 8:00 am. We took our breakfast with us to eat on the way. It was wonderful to be back cycling in The Netherlands. There is so much of interest to see along the way and on this day we rode alongside the IJssel River for much of the way so there was river traffic to look at and so many people out and about on bicycles. You feel that you just want to keep on going to see more. Also it is flat so you get into a rhythm and keep going. We had initially planned to go as far as Wezep and camp there after 95km. We had camped in Wezep on our tour in 2011, but we soon realised that we would go further as we were making good time. We settled on reaching Kampen which would mean that the same distance tomorrow would take us to the start of the Afsluitdijk. We stopped in Wezep on the cycle way to buy soft serve ice creams which came in three sizes. Of course I asked for larges and they were the BIGGEST soft serves I have ever seen! They were in waffle cones and must have contained 500ml of ice-cream each and it was really creamy and delicious. By this stage we had shed our winter gear and were in short sleeves and bare legs. After a couple of weeks where we ate ice creams every day we hadn't had any for ages so this more than made up for it.
The town of Kampen is beautiful with very old buildings and lovely skyline along the river. Many people were cycling to church in very smart clothing; suits for the men. It is amazing to see how the bicycle is just an accessory to everyday living. So simple.
We reached our mini camping spot at around 4 pm and the host was so friendly and inviting. It was called De Kattewaard and was part of a dairy farm. We bought some lovely free range eggs (all different sizes and some very small which was interesting to city dwellers like us who never considered that hens might lay different sized eggs!) to boil up later.
We were the only campers and it was so peaceful, lovely clean ablutions and free hot showers. We would always try the mini camping sites in future.
1 July 2013: Kampen (Mini Camping de Kattewaard) - Afsluitdijk (Mini Camping Boeyenkamp) (121 km)
We woke to grey skies but still no rain and although we both felt tired we were up and on the bikes by 7:15 am. There would be wind today but we were both keen to get some more riding down in the Netherlands! There was a strong headwind for the first 25 along a polder. The area we were riding through is called Noordoostpolder. So picturesque with the sea, the grey skies and white sheep dotting the green grassy banks of the polder. After about 25km we came to Urk which is a beautiful fishing village, very small terraced houses and brick cobble streets. The houses all had washing lines strung up in the front gardens and whereas most of our washing is a mix of colours and things, this washing looked colour coded and decorative! Don't know how they do it. Perhaps different members of the community wash certain colours on certain days and others bring their items round, but then again maybe not!
We had a coffee at a little fish shop at the harbour (there is a ferry from here to Enkhuizen where we camped last time we were in the Netherlands). We did dome shopping and then had breakfast at a beautiful little memorial for the lives lost at sea.
We had a long section of tailwind, 'til the 50km mark and made our way through Lemmer and onwards to Stavoren. All these harbour towns were so quaint and picturesque and one could have spent ages in each one. The views of the farmland so green and flat rolling out into sailboat chartered seas were fabulous. You've got to love The Netherlands. We stopped in Workum for some last minute shopping and then continued to our mini campsite in Makkum. On the way we passed through a gorgeous village and stopped for a delicious soft serve once again (not quite as big as yesterdays!). A long day on the bikes, we arrived at 16:45; over 6 hours ride time, but such an interesting and enjoyable day!
2 July 2013: Afsluitdijk (Mini Camping Boeyenkamp) - Julianadorp Aan Zee (Mini Camping Helmzicht) (112 km)
We had a restful night at the mini camping (Horse riding school) and woke early to a beautiful day with clear skies and NO WIND! We decided to get an early start as we wanted to enjoy the ride over the Afsluitdijk and if the wind did come up it would be a gruelling headwind with no respite for 40 km. We were on the road before 6:30 am! Our campsite was much closer to the dijk than we thought and we reached the start after 4.5 km. The ride over the dijk was impressive. We stopped for breakfast at some picnic benches at the campsite about halfway over across the dijk.
We stopped again at the monument to Lely who's plan it all was. Amazing to think it was completed in 1933! After the dijk we had decided to ride up to Den Helder and take the ferry to Texel. We had originally planned to camp short of Den Helder and visit Texel on a rest day but wanted to try to get it in on one day as we were ahead distance wise. The route to Den Helder was interesting. We probably went a little further than required as we followed the LF route but could have had a more direct route along the main roadway. We had some riding along the polder and some through villages, a nice variety. We arrived in Den Helder at about the 73 km mark and headed straight for the ferry to Texel. It is quite a big ferry as it takes cars as well. We arrived there at 12:10 and the next ferry was to depart at 12.30. At 5 Euro return per person with bike it is very reasonable, if short 20 minute trip. Unfortunately it seemed that high school students were going on a trip to the island and the ferry was packed with a hundred screaming, noisy kids with enough stuff to last them a month each. Never been so pleased to get off a ferry!
We spent two hours on the island, cycling 25 km and stopping for lunch. We decided on the spur of the moment to get the 3 pm ferry back to the mainland and it was already 2:40 pm but we had only 7 km from our lunch stop to get there. We had to keep the speed up to make it by a whisper! We thought that we would spend some time in Den Helder before riding on but when we got there it seemed a charmless place (we might just have been looking in the wrong place, but we went to the city centre). So we just did some food shopping at Albert Hein and high tailed it out of there. We hit the north sea cycle route (LF 1) straight away and had 12 km of absolutely wonderful riding; firstly right along the sea shore (sea, sky and land seem to meet seamlessly up here), and then through dunes covered with different coloured grasses and heathers. Beautiful. We started keeping an eye out for camp sites and came across one after every 500m at one point! As we were riding at the top of the dunes we could look down on them and decide "too big", "too busy", "just right"! Just right was Helmzicht Mini Camping which was perfect. Lovely clean ablutions, kitchen and even indoor sitting area plus good outdoor bench and table! Wonderful place and very reasonable at 11 Euro incl. shower (untimed) and hot water for washing dishes, etc. Beautiful spot located right under the dunes and friendly hosts. Ten out of ten!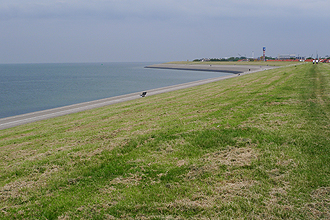 3 July 2013: Julianadorp Aan Zee (Mini Camping Helmzicht) - Zandvoort (Camping de Branding - Worst Campsite EVER!) (81 km)
We woke to rain which had set in around midnight. We got dressed in all wet weather gear although the day was not cold we were in and out of the rain all day as showers came through and the strong south easter blowing cooled things down considerably.
We would continue along the LF 1 today heading south towards The Hague.
The route was full of surprises as it wound first through the grass and heather covered dune landscape and then we came down over the polder onto the bitumen route alongside the North Sea for a few kilometres. The wind was strong down there but it was a lovely ride. We passed through a few coastal holiday villages, definitely the tourist drag.
We rode through a lot of national park as well which was part dune and part pine forest. It was an interesting and varied day, no farmland today at all. After crossing the Noordzeekanaal (North Sea Canal) at IJmuiden on the free ferry, we continued through national park. This was not the LF 1 any longer but a route we had chosen and again passed through forest and dune-scape. Overall the route today was quite undulating for The Netherlands due in most part to the dunes I suppose. It was very beautiful and interesting with lots of bird life.
We passed our planned overnight stop and headed for Zandvoort. This would not be a choice of ours as it is the big summer by the sea Netherlands style type town. There were two campsites to choose from and the one we chose charged 20 Euro and then also 1 Euro for a shower; definitely summer holiday prices because previous campsites that we had stayed at were far better quality. But when you ride along the coast Mini Camping is not available. We took a stroll along the promenade in the evening. At least it didn't rain from the afternoon on but was still overcast.
We would make for Rotterdam tomorrow.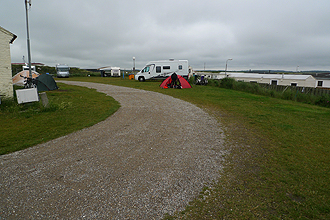 4 July 2013: Zandvoort (Camping de Branding - Worst Campsite EVER!) - Stadscamping Rotterdam (72 km)
We had arranged with the campsite reception to ring the bell at 7:30 am to hand back the tent number and get our deposit. When I rang the bell at 7:30 am I was told to wait as someone would be there shortly. I rang again at 7:35 am to be told to wait. The next thing a man (or trailer-park trash-man) appeared and proceeded to abuse me for following the instructions I had been given. This finally became a yelling match with me actually having to say "I am a guest here and you will not be rude to me". You can just imagine. All this to get a $20 for a TENT number!!! All we can say is that this campsite is definitely the worst managed place we have ever stayed at, and we have stayed at a few as shown by the camping page on this website.
After that early morning rant, we continued along the coast passed Nordwijk and Katwijk (more undulating dune scape and many many bunnies) and then arrived at The Hague after 45 km. We stopped at the city centre Macca's where I waited 25 min for my order. Could not believe it! Some lady actually pushed in front of me so I had to speak up for myself there too. We then proceeded to argue in different languages. Eventually we had our order in hand. We then went to the visitor's centre and asked about train options back from Rotterdam. We decided to ride on to our campsite (Stadscamping Rotterdam - very nice) and catch the train back in the morning as this would allow us to move around the city more easily without the bikes. So pushing on, we passed along the canals following LF11 mainly (Princesroute which ends at Breda) and passed through Delft and on to Rotterdam where we camped. It was a great day's riding, but not so good from an interpersonal point of view!
We bought a two day public transport pass each and caught the bus from very near the campsite into Rotterdam to have a look around. It is a big and new city having been mostly rebuilt after being bombed to pieces in WW2. We jumped on and off trams having a look around. We went as far as Delfthaven which is a very beautiful and quaint few streets with a fully restored windmill. It was well worth the visit.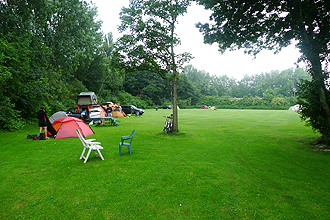 5 July 2013: Rest day in The Hague, Delft and Rotterdam
We left the campsite at 7:25 am thinking we would catch the bus into Rotterdam and then a train to The Hague. Conveniently, the number 40 bus drew up for Delft and without hesitation, we jumped on. It was only 25 minutes travel time there and a picturesque route along the same canals we had ridden along the previous day.
It was a lovely morning in Delft; very quiet and not many people there at that hour. We visited a few bike stores and also the Johan Vermeer Centre.
We left at 12 noon to catch the train to The Hague and were there until 5 pm. We visited the King's Place at Noordeinde (just from the outside) and the Vredepaleis (International Court of Justice). We spent a lot of time walking around as there was lots to see.
We would leave the Netherlands tomorrow for Belgium.
6 July 2013: Stadscamping Rotterdam - Huijbergen (Mini Camping De Meet) (112 km)
We set off at 7:30 am for a beautiful day's ride. The weather was perfect, turning hot in the afternoon (33 deg) with a slight tailwind for much of the day.
We rode through the centre of Rotterdam which was a great experience as it was Saturday so no people around this early. The city is really sprawling and the port and docks seem to go on forever.
We followed the LF11 for much of the start of the day but would deviate as we moved south. The day was interesting as we passed through many small towns and much of the route was built up so always something to look at, or a cycleway to find. We seemed to cross many railway lines as well. We stopped at Maccas for their breakfast special (2 Euro for a egg macmuffin, smoothie and coffee - can't go wrong) and eventually crossed Hollands Diep which was the last of the big water crossings.
Just before Etten-Leur we passed the first working mill we had seen. By that I mean the sails were up and spinning! We were so interested. There was a man cutting the hedge and we greeted him. Then we noticed that you could go inside as the door was open. We asked him and he took us round to have a look. It was so interesting as it was an irrigation mill and he explained how when the wind is about 6 mph the water is drawn through to irrigate the fields. This was a great experience.
We did shopping in Etten-Leur and then passed what would have been our night's campsite but we had decided to push on. The route became very pretty, a lot of green forest to ride through and little cycleways alongside muddy dirt tracks which was great as the cycleways were concrete!
We crossed into Belgium and made for our campsite which looked a little run down and seemed to be mainly demountable cabins. We asked a man for the camping reception and he said the campsite was closed. We were quite relieved as we did not want to camp there anyway and Mike had a mini campsite in back in The Netherlands saved in the GPS as a back-up. It was about 5 km further on (westwards) and called Camping Boerderij de Meet which was absolutely brilliant. I want to say the best campsite of the trip just because it was so friendly and welcoming. Kettle available, 10 Euro charge included power and internet, and we could charge the computer whilst sitting inside a lovely barn type sitting room. There were new magazines to look at and cows being fed a few meters from our tent. It was just perfect. Such friendly hosts. Brilliant!
7 July 2013: Huijbergen (Mini Camping De Meet) - Gent (Camping Blaarmeersen) (115 km)
On last year's tour in Sweden and Finland we met a man from Belgium who was cycling the North Sea route and he said that Gent is the most impressive city in Belgium and that most people who visit the country concentrate on Brussels and Antwerp and miss out on it. So we planned the route to Gent on nothing other than his recommendation. We set off at 7:30 am to a beautiful day promising to warm up. At the campsite the cows/bullocks had slowly eaten their way through a pile of hay overnight; who knew they could eat that much! I actually woke up in the early hours and could hear them munching away.
Must say that The Netherlands is still our absolute favourite country to ride in. Although the cycle routes in Belgium are good there is just something missing. One thing we noticed is that there are no distance indicators on any signs, road or cycle. Perhaps the country is too small or maybe people don't mind about it. It being a Sunday nothing was open as usual although the bakeries are open and the product is delicious looking. The villages are just not as quaint looking as those in The Netherlands and on this day anyway, there was not much of interest to look at. We passed through Antwerp after about 35 km and were impressed with the beautiful fountain in the central square. The historic buildings are beautiful, but after a few minutes looking around we left. We were just trying to figure out how to cross the fairly wide Scheldt River when we saw the bicycle tunnel signs. You go down in a lift to minus 31 m and then there is this long tunnel that you ride along and then take the lift up the other side, and you're out of the city. Brilliant!
Our route to Gent was very direct and we had chosen a campsite a few kilometres further on. We again had the luxury of a tailwind so the 6 hours riding time seemed to fly by. We also passed the 4,000km mark towards the end of the day.
Gent was very interesting and has a fabulous castle from 1100's and other historical buildings. Well worth a visit. We even had an ice cream - yum!
We arrived at our campsite around 3 pm and found it to be very nice and also very big. We were assigned a lovely site close to amenities at a more open tenting area. We had a pleasant relaxing afternoon.
8 July 2013: Gent (Camping Blaarmeersen) - Stambruges (Camping Belstam-Loisirs SA) (95 km)
We had a very restful night at the campsite in Gent and were on the road at 7:20 am. It looked like it would be another hot one today. We had a north-easterly wind and would be travelling with the wind again today in a south-westerly direction but needed then to travel back eastwards to Brussels. It would have been possible to go straight from Gent to Brussels but we wanted to travel further into Belgium. The riding we had done so far had been in the Flanders region where the Dutch influence is still very strong in language and culture (I expect the Flemish would say the opposite is true). So we had an 80 km day planned today to Tournai and then 120 km tomorrow to Brussels. We were rethinking that as we did not want to struggle into the 120 km into the forecasted headwind.
Mike had found that by cutting the corner and leaving out Tournai we could camp at a Beloeil, still have a 90 odd km day, but reduce tomorrow's ride to under 100 km also.
The first struggle of the day was getting out of Gent, major building works created a few detours and we struggled to find our way out. This took 20 km. At last we were on the Schleide Valley Route running alongside the river of the same name. It was pretty along the river. We stopped at a town for breakfast and shopped at Carrefour supermarket and ate at a lovely bench and table right there.
We then decided to branch off our route towards Ronse which was clearly marked as a cycle route The cycle routes along busier roads here are cleverly arranged with dotted lines for cyclists to ride in between and the a decent shoulder clearly indicated between the cycle lane and the car lane. One felt very secure and safe. Reminded us once again of the difference between touring in Australia and Europe. Still, the busier roads are not our preference, they just suited us today.
The landscape had suddenly changed as well and became quite hilly. We had a long climb and steep descent into Ronse.
After Ronse we continued along a busy road and the area was still hilly; little climbs and then descents until we turned off at Grand Metz. We stopped at a fruit store and bought some delicious fresh fruit and also bottles of fresh strawberry and apple juice which we downed on the spot. We had taken to buying fresh fruit when possible and especially cherries which we had been eating since Germany.
We continued along quieter roads to Chateau de Beloeil where we had a campsite earmarked that Mike had found via the GPS. As we turned onto the narrow road where it was supposed to be he commented "Well, I don't have much hope for this one, it's supposed to be 80m away". We glanced at the high brick walls along the road. As we rode on though, we suddenly saw a large archway in the wall and a painted sign "Camping". We laughed!
We went in and the camping area was lovely, grassy and shady with rudimentary toilet and shower but nobody around. It looked really nice. We knocked on the doors and so on, but decided to check out the next one which was about 3 km further on. We found this campsite to be also nice and grassy, not so much shade but we were able to remain in it be moving around. We had a lovely restful afternoon. Showers were kept under lock and key which meant they were clean. The ice cream van even paid a visit! The area was now very French as we were within 10 km of the French border. We would go back towards Brussels tomorrow but were pleased we had come this far south.
9 July 2013: Stambruges (Camping Belstam-Loisirs SA) - Camping Mont-Saint-Guibert (97 km)
We had an early 7:15 am start and the day looked to be another hot one. So far we had found the Belgian leg of our tour not very picturesque or "much to write home about". We had expected cyclists to be catered for as they are in the Netherlands, as Belgium also has a reputation as a cycling nation. For example, there were no route markers for cyclists on the roads. Had we not had the GPS we would have had a clue which roads to follow. Even the Czech Republic had well signposted routes.
We had planned to shop at Soignies as the first main town we came to. The smaller towns and villages we had been passing through generally had no shopping at all other than perhaps a baker or general store, so you needed to plan food shopping carefully. This resulted in a few fruit disasters when we bought fruit and popped it on the back of the bike hoping it would last all the way. We were mistaken - Read: eating nectarines with spoons at the end of the day.
When we arrived at Soignies it was to a fabulous market day complete with live chickens and Belgian waffle stands, baked goods, fruit, etc. One stall was churning out a huge amount of roast chicken of every variety of pieces. There were rows and rows of chickens roasting. We bought a kebab and a chicken Maryland which we ate there and then at 9 am for breakfast. We had been fantasising about roast chicken dinners; so delicious. I will never forget the taste. The town is interesting even without the market, with medieval buildings, etc. We also did some food shopping at the supermarket.
The chicken was the highlight of the day really. The route passed along quite undulating and unfortunately the road surfaces were very bad. Especially the COBBLES! Now, we thought, a little unfairly as it turned out, that the cobbled streets in the Czech Republic were bad. These Belgia cobbles were horrendous. Don't even want to think about the strain the bike was under. One part of the route took us past some ruins of a chateau which are quite an attraction in the area. The road that passed them ran uphill and cobbled for as far as the eye could see. It was a shocker! But even when there aren't cobbles, the road often deteriorates into potholes or the roads are also quite often concrete with lumpy joins. All sounds a bit picky, but it came as a surprise. The motorists are good about sharing the road though.
We reached our campsite, Camping L'Aubage which was an interesting experience. The facilities that is; the toilets and showers were shocking! They were in a very bad state and possibly had never been cleaned. The place was predominantly for permanent residents. Our site though was gorgeous, at the foot of an old ruined tower filled with coo'ing pigeons, lovely grassy spot and an old sink which you could work by turning on the water at the pipe on the ground. Our host was Michael who honestly could not have been more willing to help us. Our plan was to catch the train into Brussels the next day (rest day for us) and spend the day sightseeing. He could not speak any English so telephoned another campsite dweller to come along to the office to translate. Michael was just soooo French; expressive hand gestures and all. He was wonderful. He then took it upon himself to go off and find out about trains (turns out Ottignies-Louvain-la-Neuve was the more convenient station but 10 km away) and brought us back a train timetable with the best trains circled and directions written on such as "to Brussels" and "Back to camping". He also wrote his phone number on it. He informed us via the interpreter that he would collect us at tent at 8 am the next morning, and take us to the Ottignies-Louvain-la-Neuve Station from where we could catch the train, and he would then await for our phone call in the evening and come to collect us. I've got to say that a clean shower is a critical thing for a cycle tourist (you have so little space to call your own) but this man was so kind that the campsite will go down as one of our best. The charge for camping was 7 Euro but then there was the government's hefty camping tax of 2 Euro per person. The shower was 1 Euro. So it was not expensive.
10 July 2013: Rest Day in Brussels
Micheal, true to his word, drew up at our campsite at 8 am sharp saying "Chaffeur Micheal !" and opened the door for me "Bonjour Madam!". So cute. We had a great day in Brussels. It was a surprise for us to see the grand buildings such as the royal palace which we had not expected. We ate ice cream and handmade Belgian chocolate and saw Manneken Pis (he's so very small). We rang Micheal from Ottignies Station in the evening and although we can't speak French and he couldn't speak English, he was there in 20 minutes to collect us. What great service from a campsite!
11 July 2013: Camping Mont-Saint-Guibert - Hogne (Camping Crohin / Matthieu) (98 km)
We set off to a cloudy and cool day and wore leggings and warm top. It was a surprise that it was so cold. Fortunately no rain! Our breakfast stop was Namur and we then rode along the river on a lovely promenade until the eternal "Deviation" which took us off our route due to road works but did not tell us when to get back on. We had to figure that part out. These are the things which set a cycling nation like the Netherlands apart. Low point of the day was coming upon an unfortunate dead person on the cycle way! Police in attendance, and body covered with a sheet.
The day actually had quite steep climbs (hadn't seen these for maybe 2 weeks) so the legs objected. Let us say that we were quite pleased when it was over. We were helped by a tail wind (yay!!) and hindered by once again, shocking cobbles (rattle resulted in one of my mudguards detaching and needing to be pushed back in place twice). The scenery became more interesting, in part due to the climb which took us quite high up by the day's end. The villages were also more interesting. The last two days had seen quite deteriorated buildings but now they seemed much better looked after and there were more tourist signs to places of interest. Many of the villages had quite beautiful stonework buildings. Wild flowers grew profusely alongside the roads.
Our campsite at Hogne, Camping le Relais was great, a properly organised affair with decent facilities and quite big too with snack meals to purchase. Friendly reception. But you couldn't beat Micheal for service!
12 July 2013: Hogne (Camping Crohin / Matthieu) - Camping Holtz (103 km)
We woke to a cool day, quite misty but the kind that you know will burn off and the day will be fine. We set off around 7:30 am and had two steep but short climbs passing through some very pretty villages. Can't believe the difference in Belgium over the distance we have covered. We stopped in Nassogne for breakfast after a long climb and afterwards had another long climb. The route was very pretty, rolling grasslands and grazing cows. Parts also passed through cool forests.
We had planned to cross the border to Luxembourg after Bastogne (of Liege-Bastogne-Liege cycle race fame) and then camp at Boulaide (after approx. 80 km). We shopped at Bastogne to shop and crossed the border to Luxembourg. The day was still very undulating, steep ups and downs. The countryside was very pretty here too with pale blue sky, puffy white clouds and huge Monet-type hay bales dotting the green grass slopes.
We passed through Harlange after a few kilometres and a camp site was signposted which we rode to look at but as we had only ridden 75kms it was too soon to stop. We pressed on the Boulaide and rolled up at the place advertising camping at a pub (would not be our first choice) at around 85 km. It seemed unattended so we rang the doorbell and the man who answered told us it had been closed for 5 years. I didn't enquire why the sign still indicated camping.
Mike consulted the GPS for any other options and located Holtz a little way away. We were both tired and hot but the thought that every kilometre ridden and hill climbed today was one less for tomorrow spurred us on. We had to stop at one point and devour our roast chicken pieces bought for supper as we were famished and hadn't had lunch thinking we would have been "there" for a late lunch. We had one long climb and a few ups and downs followed by mainly flatness as we neared the site.
The roads in Luxembourg were beautiful and scenery likewise. Some beautiful forest areas also. We were pleased to have left Belgium mainly just from a road quality point of view.
We were so pleased to see the campsite formally signposted just at Holtz and swept down the steep descent to the spot on the river. It was beautiful just at the meander and lovely grassy spots for camping. Toilets and showers were hot and free. As we dropped the kilometre or so down I was so pleased to see that there wasn't a climb to follow. The climb out would wait 'til tomorrow.
There was a family setting up their caravan and they were the only campers there, the site was unattended. We asked them about it and they said that the manager comes around in the evening to collect payment but if he doesn't you camp for free! He did come around and we paid 12 Euro 50 which was really reasonable considering the picturesque location and clean ablutions which were free. He then popped back to give us a wonderful tourism guide of things to see and do in Ardennes which is the province of Luxembourg we were in, and it was a pity that we had passed through much of it already. We never hear of people travelling here for a holiday but I would say it would be really worthwhile particularly the walking/ trekking of which there is plenty to do.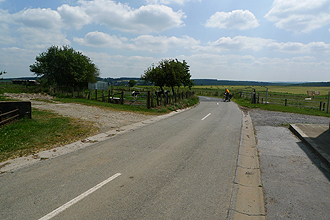 13 July 2013: Camping Holtz - Nennig (93 km)
We were of course faced with an immediate uphill effort out of the campsite but it was only for about 800m so no complaints. Luxembourg turned out to be the surprise of the trip. The cycle ways are superb and well signposted. It is really like The Netherlands, only with hills. Lots of green forest and these beautiful curving concrete cyclepaths (converted railway routes). They run their own course, totally separate from the road. The landscape is beautiful, still lots of farming but also thick forest and the area is popular for all sorts of hiking, long distance and short walks. It is easy to see why. Our route followed an old rail route for some way, complete with old station and fairly long rail tunnel fully lit and paved for cyclists and pedestrians only. Amazing! There are many benches along the route and we breakfasted at one. Strangely, once again, food shops of any kind were absent in the towns we passed through.
The route into the city of Luxembourg is well signposted on cycle ways and we reached it around the 55 km mark. The city is highly fortified and composed on many levels as you would know from other medieval towns. It was very busy with tourists and Saturday morning shoppers. One cute thing is a lift from the upper centre to the river level which is 5 levels so you don't have to go down the steep streets (or up more to the point). The route out of the town was all along the river and beautiful. Delicate green forest and forest floor thick with leaf litter.
We had not located a supermarket along our route as yet so reassessed at Hesperange. A 1.5 km detour took us to a supermarket as we had no food and with Sunday the next day, shops would be closed in Germany which is where we would be.
We spent the rest of the day away from the river on undulating roads but the descents and ascents were well matched and the road surfaces excellent. The last part prior to reaching our campsite was through steeply terraced vineyards and a dazzling descent. We popped out into the Mosel River Valley and then crossed the river at the bridge to camp on the German side. There were two campsites, one seeming a bit more "polished" so we took the slightly less polished as it is always the simpler option. Such cheap camping; 12 Euro inclusive of showers and the campsite was right on the river as well so we had a relaxing afternoon watching the river traffic.
We would only spend another 20 km tomorrow in Luxembourg and would recommend it as a cycling destination holiday, it has a lot on offer.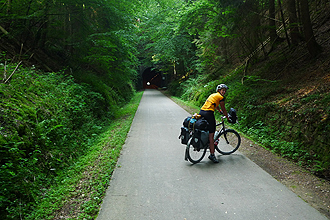 14 July 2013: Nennig - Bernkastel-Kues (Camping Kueser Werth) (113 km)
What a fabulous day! We cycled all the way along the Mosel River with only about 10 km or so on the road which was quiet and picturesque. We had an early 7 am start and arrived at our campsite before 2 pm. Our second day on tour with an average of over 20 km! The route was flat and followed the meanders of the river with beautiful vineyard views. The valley sides were quite steep to begin with and continued that way for almost the whole day. The steeply sloped walls were heavily terraced right down to the river. It was one of the loveliest cycling days of the tour. As it was a Sunday and also a river route it was heavily populated with cycle tourists and day trippers. There were so many campsites on route along the river. The route was also called the Wine Route and we passed many wineries where you could have tastings, etc. The route passed through many small villages all offering accommodation (particularly for cyclists) and eateries. The river traffic was interesting to see as well, barges and so on.
We had breakfast at MacDonalds - Bacon and ruigereir for me and bacon and egg mcmuffins for Mike. It was good to be back in Germany! We had shopped the day before for today too, so didn't have to restock and arrived at our campsite to eat and relax. It was a large site and we had plenty of shade.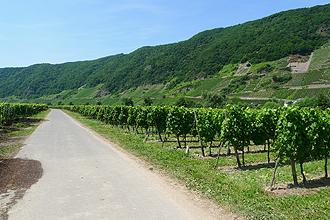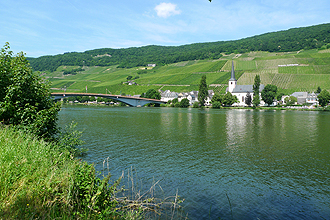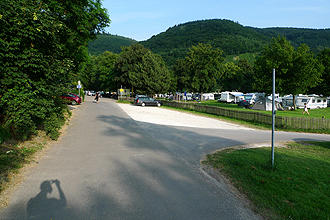 15 July 2013: Bernkastel-Kues (Camping Kueser Werth) - Kempten (Campingplatz Hindenburgbrucke) (104 km)
We woke with anticipation as this was our last big riding day. Also we had a big day ahead in climbing out of the Mosel River Valley and then descending down into the Rhine Valley once again. Clearly the climb was the challenge!
We left at 7 am after waking at 6:30 am. We must be the speediest cycle tourists when it comes to morning pack up! But the morning is the best time of day. We left the other cycle tourists snoring in their tents and were on our way. We crossed the bridge into a very pretty town over which the Berg Kasteel seemed to hang suspended from its rock outcrop. We had tried to spot our route up the night before but it wasn't clear to us. We saw now why; there was a tunnel through the mountain! And buses, trucks, pedestrians and cyclists were not allowed through! Mike consulted the GPS for an alternative route, and the only route was up and over! It was a cycle route as the signs showed, but it was also extremely steep. So steep that about 300 m from the top it became unrideable (even for Mike!!!). We walked up to the kasteel and really enjoyed the views having them all to ourselves. I surveyed the road upwards and declared "I can't ride up that!" It was supersteep and, yes, you guessed it: COBBLED!!!! Mike agreed. We walked up pushing heavily laiden touring bikes up a steep incline is not to be recommended. Then we had a lovely shortish descent to the main road (the one that had come through the tunnel). The road was prettily forested and cool. Then the climb commenced; two sets of switchbacks which made it very manageable. Somewhere at the top we had covered 10 km only in the first hour. Slowly, slowly. Although the road had hardly a shoulder for us to ride in, it was quite wide and the motorists very careful. Also, as I've already mentioned, buses and trucks are not allowed through the tunnel so the traffic was motorists only. Once we had reached the top there were several, inevitable and painful steep ups and downs.
The route was very pretty, forest and farmland and most of it on a dedicated cycle way. We had one other long climb and then a rollicking descent of about 7 km. This may go down as the descent of the tour as it was sweeping, on a cycle way, and not too steep.
The route was actually part of a river route called Hunsbrick Rhine and we were interested to stop and read the information boards.
The descent spat us out into the Rhine River Valley. Interestingly the sides were also steeply terraced and under vineyards. The remaining 15 km took us all along the river until our campsite. As usual there was a lot of cycle traffic along the river route (flat as...). We stopped about 3 km short of the campsite to buy ice creams! Three delicious scoops in a large waffle cone. Delicious. Our campsite was right on the river and we watched the river traffic during the afternoon.
Although we had 60 km tomorrow, this last real day's riding was such a fitting end to our tour. It was difficult and inspiring and beautiful.
16 July 2013: Kempten (Campingplatz Hindenburgbrucke) - Frankfurt (Falk Hotel) (64 km)
So as they say in the classics, all good things must come to an end...
We had a wonderfully DRY night i.e. No rain and not even any dew and we jumped up early to pack and were on the road by 6:40 am. The ride in to the airport was uneventful, flat and quite fast along the river. We stopped for breakfast at Mainz and bought the packing tape we would need to close up the bike boxes (always takes longer than you would think for some reason. Such an easy thing to buy at home and always tricky to find on tour. Probably because you don't actually want to pack the bikes as the tour is then over!)
We arrived at the airport at about 11 am. We found the luggage storage place and I went off to buy bike boxes. This also always takes time. Mike started cleaning the bikes (the only downside of the miracle that is mud guards on tour is the amount of CRAP that gets trapped under them and needs to be cleaned before they will be allowed back into Australia - The quarantine is very strict!). Whilst doing so a couple of East Timorese tourists approached him to take a picture of the remarkable goings on! (Not Mike cleaning, just the cycle tourist paraphernalia).
The packing took ages; two hours in fact. Then we booked the bikes and most of the gear into storage and purchased a 24 hour public transport ticket (Frankfurt doesn't have 48 hour options) and set off for our hotel: Hotel Falk on Falk St. It's located about 200 m from Liepstrasse Underground Station and turned out to be ideal. Could not fault it and would highly recommend it.
17 July 2013: Rest Day in Frankfurt
18 July 2013: Frankfurt to Perth