Tasmania Cycle Tour - 2008
Home Page > Bicycle Touring > Tasmania > Tasmania 2008




Lonely Planet's Cycling Australia's suggested cycle touring route of the West Coast of Tasmania winds west from Deloraine-Sheffield-Cradle Mountain and then Strahan - Queenstown-Lake St Clair-Mnt Field-Hobart. Cycling the West Coast had been a goal of ours since our previous Tassie trip (Midlands and East Coast) but we wanted to extend our route further west than the Lonely Planet one. We particularly wanted to see Stanley on the north-west coast. We also wanted to cross the Bass Strait on the Spirit of Tasmania, so our route would start in Devonport. Initially, we thought we would cycle from Devonport along the Bass Highway west to Stanley and then backtrack on the same road, taking the Murchison Highway through Hellyer Gorge to Cradle Mountain. And then Mike wondered "Isn't there any rideable road further west?" - and so we discovered the Western Explorer and our lives would never be the same! So we planned the route to include Stanley, Cradle Mountain, Lake St. Clair and the Western Explorer as must do's!!

The route we picked is not for everyone, however we would highly recommend it.
Day 1: 16 February 2008: Melbourne (26.0km)
Flew out of Perth at 00.30 and arrived in Melbourne at 6am. Mike put the bikes together at the airport and we hopped on ready to negotiate our way to the campsite where we had booked in, about 20km's away. It was quite easy once we had got onto the bike path to the city. The path runs along the Maribyrnong River for a way. We arrived at Ashley Gardens Campsite at about 9.30am and pitched our tent. The campsite was great with a pool and Woolworth's RIGHT next door. It was a hot day and we relaxed and swam before catching the bus from just outside the campsite to the city to have a look around.
Day 2: 17 February 2008: Melbourne to Devonport (via Spirit of Tasmania Ferry) (31.3km)
Set the alarm for 6am - "ISN'T THIS SUPPOSED TO BE A HOLIDAY - WHY ARE WE STILL WAKING UP AT 6??" - got packed and on our way to the ferry terminal by 6.50am armed with the GPS and a map of Melbourne bike path's. The ferry was due to leave at 9am and we had to board by 8.45 at the latest. We thus had plenty of time - were expecting a 13km ride. We realised after asking a passing runner on Douglas Parade that our planned route -shown on the bike map-crossing the Yarra River via a bridge on the West Gate Freeway was not possible by bike . Our options were continuing down to catch the ferry (Williamstown-Southgate) to the city or to backtrack onto Footscray Rd and then onto the Docklands Highway which has a cycleway running the whole way. Waiting at a railway crossing for a good's train to pass, we got chatting to two guys on their morning ride who said - "Follow us , we meet up at the terminal with the rest of our bunch for coffee!" - it was excellent following the locals and we got there at 8am. The ferry is HUGE- 10 decks, 6 of these for cars, caravans and even massive transport trucks. We lined up on our bikes in the long queue of cars, campervans, motor bike tourers etc all heading across the Bass Strait. Entering the ferry our bikes were tied up and then we caught the lift up to our deck. We had booked Ocean View Recliners which was a special offer when we made our booking and which we would recommend. It was a very relaxing day! We would recommend the ferry crossing to anyone who has the time. There are two Spirit of Tasmania Ferries which run daily, morning and night. It was great excitement when we passed the other one mid-voyage.
We pulled into to Devonport at 18:30 and were allowed to disembark with the pedestrian passengers and were sniffed out by the trusty quarantine beagle. Hopping on our bikes we made our way to Mersey Bluff Campsite - on the western side of the river, so we crossed via the bridge which has a cycle lane. The campsite was fabulous. We popped up to Woolworth's - open til 9pm on a Sunday - even Devonport beats Perth's Sunday trading hours - to grab some nourishment.

(1) Melbourne Ferry Terminal. (2) Camping in Devonport.


Day 3: 18 February 2008: Devonport to Stanley (128.3km)
So - the first day of our trip proper! Let me start by saying that we didn't set out to ride 128.3km, it just seemed like a good idea at the time!
We had a leisurely start to the day and only woke up at 7am. We had planned to get as far as Wynyard - 69km and so no rush! We took a walk to the lighthouse and sat watching for the ferry to leave. We then packed up at stopped at a nearby bike shop for one of those nifty valve attachments that allows you to top up your tyres at a with a garage air compressor pump, finally getting on the road by 9:45!! The latest start ever!! Well, the joys of the Bass Highway (Route 1)... TRUCKS TRUCKS TRUCKS - and hardly a shoulder... all a bit stressful ,so we diverted to a quieter road (C142) along the coast passed Ulverstone and Penguin - it was really beautiful! We stopped at Picnic Point for a snack break and joined the main highway again at Sulphur Creek, past Burnie (now called A2) but the highway now has a good shoulder and were making excellent time with a superb TAILWIND (every cycle tourist's dream). We arrived in Wynyard at 12 o'clock and decided that we would push on at least to Boat Harbour, only 14km extra, which would mean a shorter ride to Stanley the next day. We stopped for lunch and were on the bikes by 12.30. We weren't absolutely sure about there being a campsite at Boat Harbour - our old Lonely Planet Book said so, but there was nothing marked on the map. The turnoff to Boat Harbour plummeted down to the right towards the sea far below. We stopped to check out the information board on the Highway (obeying rule number one of cycle touring: Never, ever go down a hill unless you are sure you will not have to turn around at the bottom and cycle back up ). The sign mentioned cabins and B & B's etc, but where it had said "Caravan Park" this was sort of half rubbed out. Decision - just keep going!!! With the tailwind we realised we could make it to Stanley - which was our goal for the next day and thus gain a day in our schedule. The road did get much hillier after this point and again many trucks and very little shoulder.
We filled up with water at the petrol station at Rocky Cape. After this the road runs along the coast and is flat to slightly downhill. Pretty soon we could see The Nut in the distance. The B21 turnoff to Stanley came and we pulled into the campsite at about 6:30pm!! The campsite was great - good facilities. The camping area is separated from the beach by a fence which forms a handy wind block, the views all round were glorious. There was a little supermarket next door which we got to just before closing time to buy some food.
Interestingly enough, an elderly lady who had pitched her little tent near us came over and asked if we had come from Devonport that say. "Yes," we replied. She then said that she had been camping at Mersey Bluff in the trees just behind us and had driven from Devonport to Stanley the same way we cycled. She was quite impressed to see us there. It became a theme of the trip - we constantly met up with people we had seen before - it's a small island and many of the "grey nomads" are happy to drive 100-200km's to the next town and set up camp for a week or two, pressing on when the mood takes them. Others will find a town with a cheap municipal campsite and make this their base, doing day trips to national parks around about.

(1) Passing through Penguin. (2) Arriving Stanley.



(1) Camping in Stanley.


19 February 2008: Rest Day in Stanley
First purchase of the day: SUNSCREEN as we were both fried yesterday...
It was excellent to wake up and not have to go anywhere - the first day of the holiday we had had that option! I had an early morning swim in the Southern Ocean - which is what the blue wet stuff around Tassie is called. We walked through the village which is absolutely beautiful. The walk up the Nut afforded great views of the town right through to Highfield. The history of the area is fascinating. The North Western corner is still part of the original Van Dieman's Land Company - Highfield House which you can see from The Nut and is a few km's north of Stanley was the headquarters of the company and the government of Tasmania for a while. The whole area was cultivated and the north west tip of Tasmania called Woolnorth/Cape Grim still survives as a sheep and cattle property.
I started feeling a little sick - chesty cough and blocked up head etc. Didn't have such a good night - raining and very windy.
Day 4: 20 February 2008: Stanley to Marrawah (via Montagu) (75.2km)
Woke up to a bit of rain and wind and the realisation that I had to see a doctor... Set off into a headwind all the way to Smithton where I saw the local doctor who prescribed antibiotics and advised that it was probably a better idea if we stayed there for the night rather than pressing on. Rather than erring on the side of caution I took an antibiotic and we pushed on anyway! We had originally planned to get as far as Arthur River on the West Coast which is the start of the true challenge of the trip - the Western Explorer. However, what with the delay caused by the doctor's visit and not wanting to do too much, we decided Marrawah was a better idea. Marrawah is the most westerly town in Tasmania.
We took the C215 to Marrawah, which is sealed as far as West Montague. It is a quiet road which was preferable to getting on to the A2 again. It would be a mistake to assume that just because a road is marked as a major route it will be good to cycle on - many are narrow and lack a shoulder at all - some will have just the white line painted on the edge of the bitumen to show the edge of the road.
We then had 23 km of unsealed but good quality road from there to Marrawah. The road becomes unsealed at the turn off to Woolnorth/Cape Grim. It would have been great to go up there had we had the time, but caravanners had told up that you have to go there as part of a tour - so we weren't sure if we could even cycle up there.
Marrawah only has a general store and pub and the campsite at the pub is right at the bottom of a steep Green St hill (turn right just after the general store. Stunning spot - beautiful views of the coastline and you could see the wind farms at Woolnorth in the distance. It is free camping - there were public toilets and an outdoor cold shower which was great - a bit difficult to stand under however with the wind blowing the water in every direction! There was no drinking water down there either - we carry a water filter but we only really use this for water from rivers and streams. In this case when we don't know the origin of the water at all we wouldn't trust the filter to remove everything. Mike cycled up the hill to buy a hamburger at the general store/petrol station and got yelled at by the proprietor when he helped himself to the tap water outside to fill up our water bag. The guys at the pub were more helpful. These communities do exist on rain water tanks so you can understand it, but with the amount of rain they get...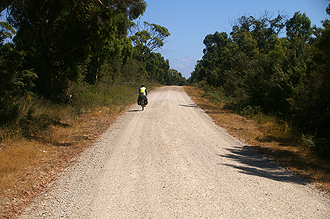 (1) Road near Woolnorth. (2) Campsite in Marrahwah.


Day 5: 21 February 2008: Marrawah to Lindsay River (via Western Explorer) (70.0km)
The day started off as I knew it would - pushing my bike UP the STEEP hill to the general store. 17 km to Arthur River from campsite. Arthur River itself was very small. We stopped to enquire at the conservation office whether we required passes to camp along the Western Explorer route - it passes through the Arthur Pieman Protected Area. We ended up paying for a night. Just over the bridge that crosses the river, the road is unsealed (C214)and would continue for 110km. The route follows the coast until the turn off to Couta Rocks and Temma and then moves further inland passing through a Wilderness Area known as the Tarkine. Take a left turn at the Couta Rocks turnoff and then right into C249.
We had packed two spare tyres, extra tubes, extra spokes and a spare chain etc for running repairs if necessary. The road to Lindsay River was pretty good. There wasn't much traffic - some 4WD and cars and it was undulating but not that steep. I did have to get off and push a few times. The surface was rocky in places but nothing the size of soccer balls as other cycle tourists had warned of -definitely doable. It was beautiful. You felt as if you were somewhere very remote. We camped at Lindsay River Bridge and it was a stunning camp spot. We had a lovely bath in the river and then wolfed down two dehydrated meals.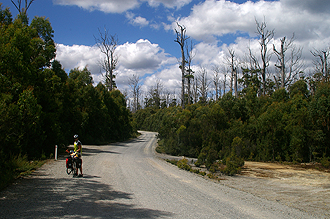 (1) Western Explorer road. (2) Camping at Lindsay River.


Day 6: 22 February 2008: Lindsay River to Corinna (via Western Explorer) (58.0km)
The first 5km of the daywere unbearably slow - we knew that the section between Lindsay River Bridge and Donaldson River would be tough, and it was. It is a bad feeling when you are cycling on a hilly unsealed road and you see a bitumen section ahead - the reason for it is so that cars can make it up really steep sections without sliding backwards... The first 10km were unbelievable slow. It would have taken over an hour to do those first 10km. We stopped to rest and I remember actually thinking, "How are we going to get there? Do we have enough time in the day?".
The area is more forested here and logging is prevalent so there is the ever present worry about logging trucks, but the road was really quiet. Mike unfortunately fell off, slipping on some lose gravel and re injured the same wrist he hurt coming off his bike the week before we left on the trip. He also cut up his knees and grazed his leg.
The problem with the steep up's and down's is that you lose so much time on the up's but don't have the benefit of the fabulous down's as the unsealed surface means you have to be really cautious. We had a break at Donaldson River and the steep, bitumen downhill run leading down to it was such that Mike could smell his disc brakes burning by the time we got there. The rest area is very beautiful. Later in the day I had a spectacular fall. I ungraciously ended up sliding along downhill on my chest and was totally winded. I realised that nothing was broken - although my elbow was badly cut and I got back on the bike and down the hill to wherever Mike was. When I came across him he was actually coming back up the hill to see what had happened to me. I was taped up and got back on the bike. My ribs were badly bruised on the right which took a month to come right.
We eventually arrived at Corinna. I have to say that the this was the most challenging day's cycling I've ever had. But the surroundings were absolutely beautiful - rainforest, tree ferns, absolute beautiful and serene. As we arrived in Corinna so did the rain. It was about three o'clock. The settlement of Corinna is lovely - a collection of wooden cabins, each one different, so that it appears as it always has. There is a general store and of course the barge which carries people and vehicles across the Pieman River - the road continues to Strahan. You can cycle this road over the river to Strahan as well but we were told that the road becomes quite bad in parts. It's amazing to read about the remarkable people who made a life in this place in the past and one can only imagine how tough they were. Corinna is nestled in a rainforest and it rained the whole time we were there. We did not have to pay to camp there - there is free camping on the river - a beautiful spot. We even had our own picnic table. We bathed in the river that night.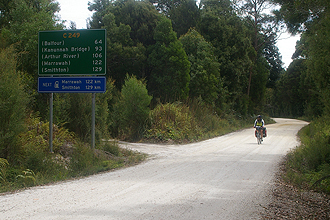 (1) Arriving Corinna. (2) Camping in Corinna.



(1) Corinna Township.


23 February 2008: Rest Day in Corinna
Rained all day. Quite interesting seeing the barge come back and forth over the river. Great spot for a rest - quite cold.
Day 7: 24 February 2008: Corinna to Waratah (63.0km)
The first 28km of unsealed road from Corinna to Savage River (C247) was uphill and quite tough - but good quality. It was raining but also FREEZING all day. We were very cold. We actually got off the bikes and put on our big hiking jackets over our winter cycling jackets... This was the first of many days on the bike where we lost feeling in our feet within an hour and never regained it... Having cycled up from the coast towards the plateau - going inland now towards the mountains, the landscape changed completely and became much more exposed, but as beautiful as the forest.
It was excellent to be back on bitumen from Savage river (B23). The road did pass back down through rainforest-type vegetation again as we wound down to a river - Whyte River and then had about a 5km steep climb up the pass on the other side. This was very tough. The last few km's into Waratah were easy riding - just a bit rainy and very cold! The sign announcing that we had arrived in Waratah was welcome to say the least!!
It is a small town - was once the site of the world's largest tin mine and like many towns on the West Coast once had a population of 4000 and now has 350 permanent residents. The municipal campground is fabulous and was full of "grey nomads" who were very friendly and interested in our trip. The general store over the road is where you pay to camp and had a fabulous selection of food. The hot shower was so welcome - it as quite luxurious as you go into a little cylindrical room with a shower, hand basin and toilet as opposed to a block of showers, so there was plenty of room. Unfortunately the shower was timed - probably about 5 or 7 min, but still not enough time to thaw out the feet!
The municipality offered FREE washing machines and DRIERS!! This is a total LUXURY - it usually costs about $10 to wash a dry a load in a caravan park, so that was fabulous and such a great service! We hadn't planned to have a rest day in Waratah, but I felt quite worn out from the previous day's ride and the cold was an issue.

(1) Road to Savage River. (2) Camping in Waratah.


25 February 2008: Rest day in Waratah
Mike was happy to have a day in Waratah and we spent it looking around the little museums and looking at the platypus/platypi?? that were swimming around in the little lake. We also made use of the internet service at the post office - $2.50 per hour - also a bargain! We heard from the lady who runs the general store that there had been snow on Cradle Mountain, so understood the reason for the cold weather! It was great to wake up and not have to brave the cold weather, just stay snug in our sleeping bags as long as we liked!
Day 8: 26 February 2008: Waratah to Cradle Mountain (53.0km)
This was one of those days where everything happened sooner than anticipated! The distance was shorter for a start. The turn off onto the A10 (Murchison Highway - again not much shoulder at all)came sooner than I thought and so too the turn off to the Cradle Mountain Link Road (C132). Then the turn off to Cradle Mountain National Park came sooner and the distance to the camp site was also shorter! There was a major climb on the Link Road to the Black Bluff Range and a view site (from where snow was visible on higher peaks) and then downhill after that. We got to the campsite in record time. The campsite is privately run and the tent sites are individually set in bush so very private. It is more economical with the National Parks to purchase a parks pass if you will be going to more than one. Otherwise the daily entry is quite high. Added to this at Cradle Mountain is a shuttle bus which is complimentary with the parks pass, but costs extra without. The shuttle buses leave every ten minutes from the car park at the information centre opposite the campsite. You just hop on and then you can get off at about 5 different spots in the park. The route ends at Dove Lake. There are many walks - some of which are on boardwalks - one which runs for quite some kilometres from one point to the next both accessible by bus - so you can hop off the bus, do the walk and hop back on. The park is absolutely beautiful.
We spent the next day doing a walk up to Marion's Lookout which is the way the path climbs up to Cradle Mountain. We had been encouraged to do the hike up to the mountain itself, but didn't think that a 8 hour hike fitted our definition of a rest day. So we were content with the views form the lookout.
We were lucky at Cradle Mountain as we had good weather - even wore shorts - but always warm jackets! The views were spectacular!

(1) Arriving Cradle Mountain NP. (2) Campsite at Cradle Mountain.


Day 9: 28 February 2008: Cradle Mountain to Rosebery (68.8km)
It's never a good omen when you are packing up and snow is falling! I decided that I needed to be more prepared for the weather and wore long hiking socks over my cycling socks pulled up over my leggings. Didn't really help - my feet were still frozen .This may have been because it was 2 degrees when we left and one never knows what the wind chill factor will do! Particularly the soaring descents down after Black Bluff Range. We backtracked along the same Cradle Mountain Link Road then turned back onto the Murchison Highway to Rosebery. The highway was super busy, trucks, cars towing caravans, single lane and no shoulder. Also it was raining. The ride was quite undulating until Tullah where we stopped in a shelter, pulled on lots of warm clothing (freezing cold again) and contemplated not going any further. It was only another 15km to Rosebery - with a 5 km steep climb between us and it and us not feeling very inspired.
As we sat in our little shelter, the rain poured down and we agreed that if Tullah had a campsite we would be staying there! The rain stopped however and we got back on our bikes and took on the steep climb, then the rollicking descent into Rosebery - a small town. It was also very cold there - nestled in the mountains - very pretty. An excellent supermarket - we took ages to decide what to get - we just wanted to but everything we saw!

(1) Camping in Rosebery.


Day 10: 29 February 2008: Rosebery to Strahan (71.5km)
Wanted to set off bright and early - still very cold but now it was misty too and we waited for it to lift as we had more twisty turning mountain passes and there were trucks about - not worth tackling in poor visibility. We got going at about 9am. We felt good that we had ended up in Rosebery and not tried to chicken out of the last climb!
It was a very pretty route, only two climbs. We had a rest stop at Zeehan after 28 km and then turned off onto the B27 to Strahan and into the teeth of a headwind. There is nothing worse. Steep terrain is nothing compared to a headwind on a packed bike. You just go nowhere, but as the road sort of changed direction we were out of the worst of it and the road undulated along towards sea level. There is a great view site as you start the final descent to sea level from where you can get a view of the coast.
Strahan campsite is in a good spot and we walked down to the town proper - it is a very pretty place - a quaint village much like Stanley, with a fascinating history. In the 1800's it was decided to move the worst of the prisoners from the penal colonies in Australia to Sarah Island, in the middle of the harbour, to be used to harvest pine in the area. The entrance to the harbour, Macquarie Heads is called Hells Gates as it is only 200m wide and the site of many ship wrecks.

(1) Strahan. (2) Campsite in Strahan.


Day 11: 1 March 2008: Strahan to Hells Gates (and return) (30.8km)
WE WOULD HIGHLY RECOMMEND THIS AS A DAY TRIP! We wanted to see a good view of Hells Gates and also Ocean Beach - this is a 33km beach. We rode down the unsealed C250 towards Braddon Point and within sight of Hells Gates - it was a 12km ride and not one I was keen to repeat although very scenic. When you get to the end of the road it takes you out onto the one end of Ocean Beach which was very hard packed sand, so we decided to cycle back along the beach to another unsealed road and do a circular route. It was a fantastic experience, cycling along the beach. Probably our best day on a bike ever! We rode along the beach for about 12km or so. Then we had about 4km on a better unsealed road and then about 4km back to the campsite.

(1) Ocean Beach, Strahan.


Day 12: 2 March 2008: Strahan to Lake Burbury (63.3km)
So nice to have a warmer start to the day - no leggings or jacket required! Took the B24 and turned off onto the Lyell Highway (still the A10) 3 km before Queenstown. Quite a lot of climbing as we were climbing up again towards the plateau. We had a rest at Queenstown and tackled the well-known climb over the West Coast Range. Although the climb is steep, the road is built with switchbacks, so it is well-modulated and gradual. We stopped at the top for a pic and then sailed down the other side towards Lake Burbury. This is probably the stand out campsite of the trip. We had to pay a nominal fee. There were flush toilets and we had beautiful swims/baths in the lake. It is a spectacular spot and we were sorry not to have the kayaks. (Can't pack everything!!)The was a caretaker at the Lake, but no shop or anything. Got into the tent early as the mozzies were out with a vengeance... Highly recommended.

(1) Camping at Lake Burbury.



(1) Lake Burbury.


Day 13: 3 March 2008: Lake Burbury to Lake St Clair (71.4km)
As we hadn't actually gained much altitude yesterday, we had a lot of climbing to do today! The main one of which was 8km of solid uphill grind. The route was very beautiful, through rain forest areas with huge tree ferns until we climbed up to King William's Saddle bringing us back onto the plateau where suddenly you have the open alpine country again. It is 6km from the turnoff to Lake St Clair National Park just before the Derwent Bridge. We had not had the opportunity to stock up with much food and were disappointed with the "shop" at the National Park office. It had barely anything - Mars bars for $2.50 each (usual price $1.50) and one packet of pasta and a bottle of pasta sauce which we bought. You could buy milk and bread from the tearoom which we did. There is a shop/takeaway place just at the turnoff to the park, which may be a better bet.
The campsite was right on the lake and the water was unbelievably clear. That night we were disturbed by a possum in our tent storage area munching his way through dry pasta and whatever else. We had to move the food into the tent.
We spent the next day relaxing, walking and... relaxing... Mike had a colleague who was going to be in Tassie the same time as us on a holiday and our planned routes were to cross at Lake St Clair. It was still a coincidence to see him in the coffee shop as we hadn't arranged to meet up or anything.

(1) Campsite at Lake St Clair. (2) Lake St Clair.


Day 14: 5 March 2008: Lake St Clair to Wayatinah (58.9km)
We had a few route options today - the A10 goes via Tarraleah which seemed very hilly from the map and the suggested route in Cycling Australia follows the C173 to Ouse which is 88km, half of which along an unsealed road with steep sections. We elected the road less travelled -the C601, an unsealed road about 21km long which would bring us out close to Wayatinah where we wanted to camp. We turned off onto it after about 19km on the A10 - which was fabulous and downhill. There were signs on the road warning of logging trucks but this is fairly standard and there didn't seem to be any logging activity in the area. The road was brilliant quality and we only had a few cars/4WD pass us. After that we joined the A10 again for a crazy descent into Wayatinah. The campsite is on the banks of the lagoon and has with a swimming pool. There is a shop in the little settlement of Wayatinah, just up the hill but it is only open from 10am-12pm each day or something.

(1) Wayatinah Campsite.


Day 15: 6 March 2008: Wayatinah to New Norfolk (via Mt Field National Park) (103.1km)
Once again, we didn't set out to ride this distance. We had planned to overnight at Mnt Field National Park - site of the famous Russell Falls. The day started off with a bit of a climb over Black Bob Hill and then we passed into the rolling hills of farming country once again, I had the definite feeling that the wilderness had been left behind. I had mixed feelings about this. Something in me wanted to turn back - all of a sudden Hobart, so long a distant goal suddenly felt in reach. No more rainforest or open escarpment, back to the rolling pastures and sheep.
A testament to the ruggedness of the west coast is that we had not seen any farmland at all since Stanley.
After the first main town, Ouse we turned off onto the C608 - over the single lane Meadowbank Lake Bridge. There were a couple of stiff climbs on the way past Ellendale and Fentonbury. We were making good time and suddenly the thought of spending a night at Mnt Field seemed pointless . We decided to stop for a look and then press on to New Norfolk, which would mean that our ride into Hobart would be more manageable.
The turnoff to the National park is at Westerway on the B61. It was about 15km there and back to theA10. We jumped off the bikes and walked to Russell Falls which took about 10min along a board walk. The falls were not that fabulous, but we are please we stopped.
Anyway, we had 40km to go to New Norfolk, the road was excellent so we got there in an hour and twenty minutes. It's a large town on the banks of the Derwent River which we had been cycling along off and on since Lake St Clair. The campsite was big and well-organised.
There is a Woolworth's shop in the town centre - hadn't seen on of these since Devonport!

(1) Russel Falls, Mt Field NP. (2) Camping in New Norfolk.


7 March 2008: Rest Day in New Norfolk (and Hobart)
We started the day in a leisurely manner. I think we got up at 8am. Mike had slept with ear plugs in, but I had had a shocking night's sleep with crazy possums jumping around in the weeping willow tree we were camped under and hanging from the fronds.
We caught the bus into Hobart which is only about 30km's away. We spent the afternoon looking around Hobart, which was just the same as we remembered it from our last trip. It was nice having the chance to visit Hobart, as we wouldn't have time the next day.
Day 16: 8 March 2008: New Norfolk to Hobart East (55.4km)
The day's cycle was a little stressful as we had to negotiate our way via GPS and a route description to get to the east side of Hobart to Cambridge, where we had arranged to camp. We had called to book a campsite as it was a long weekend in Tassie and we though that Hobart could be busy. We were glad we had as the park was full - there were no available sites! We chose to cross the Derwent River in New Norfolk and rode in on the B10 via Bridgewater to avoid crossing the Tasman Bridge. We had ridden over the Tasman last time and strategically placed pillars made it a little narrow for our panniers and we ended up having to push our bikes across and down - also the bridge is very high and often gets a cross wind which had added to the problem. The route we chose was good - lots of logging trucks though.
We followed the B32 to Lindisfarne and then on to Cambridge on a smaller road - avoided the Tasman Highway.
The bonus with the Cambridge Campsite is that we were 6km from the airport which was brilliant for the flight out!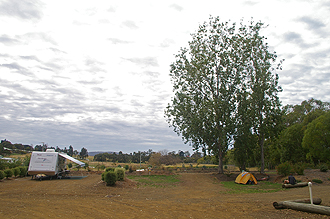 (1) Camping in Hobart.


Day 17: 9 March 2008: Hobart East to Airport (6.3km)
That's it then! Cycled to the airport. Bought bike boxes. Packed bikes again. Holiday over... Flew home via Adelaide.
Total distance covered: 1,034 km
A slide show of the photos taken during the trip can be found here.